Direktionen
Direktionen består av
ordförande,
vice ordförande och
fyra andra ledamöter
Alla ledamöter utses av Europeiska rådet genom kvalificerad majoritet.
Ledamöter i direktionen
(februari 2020)
Ansvarsområden
Förbereder ECB-rådets sammanträden.
Genomför penningpolitiken i euroområdet i enlighet med specificerade riktlinjer och ECB-rådets beslut. Ger euroområdets nationella centralbanker nödvändiga anvisningar.
Leder ECB:s löpande arbete med stöd av Chief Services Officer, Michael Diemer.
Utövar vissa befogenheter som ECB-rådet delegerat till direktionen. Dessa inkluderar att utfärda regler och förordningar.
Ledamöter
Fabio Panetta
ledamot av ECB:s direktion
Meritförteckning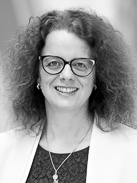 Isabel Schnabel
ledamot av ECB:s direktion
Meritförteckning
Mandatperiod
Ledamöterna i direktionen utses för en mandattid om åtta år, som inte kan förlängas. De ledamöter som utsågs till den första direktionen fick undantagsvis olika långa mandat för att inte alla ledamöter skulle sluta samtidigt.As an exception, the members appointed to the first Board in 1998 received terms of varying lengths so that not all members would need to be replaced in the same year.