Market Infrastructure & Payments
We provide infrastructure for payment and securities settlement, cooperate with market stakeholders to integrate financial markets in Europe, and oversee financial market infrastructure and payment instruments.
Providing market infrastructure
The Eurosystem has developed and currently operates the real-time gross settlement (RTGS) system, TARGET2, and the European platform for securities settlement in central bank money, TARGET2-Securities (T2S).
Integrating financial markets
The ECB and the Eurosystem foster financial market integration in Europe by contributing to more efficient euro retail payments and the realisation of the Single Euro Payments Area (SEPA). We promote securities harmonisation and the safe and efficient mobilisation of collateral in the euro area via the Correspondent Central Banking Model (CCBM).
Overseeing market infrastructure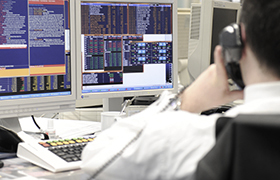 The Eurosystem performs oversight to ensure the smooth functioning of payment, clearing and settlement systems. It monitors their performance, assesses them against its objectives of safety and efficiency and, where necessary, induces change.
Market infrastructure and payments explained