Images
Images of euro banknotes can be used without our prior authorisation provided the reproductions comply with the ECB's rules (see in particular Article 2 of Decision ECB/2013/10). These help to ensure that a reproduction cannot be confused with a genuine banknote, and thus play a part in maintaining trust in the single currency.
Download banknote images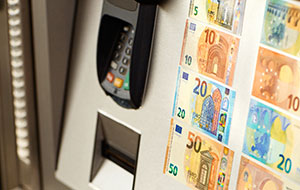 You can obtain zipped files containing low-resolution images (72 dpi) of the first series and the Europa series of banknotes.
Preventing illegal use of digital banknote images
Digital imaging hardware and software is being increasingly used by counterfeiters. In response, the Central Bank Counterfeit Deterrence Group – an international group of more than 30 central banks which was set up at the request of the G10 central bank governors – has developed a counterfeit deterrence system (CDS) which prevents the capture or reproduction of images of protected banknotes. The system has been voluntarily adopted by hardware and software producers.
Reproducing high-resolution banknote images
If you wish to reproduce high-resolution images of euro banknotes and have a legitimate professional interest in doing so, please write to info@ecb.europa.eu and explain why you need them, providing:
your name and contact details
details of your business activities
your company's website address
information on the planned use of the image(s)
You will then be asked to complete and submit a confidentiality declaration, which must be signed by an authorised representative of your company. Unless you specifically indicate otherwise, we will provide images of the most recently issued or unveiled banknote from the Europa series (300 dpi; TIFF format; marked "SPECIMEN"). The images will not trigger the CDS. We will aim to meet your request within five working days of receiving the duly completed and signed confidentiality declaration.