Common sides
The common sides of the eight euro coins have different designs:
€2 and €1, 50, 20 and 10 cent show either the European Union before its enlargement on 1 May 2004 or, as of 1 January 2007, a geographical image of Europe. Coins from Italy (including San Marino and the Vatican City), Austria and Portugal show the more recent design only if they are dated "2008" or later.
5, 2 and 1 cent show Europe in relation to Africa and Asia on a globe.
Diameter (mm): 25.75
Thickness (mm): 2.20
Weight (g): 8.50
Shape: Round
Colour: Outer part: silver; inner part: gold
Composition: Outer part: copper-nickel; inner part: three layers: nickel brass, nickel, nickel brass
Edge: Edge lettering, fine milled

Diameter (mm): 23.25
Thickness (mm): 2.33
Weight (g): 7.50
Shape: Round
Colour: Outer part: gold; inner part: silver
Composition: Outer part: nickel brass; inner part: three layers: copper-nickel, nickel, copper-nickel
Edge: Interrupted milled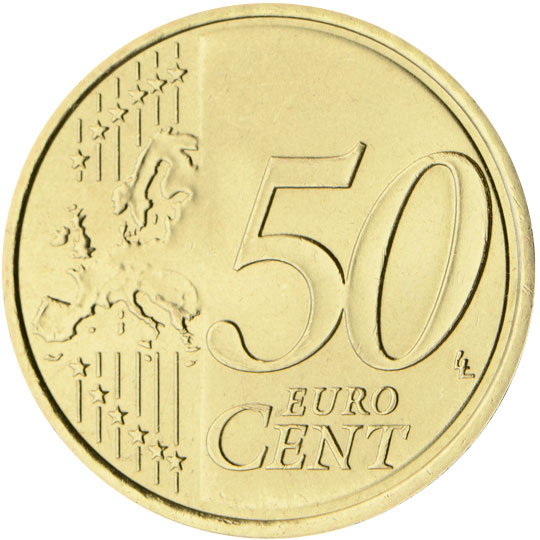 Diameter (mm): 24.25
Thickness (mm): 2.38
Weight (g): 7.80
Shape: Round
Colour: Gold
Composition: Nordic gold
Edge: Shaped edge with fine scallops

Diameter (mm): 22.25
Thickness (mm): 2.14
Weight (g): 5.74
Shape: Spanish flower shape
Colour: Gold
Composition: Nordic gold
Edge: Plain

Diameter (mm): 19.75
Thickness (mm): 1.93
Weight (g): 4.10
Shape: Round
Colour: Gold
Composition: Nordic gold
Edge: Shaped edge with fine scallops

Diameter (mm): 21.25
Thickness (mm): 1.67
Weight (g): 3.92
Shape: Round
Colour: Copper
Composition: Copper-covered steel
Edge: Smooth

Diameter (mm): 18.75
Thickness (mm): 1.67
Weight (g): 3.06
Shape: Round
Colour: Copper
Composition: Copper-covered steel
Edge: Smooth with a groove

Diameter (mm): 16.25
Thickness (mm): 1.67
Weight (g): 2.30
Shape: Round
Colour: Copper
Composition: Copper-covered steel
Edge: Smooth

All pages in this section