Executive Board
The Executive Board consists of
the President,
the Vice-President and
four other members
All members are appointed by the European Council, acting by a qualified majority.
Terms of office – past and present
Members of the Executive Board
February 2014
Responsibilities
to prepare Governing Council meetings;
to implement monetary policy for the euro area in accordance with the guidelines specified and decisions taken by the Governing Council. In so doing, it gives the necessary instructions to the euro area NCBs;
to manage the day-to-day business of the ECB;
to exercise certain powers delegated to it by the Governing Council. These include some of a regulatory nature.
Members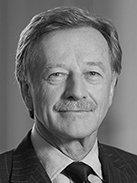 Yves Mersch
Member of the Executive Board of the ECB
Curriculum vitae
Peter Praet
Member of the Executive Board of the ECB
Curriculum vitae