Tillsynsnämnden
Tillsynsnämnden sammanträder var tredje vecka för att diskutera, planera och genomföra ECB:s tillsynsuppdrag. Nämnden lägger fram utkast till beslut till ECB-rådet vilka antas enligt förfarandet med implicit godkännande.
Sammansättning
ordförande (utses för en femårsperiod som inte kan förlängas)
vice ordförande (väljs bland ledamöterna i ECB:s direktion)
fyra företrädare för ECB
företrädare för nationella tillsynsmyndigheter
Tillsynsnämndens ledamöter
Ledamöter från ECB
Ordförande
Andrea Enria CV
Vice ordförande
vakans
Företrädare för ECB
Pentti Hakkarainen CV
Företrädare för ECB
Edouard Fernandez-Bollo CV
Företrädare för ECB
Kerstin af Jochnick CV
Företrädare för ECB
Elizabeth McCaul CV
Företrädare för nationella tillsynsmyndigheter
Belgien
Tom Dechaene (Nationale Bank van België/Banque Nationale de Belgique)
Bulgarien
Radoslav Milenkov (Bulgariens nationalbank)
Tyskland
Felix Hufeld (Bundesanstalt für Finanzdienst­leistungs­aufsicht)
Joachim Wuermeling (Deutsche Bundesbank)
Estland
Kilvar Kessler (Finantsinspektsioon)
Veiko Tali (Eesti Pank)
Irland
Ed Sibley (Central Bank of Ireland/Banc Ceannais na hÉireann)
Grekland
Ilias Plaskovitis (Bank of Greece)
Spanien
Margarita Delgado (Banco de España)
Frankrike
Denis Beau (Banque de France)
Kroatien
Martina Drvar (Hrvatska narodna banka/Kroatiska nationalbanken)
Italien
Alessandra Perrazzelli (Banca d'Italia)
Cypern
Angelos Kapatais  (Central Bank of Cyprus)
Litauen
Jekaterina Govina (Lietuvos bankas)
Lettland
Kristīne Černaja-Mežmale (Finanšu un kapitāla tirgus komisija)
Māris Kālis (Latvijas Banka)
Luxemburg
Claude Wampach (Commission de Surveillance du Secteur Financier)
Eric Cadilhac (Banque centrale du Luxembourg)
Malta
(Malta Financial Services Authority)
Oliver Bonello (Bank Ċentrali ta' Malta/Central Bank of Malta)
Nederländerna
M.W. (Thijs) van Woerden (De Nederlandsche Bank)
Österrike
Helmut Ettl (Österreichische Finanzmarktaufsicht)
Gottfried Haber (Oesterreichische Nationalbank)
Portugal
Ana Paula Serra (Banco de Portugal)
Slovenien
Irena Vodopivec Jean (Banka Slovenije)
Slovakien
Vladimír Dvořáček (Národná banka Slovenska)
Finland
Anneli Tuominen (Finansinspektionen)
Päivi Tissari (Finlands Bank)
Om den nationella tillsynsmyndighet som en medlemsstat har utsett inte är en nationell centralbank kan företrädaren för den behöriga myndigheten åtföljas av en företrädare från sin centralbank. I sådana fall ska dessa företrädare tillsammans betraktas som en enda ledamot vid omröstning.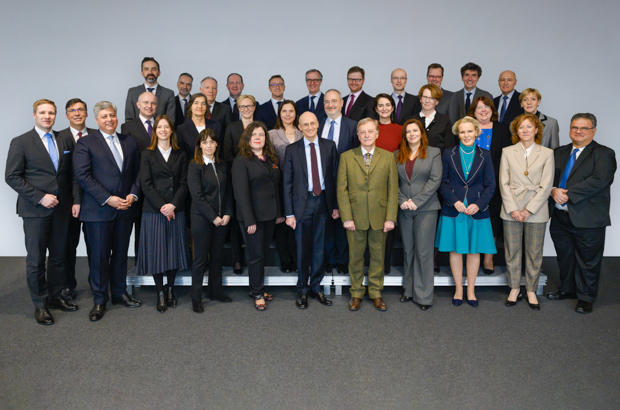 Tillsynsnämnden (i sin fullständiga sammansättning den 3 februari 2020)
Styrkommittén
Styrkommittén har till uppgift att stödja tillsynsnämndens verksamhet och förbereda dess sammanträden.
Sammansättning
tillsynsnämndens ordförande
tillsynsnämndens vice ordförande
en företrädare för ECB
fem företrädare för nationella tillsynsmyndigheter
De fem företrädarna för nationella tillsynsmyndigheter utses av tillsynsnämnden för en period på ett år enligt ett rotationssystem som säkrar en rättvis representation av länder.
Styrkommitténs ledamöter
| | |
| --- | --- |
| Tillsynsnämndens ordförande | Andrea Enria |
| Tillsynsnämndens vice ordförande | vakans |
| Företrädare för ECB | Edouard Fernandez-Bollo |
| Tyskland | Felix Hufeld (Bundesanstalt für Finanzdienstleistungsaufsicht) |
| Spanien | Margarita Delgado (Banco de España) |
| Portugal | Ana Paula Serra (Banco de Portugal) |
| Slovakien | Vladimír Dvořáček (Národná banka Slovenska) |
| Finland | Anneli Tuominen (Finanssivalvonta) |