Tilsynsrådet
Tilsynsrådet mødes hver tredje uge for at drøfte, planlægge og udføre ECB's tilsynsopgaver. Det stiller forslag til Styrelsesrådet om udkast til afgørelser i henhold til ikke-indsigelsesproceduren.
Sammensætning
Formand (udnævnt for en periode på fem år, der ikke kan fornys)
Næstformand (valgt blandt medlemmerne af ECB's direktion)
fire ECB-repræsentanter
repræsentanter for de nationale tilsynsmyndigheder
Tilsynsrådets medlemmer
ECB-medlemmer
Formand
Andrea Enria CV
Næstformand
Ledig post
ECB-repræsentant
Pentti Hakkarainen CV
Tiltrædende ECB-repræsentant
Edouard Fernandez-Bollo
Tiltrædende ECB-repræsentant
Kerstin af Jochnick
Tiltrædende ECB-repræsentant
Elizabeth McCaul
Repræsentanter for de nationale tilsynsmyndigheder
Belgien
Tom Dechaene (Nationale Bank van België/Banque Nationale de Belgique)
Tyskland
Felix Hufeld (Bundesanstalt für Finanzdienst­leistungs­aufsicht)
Joachim Wuermeling (Deutsche Bundesbank)
Estland
Kilvar Kessler (Finantsinspektsioon)
Ledig post (Eesti Pank)
Irland
Ed Sibley (Banc Ceannais na hÉireann/Central Bank of Ireland)
Grækenland
Ilias Plaskovitis (Bank of Greece)
Spanien
Margarita Delgado (Banco de España)
Frankrig
Denis Beau (Banque de France)
Italien
Alessandra Perrazzelli (Banca d'Italia)
Cypern
Ledig post (Central Bank of Cyprus)
Litauen
Vytautas Valvonis (Lietuvos bankas)
Letland
Kristīne Černaja-Mežmale (Finanšu un kapitāla tirgus komisija)
Zoja Razmusa (Latvijas Banka)
Luxembourg
Claude Wampach (Commission de Surveillance du Secteur Financier)
Eric Cadilhac (Banque centrale du Luxembourg)
Malta
Catherine Galea (Malta Financial Services Authority)
Oliver Bonello (Bank Ċentrali ta' Malta/Central Bank of Malta)
Holland
Frank Elderson (De Nederlandsche Bank)
Østrig
Helmut Ettl (Österreichische Finanzmarktaufsicht)
Gottfried Haber (Oesterreichische Nationalbank)
Portugal
Elisa Ferreira (Banco de Portugal)
Slovenien
Irena Vodopivec Jean (Banka Slovenije)
Slovakiet
Vladimír Dvořáček (Národná banka Slovenska)
Finland
Anneli Tuominen (Finanssivalvonta)
Mervi Toivanen (Suomen Pankki – Finlands Bank)
Hvis den nationale tilsynsmyndighed, som er udpeget af en deltagende medlemsstat, ikke er en national centralbank, kan repræsentanten for den kompetente myndighed ledsages af en repræsentant fra den nationale centralbank. I så fald betragtes de to repræsentanter som ét medlem i forbindelse med afstemningsproceduren.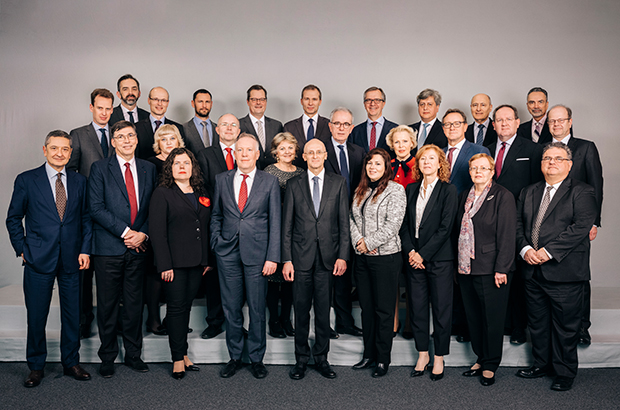 Tilsynsrådet (i sin fulde sammensætning, 21. februar 2019)
Styringsudvalget
Styringsudvalget understøtter Tilsynsrådets aktiviteter og forbereder dets møder.
Sammensætning
Tilsynsrådets formand
Tilsynsrådets næstformand
én ECB-repræsentant
fem repræsentanter for de nationale tilsynsmyndigheder
De fem repræsentanter for de nationale tilsynsmyndigheder udnævnes af Tilsynsrådet for ét år på grundlag af et rotationssystem, der sikrer en retfærdig landerepræsentation.
Styringsudvalgets medlemmer
| | |
| --- | --- |
| Tilsynsrådets formand | Andrea Enria |
| Tilsynsrådets næstformand | Ledig post |
| ECB-repræsentant | Pentti Hakkarainen |
| Frankrig | Denis Beau (Autorité de contrôle prudentiel et de résolution) |
| Holland | Frank Elderson (De Nederlandsche Bank) |
| Luxembourg | Claude Wampach (Commission de Surveillance du Secteur Financier) |
| Østrig | Helmut Ettl (Österreichische Finanzmarktaufsicht) |
| Slovenien | Irena Vodopivec Jean (Banka Slovenije) |