Rada dohledu
Rada dohledu zasedá jednou za tři týdny s cílem projednávat, plánovat a plnit úkoly ECB týkající se dohledu. Předkládá Radě guvernérů návrhy rozhodnutí v rámci postupu neuplatnění námitek.
Složení
předseda (jmenovaný na období pěti let bez možnosti opětovného jmenování)
místopředseda (vybraný z členů Výkonné rady ECB)
čtyři zástupci ECB
zástupci vnitrostátních orgánů dohledu
Členové Rady dohledu
Členové za ECB
Předseda
Andrea Enria Životopis
Místopředseda
Yves Mersch Životopis
Zástupce ECB
Pentti Hakkarainen Životopis
Zástupce ECB
Edouard Fernandez-Bollo Životopis
Zástupkyně ECB
Kerstin af Jochnicková Životopis
Zástupkyně ECB
Elizabeth McCaulová Životopis
Zástupci vnitrostátních orgánů dohledu
Belgie
Tom Dechaene (Nationale Bank van België / Banque Nationale de Belgique)
Bulharsko
Radoslav Milenkov (Bulharská národní banka)
Německo
Felix Hufeld (Bundesanstalt für Finanzdienst­leistungs­aufsicht)
Joachim Wuermeling (Deutsche Bundesbank)
Estonsko

Kilvar Kessler (Finantsinspektsioon),
místo neobsazeno (Eesti Pank)

Irsko
Ed Sibley (Central Bank of Ireland / Banc Ceannais na hÉireann)
Řecko
Ilias Plaskovitis (Bank of Greece)
Španělsko
Margarita Delgadová (Banco de España)
Francie
Denis Beau (Banque de France)
Chorvatsko
Martina Drvarová (Hrvatska narodna banka)
Itálie
Alessandra Perrazzelliová (Banca d'Italia)
Kypr
Angelos Kapatais (Central Bank of Cyprus)
Litva
Jekaterina Govinová (Lietuvos bankas)
Lotyšsko
Kristīne Černaja-Mežmalová (Finanšu un kapitāla tirgus komisija),
Māris Kālis (Latvijas Banka)
Lucembursko
Claude Wampach (Commission de Surveillance du Secteur Financier)
Eric Cadilhac (Banque centrale du Luxembourg)
Malta
(Malta Financial Services Authority)
Oliver Bonello (Bank Ċentrali ta' Malta / Central Bank of Malta)
Nizozemsko
Frank Elderson (De Nederlandsche Bank)
Rakousko
Helmut Ettl (Österreichische Finanzmarktaufsicht)
Gottfried Haber (Oesterreichische Nationalbank)
Portugalsko
Ana Paula Serrová (Banco de Portugal)
Slovinsko
Irena Vodopivcová Jeanová (Banka Slovenije)
Slovensko
Vladimír Dvořáček (Národná banka Slovenska)
Finsko
Anneli Tuominenová (Finanssivalvonta)
Päivi Tissariová (Suomen Pankki – Finlands Bank)
Pokud členský stát neurčil jako vnitrostátní orgán dohledu národní centrální banku (NCB), může být zástupce příslušného orgánu doprovázen jejím zástupcem. Pro účely hlasování jsou v takových případech zástupci společně považováni za jednoho člena.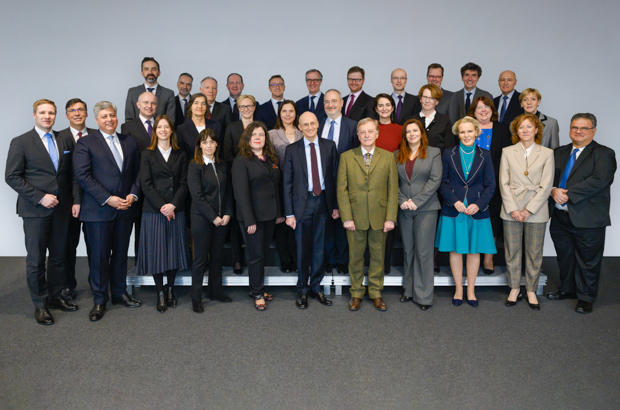 Rada dohledu (v plném složení, k 3. únoru 2020)
Řídicí výbor
Řídicí výbor podporuje činnosti Rady dohledu a připravuje její zasedání.
Složení
předseda Rady dohledu
místopředsedkyně Rady dohledu
jeden zástupce ECB
pět zástupců vnitrostátních orgánů dohledu
Těchto pět zástupců vnitrostátních orgánů dohledu jmenuje Rada dohledu na období jednoho roku na základě rotačního systému, který zajišťuje spravedlivé zastoupení jednotlivých zemí.
Členové Řídicího výboru
| | |
| --- | --- |
| Předseda Rady dohledu | Andrea Enria |
| Místopředseda Rady dohledu | Yves Mersch |
| Zástupce ECB | Edouard Fernandez-Bollo |
| Německo | Felix Hufeld (Bundesanstalt für Finanzdienstleistungsaufsicht) |
| Španělsko | Margarita Delgado (Banco de España) |
| Portugalsko | Ana Paula Serra (Banco de Portugal) |
| Slovensko | Vladimír Dvořáček (Národná banka Slovenska) |
| Finsko | Anneli Tuominen (Finanssivalvonta) |