Ühtse järelevalvemehhanismi järelevalvenõukogu
Järelevalvenõukogu koguneb iga kolme nädala järel, et arutada, kavandada ja viia ellu EKP järelevalveülesandeid. Järelevalvenõukogu esitab EKP nõukogule otsuste eelnõusid kooskõlas vastuväidete mitteesitamise menetlusega.
Koosseis
esimees (ühekordne viieaastane ametiaeg)
aseesimees (valitakse EKP juhatuse liikmete hulgast)
neli EKP esindajat
riiklike järelevalveasutuste esindajad
Järelevalvenõukogu liikmed
EKP liikmed
Esimees
Andrea Enria CV
Aseesimees
Yves Mersch CV
EKP esindaja
Pentti Hakkarainen CV
EKP esindaja
Edouard Fernandez-Bollo CV
EKP esindaja
Kerstin af Jochnick CV
EKP esindaja
Elizabeth McCaul CV
Riiklike järelevalveasutuste esindajad
Belgia
Tom Dechaene (Nationale Bank van België/Banque Nationale de Belgique)
Bulgaaria
Radoslav Milenkov (Bulgarian National Bank)
Saksamaa
Felix Hufeld (Bundesanstalt für Finanzdienst­leistungs­aufsicht)
Joachim Wuermeling (Deutsche Bundesbank)
Eesti
Kilvar Kessler (Finantsinspektsioon)
ametikoht täitmata (Eesti Pank)
Iirimaa
Ed Sibley (Central Bank of Ireland/Banc Ceannais na hÉireann)
Kreeka
Ilias Plaskovitis (Bank of Greece)
Hispaania
Margarita Delgado (Banco de España)
Prantsusmaa
Denis Beau (Banque de France)
Horvaatia
Martina Drvar (Hrvatska narodna banka)
Itaalia
Alessandra Perrazzelli (Banca d'Italia)
Küpros
Angelos Kapatais (Central Bank of Cyprus)
Leedu
Jekaterina Govina (Lietuvos bankas)
Läti
Kristīne Černaja-Mežmale (Finanšu un kapitāla tirgus komisija)
Māris Kālis (Latvijas Banka)
Luksemburg
Claude Wampach (Commission de Surveillance du Secteur Financier)
Eric Cadilhac (Banque centrale du Luxembourg)
Malta
(Malta Financial Services Authority)
Oliver Bonello (Bank Ċentrali ta' Malta/Central Bank of Malta)
Madalmaad
Frank Elderson (De Nederlandsche Bank)
Austria
Helmut Ettl (Österreichische Finanzmarktaufsicht)
Gottfried Haber (Oesterreichische Nationalbank)
Portugal
Ana Paula Serra (Banco de Portugal)
Sloveenia
Irena Vodopivec Jean (Banka Slovenije)
Slovakkia
Vladimír Dvořáček (Národná banka Slovenska)
Soome
Anneli Tuominen (Finanssivalvonta)
Päivi Tissari (Suomen Pankki – Finlands Bank)
Kui liikmesriigi määratud järelevalveasutuseks ei ole riigi keskpank, võib pädeva järelevalveasutuse esindajaga ühineda liikmesriigi keskpanga esindaja. Sel juhul käsitatakse kõiki neid esindajaid kokku hääletamisel siiski ainult ühe liikmena.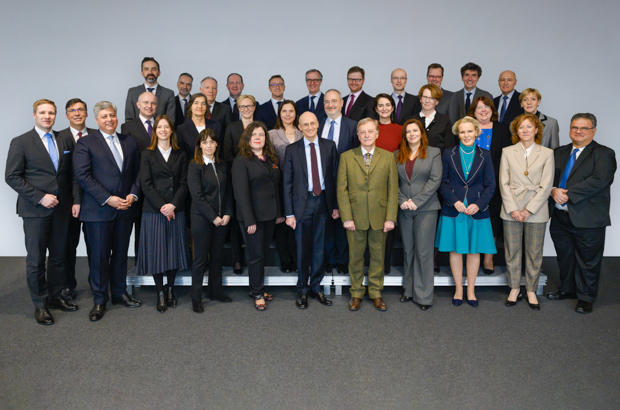 Järelevalvenõukogu liikmed (nõukogu täiskoosseis, 3. veebruar 2020)
Juhtkomitee
Juhtkomitee toetab järelevalvenõukogu tegevust ja valmistab ette selle koosolekuid.
Koosseis
järelevalvenõukogu esimees
järelevalvenõukogu aseesimees
üks EKP esindaja
viis riiklike järelevalveasutuste esindajat
Järelevalvenõukogu määrab viis riiklike järelevalveasutuste esindajat üheks aastaks rotatsioonipõhimõtte alusel, mis tagab riikide õiglase esindatuse.
Juhtkomitee liikmed
| | |
| --- | --- |
| Järelevalvenõukogu esimees | Andrea Enria |
| Järelevalvenõukogu aseesimees | Yves Mersch |
| EKP esindaja | Edouard Fernandez-Bollo |
| Saksamaa | Felix Hufeld (Bundesanstalt für Finanzdienstleistungsaufsicht) |
| Hispaania | Margarita Delgado (Banco de España) |
| Portugal | Ana Paula Serra (Banco de Portugal) |
| Slovakkia | Vladimír Dvořáček (Národná banka Slovenska) |
| Soome | Anneli Tuominen (Finanssivalvonta) |