Consiliul de supraveghere
Consiliul de supraveghere se reunește de două ori pe lună pentru a discuta, a planifica și a executa atribuțiile de supraveghere ale BCE. Acesta înaintează propuneri de decizie Consiliului guvernatorilor, în temeiul procedurii aplicabile în cazul absenţei unei obiecţii.
Componență
președinte (numit pentru un mandat de cinci ani, care nu poate fi reînnoit);
vicepreședinte (ales dintre membrii Comitetului executiv al BCE);
patru reprezentanți ai BCE;
reprezentanți ai autorităților naționale de supraveghere.
Membrii Consiliului de supraveghere
Membri ai BCE
Președintă
Andrea Enria CV
Vicepreședintă
Sabine Lautenschläger CV
Reprezentant al BCE
Ignazio Angeloni CV
Reprezentant al BCE
funcție vacantă
Reprezentant al BCE
funcție vacantă
Reprezentant al BCE
Pentti Hakkarainen CV
Reprezentanți ai autorităților naționale competente
Belgia
Tom Dechaene (Nationale Bank van België/Banque Nationale de Belgique)
Germania
Felix Hufeld (Bundesanstalt für Finanzdienst­leistungs­aufsicht)
Joachim Wuermeling (Deutsche Bundesbank)

Estonia
Kilvar Kessler (Finantsinspektsioon)
Madis Müller (Eesti Pank)

Irlanda
Ed Sibley (Central Bank of Ireland/Banc Ceannais na hÉireann)
Grecia
Ilias Plaskovitis (Bank of Greece)
Spania
Margarita Delgado (Banco de España)
Franța
Denis Beau (Banque de France)
Italia
Fabio Panetta (Banca d'Italia)
Cipru
Yiangos Demetriou (Central Bank of Cyprus)
Lituania
Vytautas Valvonis (Lietuvos bankas)
Letonia
Pēters Putniņš (Finanšu un kapitāla tirgus komisija)
Zoja Razmusa (Latvijas Banka)

Luxemburg
Claude Wampach (Commission de Surveillance du Secteur Financier)
Eric Cadilhac (Banque centrale du Luxembourg)

Malta
Catherine Galea (Malta Financial Services Authority)
Oliver Bonello (Bank Ċentrali ta' Malta/Central Bank of Malta)

Țările de Jos
Frank Elderson (De Nederlandsche Bank)
Austria
Helmut Ettl (Finanzmarktaufsicht)
Andreas Ittner (Oesterreichische Nationalbank)

Portugalia
Elisa Ferreira (Banco de Portugal)
Slovenia
Primož Dolenc (Banka Slovenije)
Slovacia
Vladimír Dvořáček (Národná banka Slovenska)
Finlanda
Anneli Tuominen (Finanssivalvonta)
Mervi Toivanen (Suomen Pankki – Finlands Bank)

În cazul în care autoritatea națională de supraveghere desemnată de un stat membru nu este o bancă centrală națională (BCN), reprezentantul autorității competente poate fi însoțit de un reprezentant al BCN. În acest caz, cei doi reprezentanți sunt considerați un singur membru în cadrul procedurii de votare.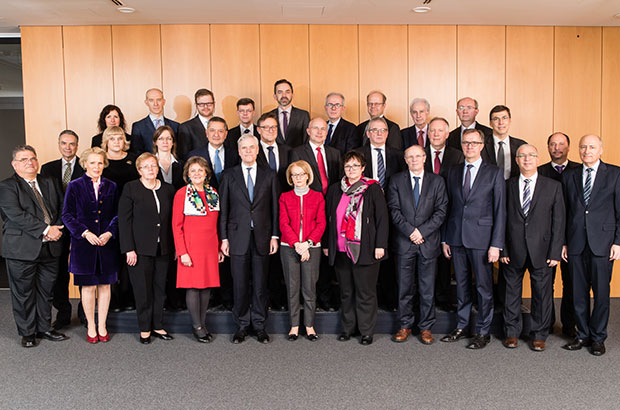 Consiliul de supraveghere (configurație completă, 22 februarie 2018)
Comitetul director
Comitetul director sprijină activitățile Consiliului de supraveghere și pregătește ședințele acestuia.
Componență
președintele Consiliului de supraveghere;
vicepreședintele Consiliului de supraveghere;
un reprezentant al BCE;
cinci reprezentanți ai autorităților naționale de supraveghere.
Cei cinci reprezentanți ai autorităților naționale de supraveghere sunt desemnați de Consiliul de supraveghere pentru un mandat de un an, prin rotație, asigurându-se astfel reprezentarea echitabilă a fiecărei țări.
Membrii Comitetului director
| | |
| --- | --- |
| Președintele Consiliului de supraveghere | Andrea Enria |
| Vicepreședinta Consiliului de supraveghere | Sabine Lautenschläger |
| Reprezentant al BCE | Pentti Hakkarainen |
| Germania | Felix Hufeld (Bundesanstalt für Finanzdienstleistungsaufsicht) |
| Italia | Fabio Panetta (Banca d'Italia) |
| Grecia | Ilias Plaskovitis (Bank of Greece) |
| Irlanda | Ed Sibley (Central Bank of Ireland/Banc Ceannais na hÉireann) |
| Malta | Catherine Galea (Malta Financial Services Authority) |