Uzraudzības valde
Uzraudzības valde tiekas reizi trijās nedēļās, lai apspriestu, plānotu un īstenotu ECB uzraudzības uzdevumus. Tā iesniedz Padomei jaunus lēmumu projektus saskaņā ar iebildumu neizteikšanas procedūru.
Sastāvs
priekšsēdētājs (tiek iecelts uz pieciem gadiem bez atkārtotas iecelšanas tiesībām);
priekšsēdētāja vietnieks (tiek iecelts no ECB Valdes locekļu vidus);
četri ECB pārstāvji;
valstu uzraudzības iestāžu pārstāvji.
Uzraudzības valdes locekļi
ECB locekļi
Priekšsēdētājs
Andrea Enria Autobiogrāfija
Priekšsēdētāja vietnieks
Īvs Meršs (Yves Mersch) Autobiogrāfija
ECB pārstāvis
Penti Hakarainens (Pentti Hakkarainen) Autobiogrāfija
ECB pārstāvis
Eduārs Fernandess Bolo (Edouard Fernandez-Bollo) Autobiogrāfija
ECB pārstāvis
Kerstina af Johnika (Kerstin af Jochnick) Autobiogrāfija
ECB pārstāvis
Elizabete Makola (Elizabeth McCaul) Autobiogrāfija
Valstu uzraudzības iestāžu pārstāvji
Beļģija
Toms Dešāns (Tom Dechaene; Nationale Bank van België/Banque Nationale de Belgique)
Bulgārija
Radoslavs Milenkovs (Radoslav Milenkov; Bulgarian National Bank)
Vācija
Fēlikss Hufelds (Felix Hufeld; Bundesanstalt für Finanzdienst­leistungs­aufsicht)
Joahims Virmelings (Joachim Wuermeling; Deutsche Bundesbank)
Igaunija
Kilvars Keslers (Kilvar Kessler; Finantsinspektsioon)
vakance (Eesti Pank)
Īrija
Eds Siblijs (Ed Sibley; Central Bank of Ireland/Banc Ceannais na hÉireann)
Grieķija
Iliass Plaskovitiss (Ilias Plaskovitis; Bank of Greece)
Spānija
Margarita Delgado (Banco de España)
Francija
Denī Bo (Denis Beau; Banque de France)
Horvātija
Martina Drvara (Martina Drvar; Hrvatska narodna banka)
Itālija
Alesandra Peracelli (Alessandra Perrazzelli​; Banca d'Italia)
Kipra
Angels Kapatajis (Angelos Kapatais; Central Bank of Cyprus)
Lietuva
Jekaterina Govina (Lietuvos bankas)
Latvija
Kristīne Černaja-Mežmale (Finanšu un kapitāla tirgus komisija)
Māris Kālis (Latvijas Banka)
Luksemburga
Klods Vampahs (Claude Wampach; Commission de Surveillance du Secteur Financier)
Ēriks Kadijaks (Eric Cadilhac; Banque centrale du Luxembourg)
Malta
(Malta Financial Services Authority)
Olivers Bonello (Oliver Bonello; Bank Ċentrali ta' Malta/Central Bank of Malta)
Nīderlande
Franks Eldersons (Frank Elderson; De Nederlandsche Bank)
Austrija
Helmuts Etls (Helmut Ettl; Finanzmarktaufsicht)
Gotfrīds Hābers (Gottfried Haber; Oesterreichische Nationalbank)
Portugāle
Ana Paula Serra (Banco de Portugal)
Slovēnija
Irēna Vodopiveca Žana (Irena Vodopivec Jean; Banka Slovenije)
Slovākija
Vladimirs Dvoračeks (Vladimír Dvořáček; Národná banka Slovenska)
Somija
Anneli Tominena (Anneli Tuominen; Finanssivalvonta)
Peivi Tisari (Päivi Tissari; Suomen Pankki – Finlands Bank)
Ja attiecīgās dalībvalsts uzraudzības iestāde nav nacionālā centrālā banka, līdztekus kompetentās iestādes pārstāvim Uzraudzības valdes sastāvā var iekļaut arī šīs dalībvalsts centrālās bankas pārstāvi. Šādos gadījumos balsošanas procedūrā abi pārstāvji tiek uzskatīti par vienu locekli.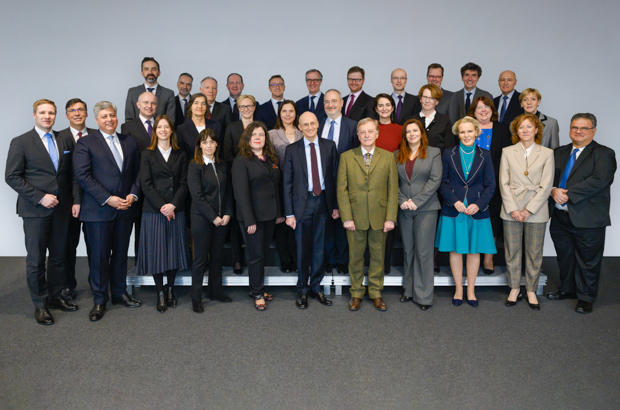 Uzraudzības valde (pilnā sastāvā 2020. gada 3. februārī)
Koordinācijas komiteja
Koordinācijas komiteja sniedz atbalstu Uzraudzības valdei tās darbībā un sagatavo Uzraudzības valdes sanāksmes.
Sastāvs
Uzraudzības valdes priekšsēdētājs;
Uzraudzības valdes priekšsēdētāja vietnieks;
viens ECB pārstāvis;
pieci valstu uzraudzības iestāžu pārstāvji.
Piecus valstu uzraudzības iestāžu pārstāvjus uz vienu gadu ieceļ Uzraudzības valde, pamatojoties uz rotācijas sistēmu, kas nodrošina valstu taisnīgu pārstāvniecību.
Koordinācijas komitejas locekļi
| | |
| --- | --- |
| Uzraudzības valdes priekšsēdētājs | Andrea Enria  |
| Uzraudzības valdes priekšsēdētāja vietnieks | Īvs Meršs |
| ECB pārstāvis | Eduārs Fernandess Bolo |
| Vācija | Fēlikss Hufelds (Bundesanstalt für Finanzdienstleistungsaufsicht) |
| Spānija | Margarita Delgado (Banco de España) |
| Portugāle | Ana Paula Serra (Banco de Portugal) |
| Slovākija | Vladimirs Dvoračeks (Národná banka Slovenska) |
| Somija | Anneli Tominena (Finanssivalvonta) |