Pretviltošanas pasākumi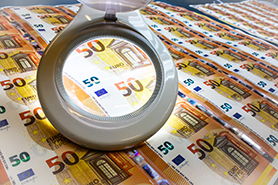 Euro banknošu izgatavošanā izmanto modernas iespiedtehnoloģijas. Banknotēm ir arī vairāki labi saskatāmi pretviltošanas elementi, kas ļauj tās viegli atšķirt no viltojumiem (neizmantojot speciālu aprīkojumu) un attur viltojumu izgatavotājus.
Kas jādara, ja rodas aizdomas, ka banknote ir viltota?
Ja jūsu rokās nonāk banknote un, to APTAUSTOT, APSKATOT un PAGROZOT, jums liekas, ka tā ir viltota, tad droši vien tā tiešām ir viltota un jums nevajadzētu to pieņemt. Ja jums šķiet, ka jūs jau esat saņēmis viltotu banknoti, jums nekavējoties jāvēršas policijā vai attiecīgajā savas valsts kompetentajā iestādē.
Banknotes nodošana tālāk, ja zināms vai radušās aizdomas, ka tā ir viltota, ir krimināli sodāma. Viltotām banknotēm nav vērtības, ja pieņemsiet viltotu banknoti, jums nepienāksies nekāda kompensācija.
Lai kārtīgi pārbaudītu banknoti, varat arī doties ar to uz tuvāko banku. Visās bankās ir speciālas skaidrās naudas apstrādes iekārtas, ar kuru palīdzību iespējams atpazīt viltojumus. Centieties atcerēties, no kā un kur saņēmāt viltoto banknoti. Šī informācija var būt ārkārtīgi svarīga, lai palīdzētu atklāt naudas viltotājus.
Speciālā informācija skaidrās naudas apstrādātājiem
Ja jūs katru dienu apstrādājat lielu naudas apjomu, pastāv iespēja saņemt aizdomīgu banknoti. Ideālā gadījumā jūsu darba devējs ir izstrādājis plānu šādiem gadījumiem. Tālāk sniegti daži padomi, kā rīkoties, ja apšaubāt banknotes īstumu.
Nepieņemiet banknoti, ja neesat pārliecināts par tās īstumu.
Pieklājīgi lūdziet klientam citu banknoti. Ņemiet vērā, ka viņš var nebūt vainīgs.
Par incidentu tūlīt informējiet policiju un/vai drošības speciālistu.
Centieties iegaumēt pēc iespējas vairāk informācijas par klientu.
Ja jums šķiet, ka kļūdas dēļ esat pieņēmis viltotu banknoti, nenododiet to tālāk, jo šāda rīcība ir krimināli sodāma.
Nododiet aizdomīgo banknoti vietējā policijas iecirknī, tuvējā bankā vai nacionālajā centrālajā bankā. Ja banknote izrādīsies īsta, naudu saņemsiet atpakaļ.
Nepakļaujiet sevi riskam.
Ja vēlaties saņemt sīkāku informāciju, sazinieties ar savas valsts centrālo banku.
Viltojumu analīzes centrs
ECB rūpīgi seko jaunākajiem sasniegumiem iespiešanas un reproducēšanas tehnoloģijās un reģistrē konfiscēto viltojumu skaitu. Viltojumi tiek analizēti euro zonas centrālajās bankās un ECB Viltojumu analīzes centrā, kas apkopo un apstrādā tehnisko un statistisko informāciju par viltojumiem. Šī informācija tiek nodota arī valstu policijas dienestiem un citām struktūrām, kas piedalās cīņā pret naudas viltošanu. ECB arī cieši sadarbojas ar Eiropolu (Eiropas Policijas biroju), kas izveidots kā centrālais euro aizsardzības koordinēšanas birojs, kā arī Interpolu (Starptautisko kriminālpolicijas organizāciju) un Eiropas Komisiju.
Cīņa pret digitālo banknošu attēlu nelegālu izmantošanu
Naudas viltotāji arvien biežāk izmanto digitālo attēlu apstrādes iekārtas un programmatūru. Tāpēc Centrālo banku viltojumu novēršanas grupa – pēc G10 valstu centrālo banku prezidentu lūguma Bāzelē izveidota starptautiska grupa, kas apvieno 30 centrālās bankas, – izveidojusi Viltojumu novēršanas sistēmu (counterfeit deterrence system; CDS), kas nepieļauj aizsargātu banknošu attēlu uzņemšanu vai reproducēšanu. Vairāki datortehnikas un programmatūras ražotāji brīvprātīgi ieviesuši šo sistēmu. Taču no ECB iespējams saņemt augstas izšķirtspējas banknošu attēlus izmantošanai likumīgiem mērķiem.
Ja vēlaties reproducēt augstas izšķirtspējas attēlus, rakstiet uz adresi info@ecb.europa.eu, sniedzot skaidrojumu, kāpēc jums nepieciešami šie attēli.