Zaštita od krivotvorenja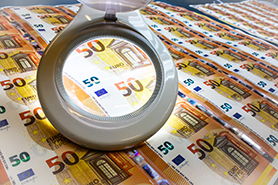 Euronovčanice se proizvode sofisticiranom tiskarskom tehnologijom. Imaju niz istaknutih zaštitnih obilježja, koja služe za odvraćanje krivotvoritelja i zahvaljujući kojima ih je lako razlikovati od krivotvorenih novčanica bez upotrebe posebne opreme.
Što ako posumnjam da je novčanica krivotvorena?
Ako dobijete novčanicu, primijenite metodu OSJETI, POGLEDAJ i NAKREĆI i posumnjate da je riječ o krivotvorini, vjerojatno je riječ o krivotvorini i ne biste je trebali prihvatiti. Ako vjerujete da ste u posjedu krivotvorene novčanice, odmah biste trebali obavijestiti policiju ili nadležna nacionalna tijela.
Stavljanje novčanice za koju mislite ili znate da je krivotvorena u optjecaj kazneno je djelo. Krivotvorine nemaju vrijednost. Ako prihvatite krivotvorinu, neće vam biti nadoknađena šteta.
Želite li biti potpuno sigurni u autentičnost novčanice, možete je odnijeti u najbližu banku. Sve banke opremljene su opremom za obradu gotovine kojom se mogu otkriti krivotvorine. Pokušajte se sjetiti tko vam je dao novčanicu i gdje je to učinio. Te informacije mogu biti od iznimne pomoći u otkrivanju krivotvoritelja.
Posebne informacije za osobe koje profesionalno rukuju gotovinom
Ako svakodnevno rukujete velikim količinama novca, mogla bi vam u ruke doći sumnjiva novčanica. Premda bi vas u načelu poslodavac morao uputiti kako trebate postupati ako do toga dođe, slijedi nekoliko savjeta što učiniti ako posumnjate u autentičnost novčanice.
Ako niste sigurni da je novčanica autentična, nemojte je prihvatiti.
Ljubazno od klijenta zatražite drugu novčanicu uz pretpostavku da je klijent nedužan.
Odmah o tom događaju obavijestite policiju i/ili zaštitara.
Pokušajte zapamtiti što više podataka o klijentu.
Ako mislite da ste zabunom prihvatili krivotvorinu, nemojte je vratiti u optjecaj jer je to kazneno djelo.
Predajte sumnjivu novčanicu policiji, lokalnoj banci ili nacionalnoj središnjoj banci. Ako je autentična, dobit ćete novac natrag.
Ne izlažite se riziku.
Za dodatne informacije obratite se svojoj nacionalnoj središnjoj banci.
Centar za analizu krivotvorina
ESB pomno prati napredak u tehnologijama tiskanja i reproduciranja novčanica te evidentira broj zaplijenjenih krivotvorenih novčanica. One se analiziraju u središnjim bankama europodručja i Centru za analizu krivotvorina ESB-a, koji prikuplja i obrađuje tehničke i statističke podatke o krivotvorinama. Centar dijeli informacije s nacionalnim policijskim snagama i drugim tijelima uključenima u borbu protiv krivotvorenja. ESB također blisko surađuje s Europolom (Europski policijski ured), koji je imenovan središnjim uredom za koordinaciju zaštite eura te s Interpolom (Međunarodna organizacija kriminalističkih policija) i Europskom komisijom.
Sprječavanje nezakonite upotrebe digitalnih slika novčanica
Krivotvoritelji se sve više služe računalnom opremom i programskom podrškom za digitalnu obradu slika. Skupina središnjih banaka za sprječavanje krivotvorenja (Central Bank Counterfeit Deterrence Group, CBCDG), međunarodna skupina više od 30 središnjih banaka koja je stvorena u Baselu na zahtjev guvernera središnjih banaka skupine G10, odgovorila je na to razvojem sustava za sprječavanje krivotvorenja (Counterfeit Deterrence System, CDS), koji sprječava akviziciju i reprodukciju slika zaštićenih novčanica. Taj su sustav dobrovoljno prihvatili proizvođači računalne opreme i programske podrške. Od ESB-a se, međutim, mogu dobiti slike novčanica visoke rezolucije za upotrebu u opravdane svrhe.
Želite li reproducirati slike visoke rezolucije, obratite nam se na e-adresu info@ecb.europa.eu i objasnite zašto su vam potrebne.