Przeciwdziałanie fałszerstwom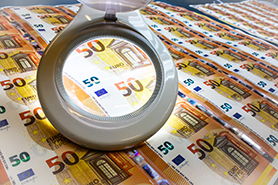 Do produkcji banknotów euro stosuje się złożone techniki drukarskie. Banknoty mają też łatwo rozpoznawalne zabezpieczenia, które umożliwiają wykrywanie falsyfikatów nawet bez specjalistycznego sprzętu i odstraszają fałszerzy.
Co robić, gdy banknot wydaje się fałszywy?
Jeśli wręczany nam banknot wzbudza podejrzenia po sprawdzeniu go DOTYKIEM, POD ŚWIATŁO i POD KĄTEM, to prawdopodobnie jest fałszywy i należy odmówić jego przyjęcia. Gdy wątpliwości budzi któryś z posiadanych już banknotów, należy natychmiast powiadomić policję lub odpowiednie organy.
Puszczenie w obieg banknotu, który jest lub wydaje się fałszywy, stanowi przestępstwo. Fałszywe banknoty są zupełnie bezwartościowe, a za przyjęty falsyfikat nie należy się zwrot pieniędzy.
Aby dodatkowo zweryfikować autentyczność banknotu, można go zanieść do najbliższego banku. Wszystkie banki mają specjalne urządzenia do sprawdzania pieniędzy. Dobrze byłoby przypomnieć sobie, gdzie i od kogo otrzymaliśmy podejrzany banknot – informacje te mogą się bardzo przydać przy ściganiu fałszerzy.
Informacje dla osób pracujących z gotówką
Osoby, które mają na co dzień do czynienia z dużą ilością gotówki, prędzej czy później mogą się natknąć na banknot budzący podejrzenia. Zasady postępowania w takiej sytuacji powinien określić pracodawca. Oto kilka wskazówek, jak się zachować, gdy banknot budzi wątpliwości.
Jeśli nie ma pewności, czy banknot jest autentyczny, nie należy go przyjmować.
W założeniu, że klient działa w dobrej wierze, grzecznie poprosić go o inny banknot.
Niezwłocznie poinformować policję lub ochronę.
Postarać się zapamiętać jak najwięcej informacji o kliencie.
Jeśli podejrzenia wzbudzi banknot już przyjęty, nie wolno puszczać go dalej w obieg – byłoby to przestępstwem.
Podejrzany banknot przekazać policji, miejscowemu bankowi lub krajowemu bankowi centralnemu. Jeśli ostatecznie okaże się on autentyczny, pieniądze zostaną zwrócone.
Nie narażać się na niebezpieczeństwo.
Więcej informacji można uzyskać w krajowym banku centralnym.
Centrum Analiz Fałszerstw
EBC uważnie śledzi rozwój technik druku i reprodukcji oraz rejestruje liczbę przechwyconych falsyfikatów. Fałszywe banknoty są analizowane w bankach centralnych ze strefy euro oraz w Centrum Analiz Fałszerstw przy EBC, które gromadzi i przetwarza techniczne i statystyczne dane o falsyfikatach. Informacje te są udostępniane organom policji w poszczególnych krajach oraz innym instytucjom zajmującym się zwalczaniem fałszerstw. EBC ściśle współpracuje również z Europolem (Europejskim Biurem Policji), który koordynuje działania na rzecz ochrony euro, z Interpolem (Międzynarodową Organizacją Policji Kryminalnej) oraz z Komisją Europejską.
Zapobieganie nielegalnemu wykorzystywaniu cyfrowych wizerunków banknotów euro
Fałszerze coraz powszechniej korzystają ze sprzętu i oprogramowania do cyfrowej obróbki obrazu. W związku z tym Grupa Banków Centralnych ds. Powstrzymywania Fałszerstw Pieniądza – utworzona w Bazylei z inicjatywy prezesów banków centralnych z grupy G10 i obejmująca już ponad 30 krajów – opracowała system przeciwdziałania fałszerstwom (Counterfeit Deterrence System, CDS), który uniemożliwia kopiowanie i powielanie wizerunków chronionych banknotów. System ten wprowadziło dobrowolnie wielu producentów sprzętu i oprogramowania komputerowego. Wizerunki banknotów euro o wysokiej rozdzielczości do legalnych celów można uzyskać od EBC.
Aby je otrzymać, należy napisać na adres: info@ecb.europa.eu i wyjaśnić, do czego są potrzebne.