Bestrijding van vervalsingen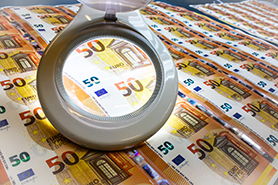 Bij de productie van de eurobankbiljetten wordt geavanceerde druktechnologie gebruikt. De biljetten bevatten ook een aantal opvallende echtheidskenmerken, zodat vervalsingen gemakkelijk en zonder speciale apparatuur kunnen worden herkend. Vervalsers worden daardoor afgeschrikt.
Wat moet ik doen als ik het vermoeden heb dat een biljet vals is?
Als iemand u een bankbiljet overhandigt en u denkt na de VOEL-KIJK-KANTEL-methode te hebben toegepast dat het vals is, dan is het waarschijnlijk ook vals en dient u het niet aan te nemen. Als u denkt al een vals biljet in uw bezit te hebben, dient u onmiddellijk de politie of de bevoegde nationale instanties in te lichten.
Het is een misdrijf een bankbiljet waarvan u vermoedt of weet dat het een vervalsing is, weer uit te geven. Valse bankbiljetten zijn absoluut waardeloos en u krijgt een vervalsing die u heeft aangenomen niet vergoed.
U kunt een bankbiljet ter controle ook meenemen naar de dichtstbijzijnde bank. Alle banken hebben speciale geldverwerkingsapparatuur waarmee ze valse bankbiljetten kunnen opsporen. Probeer u te herinneren van wie u het biljet heeft gekregen en waar. Deze informatie kan van grote waarde zijn bij het opsporen van vervalsers.
Informatie speciaal voor contantgeldverwerkers
Als u iedere dag met grote hoeveelheden contant geld omgaat, bestaat de kans dat u een verdacht bankbiljet in handen krijgt. Idealiter zou uw werkgever daarvoor een vaste procedure moeten hebben. Hier volgen enkele tips voor het geval u niet zeker bent van een bankbiljet.
Neem een biljet niet aan als u er niet zeker van bent dat het echt is.
Vraag de klant beleefd om een ander biljet en ga ervan uit dat hij of zij onschuldig is.
Informeer onmiddellijk de plaatselijke politie en/of uw beveiligingsmedewerker.
Probeer zo veel mogelijk informatie over de klant te onthouden.
Als u denkt per ongeluk een vals bankbiljet te hebben aangenomen, geef dit biljet dan niet door, want dat is een misdrijf.
Breng het verdachte biljet naar de plaatselijke politie, een plaatselijke bank of de nationale centrale bank. Als het echt is, krijgt u uw geld terug.
Neem geen risico's.
Voor meer informatie kunt u contact opnemen met uw nationale centrale bank.
Counterfeit Analysis Centre
De ECB volgt de ontwikkelingen in de druk- en reproductietechnologie op de voet en houdt het aantal in beslag genomen vervalsingen bij. De vervalste biljetten worden geanalyseerd door de centrale banken van het eurogebied en het Counterfeit Analysis Centre van de ECB, dat de technische en statistische informatie over vervalste biljetten coördineert. Het deelt die informatie met nationale politiekorpsen en andere instanties die valsemunterij bestrijden. De ECB werkt daarnaast nauw samen met de Europese politiedienst Europol, die is aangewezen als de centrale coördinator voor de bescherming van de euro, met Interpol (de internationale politiedienst) en met de Europese Commissie.
Illegaal gebruik van digitale afbeeldingen van bankbiljetten voorkomen
Vervalsers maken steeds vaker gebruik van hard- en software voor digitale beeldbewerking. De Central Bank Counterfeit Deterrence Group (een internationale groep van meer dan dertig centrale banken die op verzoek van de gouverneurs/presidenten van de centrale banken van de G10-landen is opgezet) heeft daarom een systeem ter bestrijding van vervalsingen ('counterfeit deterrence system' of CDS) ontwikkeld dat voorkomt dat van beveiligde bankbiljetten afbeeldingen kunnen worden gemaakt en gereproduceerd. Hard- en softwareproducenten hebben het systeem inmiddels op vrijwillige basis ingevoerd. Voor legitieme doeleinden stelt de ECB echter afbeeldingen van de bankbiljetten in hoge resolutie ter beschikking.
Als u afbeeldingen in hoge resolutie wilt reproduceren, schrijf dan een e-mail naar info@ecb.europa.eu waarin u uitlegt waarvoor u ze nodig hebt.