Boj proti padělání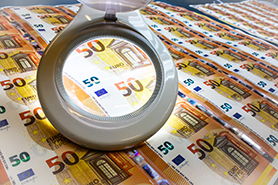 Při výrobě eurobankovek se používá vyspělá technologie tisku. Bankovky jsou navíc opatřeny řadou moderních ochranných prvků. Pravou bankovku lze proto snadno odlišit od padělku, a to i bez zvláštního vybavení, což odrazuje padělatele.
Jak postupovat, pokud mám podezření, že je bankovka padělaná?
Když dostanete podezřelou bankovku a po kontrole hmatem, nastavením proti světlu a nakloněním máte za to, že jde o padělek, pak se pravděpodobně o padělek jedná a bankovku byste neměli přijmout. Pokud považujete za padělek bankovku, kterou již držíte, je třeba neprodleně informovat policii nebo příslušné státní orgány.
Poslat dále do oběhu bankovku, o které se domníváte nebo víte, že je padělaná, je trestný čin. Padělky jsou zcela bezcenné a pokud padělek přijmete, neobdržíte žádnou náhradu.
Pro provedení druhé kontroly pravosti bankovky ji dále můžete zanést do nejbližší banky. Všechny banky mají speciální zařízení na zpracování hotovosti, které dokáže padělky odhalit. Zkuste si vzpomenout, kdo vám bankovku dal a kde. Tyto informace mohou být při pátrání po padělatelích velmi cenné.
Informace pro zpracovatele hotovosti
Zpracováváte-li každý den velké množství peněz, může se vám dostat do rukou podezřelá bankovka. V ideálním případě váš zaměstnavatel stanovil pro takový případ plán postupu. Máte-li o určité bankovce pochybnosti, zde je několik rad.
Pokud si nejste jisti, zda je bankovka pravá, nepřijímejte ji.
Zdvořile požádejte zákazníka o jinou bankovku a předpokládejte, že situaci nezavinil.
Okamžitě o případu informujte místní policii nebo svého pracovníka ostrahy.
Pokuste se zapamatovat si o zákazníkovi co možná nejvíce.
Pokud se domníváte, že jste omylem přijali padělanou bankovku, neposílejte ji dále do oběhu, protože to je trestný čin.
Podezřelou bankovku předejte na místní policejní stanici, ve své místní bance či v národní centrální bance. Pokud je bankovka pravá, budou vám peníze vráceny.
Nevystavujte se riziku.
Pokud potřebujete více informací, obraťte se na svou národní centrální banku.
Středisko pro analýzu padělků
ECB pečlivě sleduje pokrok v oblasti technologie tisku a reprodukce a zaznamenává počty zadržených padělků. Následně je analyzují centrální banky zemí eurozóny a Středisko ECB pro analýzu padělků, které shromažďuje a zpracovává odborné a statistické údaje o padělcích. O tyto informace se dělí s vnitrostátními policejními složkami a dalšími subjekty bojujícími proti padělatelství. ECB také úzce spolupracuje s Europolem (Evropským policejním úřadem), který – na základě svého pověření – jako ústřední orgán koordinuje ochranu eura proti padělání, a dále s Interpolem (Mezinárodní organizace kriminální policie) a Evropskou komisí.
Prevence zneužití digitálních vyobrazení bankovek k protiprávním účelům
Padělatelé stále více zneužívají hardwarové a softwarové technologie na digitální zpracování obrazu. V reakci na tuto skutečnost vyvinula mezinárodní skupina více než 30 centrálních bank, která vznikla v Basileji z podnětu guvernérů centrálních bank zemí G10, systém pro boj proti padělání (Counterfeit Deterrence System – CDS), který znemožňuje zachycovat či reprodukovat vyobrazení chráněných bankovek. Tento systém dobrovolně zavedli výrobci hardwarových a softwarových produktů. V oprávněných případech však ECB umožňuje přístup k vyobrazením bankovek ve vysokém rozlišení.
Pokud si přejete reprodukovat vyobrazení eurobankovek ve vysokém rozlišení, obraťte se prosím písemně s uvedením důvodu na adresu info@ecb.europa.eu.