Priežiūros valdyba
Priežiūros valdybos posėdžiai vyksta du kartus per mėnesį. Juose aptariami, planuojami ir vykdomi ECB priežiūros uždaviniai. Priežiūros valdyba pagal neprieštaravimo tvarką teikia sprendimų projektus Valdančiajai tarybai.
Sudėtis:
pirmininkas (skiriamas tik vienai penkerių metų kadencijai),
pirmininko pavaduotojas (renkamas iš ECB vykdomosios valdybos narių),
keturi ECB atstovai,
nacionalinių priežiūros institucijų atstovai.
Priežiūros valdyba (pirmininkė, pirmininko pavaduotoja ir ECB atstovai, 2015 m. gegužės 6 d.)
Priežiūros valdybos nariai
Nariai iš ECB
Pirmininkė
Danièle Nouy CV
Pirmininko pavaduotoja
Sabine Lautenschläger CV
ECB atstovas
Ignazio Angeloni CV
ECB atstovas
Luc Coene (iki 2017 m. sausio mėn.) CV
ECB atstovė
Julie Dickson CV
ECB atstovas
Pentti Hakkarainen - nuo 2017 m. vasario mėn. CV
Nacionalinių priežiūros institucijų atstovai
Belgija
Mathias Dewatripont (Nationale Bank van België/Banque Nationale de Belgique)
Vokietija
Felix Hufeld (Bundesanstalt für Finanzdienst­leistungs­aufsicht)
Andreas Dombret (Deutsche Bundesbank)

Estija
Kilvar Kessler (Finantsinspektsioon)
Madis Müller (Eesti Pank)

Airija
Cyril Roux (Central Bank of Ireland/Banc Ceannais na hÉireann)
Graikija
Ilias Plaskovitis (Bank of Greece)
Ispanija
Javier Alonso (Banco de España)
Prancūzija
Robert Ophèle (Banque de France)
Italija
Fabio Panetta (Banca d'Italia)
Kipras
Yiangos Demetriou (Central Bank of Cyprus)
Lietuva
Ingrida Šimonytė (Lietuvos bankas)
Latvija
Pēters Putniņš (Finanšu un kapitāla tirgus komisija)
Zoja Razmusa (Latvijas Banka)

Liuksemburgas
Claude Simon (Commission de Surveillance du Secteur Financier)
Norbert Goffinet (Banque centrale du Luxembourg)

Malta
Karol Gabarretta (Malta Financial Services Authority)
Alexander Demarco (Bank Ċentrali ta' Malta/Central Bank of Malta)

Nyderlandai
Jan Sijbrand (De Nederlandsche Bank)
Austrija
Helmut Ettl (Finanzmarktaufsicht)
Andreas Ittner (Oesterreichische Nationalbank)

Portugalija
Elisa Ferreira (Banco de Portugal)
Slovėnija
Marko Bošnjak (Banka Slovenije)
Slovakija
Vladimír Dvořáček (Národná banka Slovenska)
Suomija
Anneli Tuominen (Finanssivalvonta)
Jouni Timonen (Suomen Pankki – Finlands Bank)

Jei valstybės narės paskirta nacionalinė priežiūros institucija nėra nacionalinis centrinis bankas (NCB), kompetentingos institucijos atstovas gali dalyvauti Priežiūros valdybos posėdžiuose kartu su savo šalies NCB atstovu. Tokiu atveju abu atstovai balsuojant laikomi vienu nariu.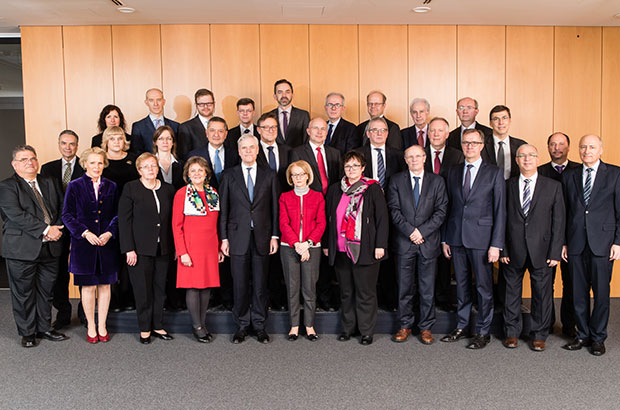 Priežiūros valdyba (visos sudėties, 2014 m. gruodžio 2 d.)
Iniciatyvinis komitetas
Iniciatyvinis komitetas padeda Priežiūros valdybai ir rengia jos posėdžius.
Sudėtis:
Priežiūros valdybos pirmininkas,
Priežiūros valdybos pirmininko pavaduotojas,
vienas ECB atstovas,
penki nacionalinių priežiūros institucijų atstovai.
Penkis nacionalinių priežiūros institucijų atstovus vieniems metams skiria Priežiūros valdyba. Atstovai skiriami taikant rotacijos principą, kad būtų užtikrinamas tinkamas šalių atstovavimas.
Iniciatyvinio komiteto nariai
| | |
| --- | --- |
| Priežiūros valdybos pirmininkė | Danièle Nouy |
| Priežiūros valdybos pirmininko pavaduotoja | Sabine Lautenschläger |
| ECB atstovas | Ignazio Angeloni |
| Vokietija | Felix Hufeld (Bundesanstalt für Finanzdienstleistungsaufsicht) |
| Nyderlandai | Jan Sijbrand (De Nederlandsche Bank) |
| Austrija | Helmut Ettl (Finanzmarktaufsicht) |
| Portugalija | Elisa Ferreira (Banco de Portugal) |
| Latvija | Pēters Putniņš (Finanšu un kapitāla tirgus komisija) |