Raad van Toezicht
De Raad van Toezicht vergadert elke drie weken om de toezichthoudende taken van de ECB te bespreken, te plannen en uit te voeren. Hij stelt ontwerpbesluiten op en legt deze ter goedkeuring voor aan de Raad van Bestuur in het kader van de geen-bezwaar-procedure.
Samenstelling
voorzitter (benoemd voor een eenmalige termijn van vijf jaar)
vicevoorzitter (gekozen uit de directieleden van de ECB)
vier vertegenwoordigers van de ECB
vertegenwoordigers van nationale toezichthouders
Leden van de Raad van Toezicht
ECB-leden
Voorzitter
Andrea Enria cv
Vicevoorzitter
vacature
ECB-vertegenwoordiger
Pentti Hakkarainen cv
ECB-vertegenwoordiger
Edouard Fernandez-Bollo cv
ECB-vertegenwoordiger
Kerstin af Jochnick cv
ECB-vertegenwoordiger
Elizabeth McCaul cv
Vertegenwoordigers van nationale toezichthouders
België
Tom Dechaene (Nationale Bank van België)
Bulgarije
Radoslav Milenkov (Bulgarian National Bank)
Duitsland
Felix Hufeld (Bundesanstalt für Finanzdienst­leistungs­aufsicht)
Joachim Wuermeling (Deutsche Bundesbank)
Estland
Kilvar Kessler (Finantsinspektsioon)
Veiko Tali (Eesti Pank)
Ierland
Ed Sibley (Central Bank of Ireland/Banc Ceannais na hÉireann)
Griekenland
Ilias Plaskovitis (Bank of Greece)
Spanje
Margarita Delgado (Banco de España)
Frankrijk
Denis Beau (Banque de France)
Kroatië
Martina Drvar (Hrvatska narodna banka)
Italië
Alessandra Perrazzelli (Banca d'Italia)
Cyprus
Angelos Kapatais (Central Bank of Cyprus)
Litouwen
Jekaterina Govina (Lietuvos bankas)
Letland
Kristīne Černaja-Mežmale (Finanšu un kapitāla tirgus komisija)
Māris Kālis (Latvijas Banka)
Luxemburg
Claude Wampach (Commission de Surveillance du Secteur Financier)
Eric Cadilhac (Banque centrale du Luxembourg)
Malta
(Malta Financial Services Authority)
Oliver Bonello (Bank Ċentrali ta' Malta/Central Bank of Malta)
Nederland
M.W. (Thijs) van Woerden (De Nederlandsche Bank)
Oostenrijk
Helmut Ettl (Österreichische Finanzmarktaufsicht)
Gottfried Haber (Oesterreichische Nationalbank)
Portugal
Ana Paula Serra (Banco de Portugal)
Slovenië
Irena Vodopivec Jean (Banka Slovenije)
Slowakije
Vladimír Dvořáček (Národná banka Slovenska)
Finland
Anneli Tuominen (Finanssivalvonta)
Päivi Tissari (Suomen Pankki – Finlands Bank)
Indien de door een lidstaat aangewezen nationale toezichtsautoriteit geen nationale centrale bank (NCB) is, mag de vertegenwoordiger van de bevoegde autoriteit vergezeld worden door een vertegenwoordiger van zijn NCB. In dat geval worden de vertegenwoordigers voor de toepassing van de stemprocedure samen beschouwd als één lid.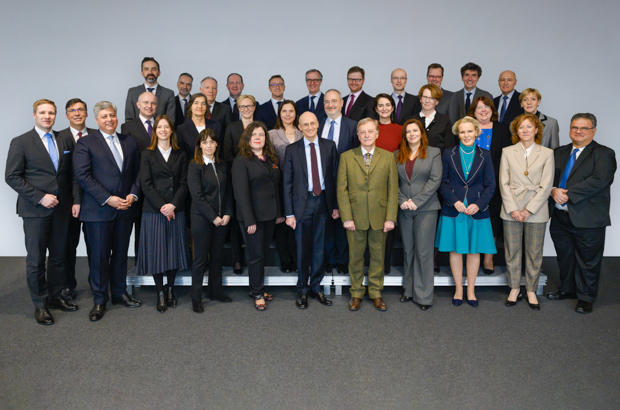 Raad van Toezicht (volledige samenstelling per 3 februari 2020)
Stuurcomité
Het Stuurcomité ondersteunt de activiteiten van de Raad van Toezicht en bereidt de vergaderingen van de Raad voor.
Samenstelling
voorzitter van de Raad van Toezicht
vicevoorzitter van de Raad van Toezicht
één ECB-vertegenwoordiger
vijf vertegenwoordigers van nationale toezichthouders
De vijf vertegenwoordigers van nationale toezichthouders worden door de Raad van Toezicht voor één jaar benoemd op grond van een roulatiesysteem dat een rechtvaardige vertegenwoordiging van landen verzekert.
Leden van het stuurcomité
| | |
| --- | --- |
| Voorzitter van de Raad van Toezicht | Andrea Enria |
| Vicevoorzitter van de Raad van Toezicht | vacature |
| ECB-vertegenwoordiger | Edouard Fernandez-Bollo |
| Duitsland | Felix Hufeld (Bundesanstalt für Finanzdienstleistungsaufsicht) |
| Spanje | Margarita Delgado (Banco de España) |
| Portugal | Ana Paula Serra (Banco de Portugal) |
| Slowakije | Vladimír Dvořáček (Národná banka Slovenska) |
| Finland | Anneli Tuominen (Finanssivalvonta) |