Consejo de Supervisión
El Consejo de Supervisión se reúne cada tres semanas para debatir, planificar y ejecutar las tareas de supervisión del BCE. Asimismo, propone al Consejo de Gobierno proyectos de decisiones de acuerdo con el procedimiento de no objeción.
El Consejo de Gobierno del BCE
Composición
presidente (nombrado para un mandato de cinco años no renovable)
vicepresidente (elegido de entre los miembros del Comité Ejecutivo del BCE)
cuatro representantes del BCE
representantes de los supervisores nacionales
Miembros del Consejo de Supervisión
Miembros del BCE
Presidente
Andrea Enria CV
Vicepresidente
puesto vacante
Representante del BCE
Pentti Hakkarainen CV
Representante del BCE
Edouard Fernandez-Bollo CV
Representante del BCE
Kerstin af Jochnick CV
Representante del BCE
Elizabeth McCaul CV
Representantes de los supervisores nacionales
Bélgica
Tom Dechaene (Nationale Bank van België/Banque Nationale de Belgique)
Bulgaria
Radoslav Milenkov (Banco Nacional de Bulgaria)
Alemania
Felix Hufeld (Bundesanstalt für Finanzdienst­leistungs­aufsicht)
Joachim Wuermeling (Deutsche Bundesbank)
Estonia
Kilvar Kessler (Finantsinspektsioon)
Veiko Tali (Eesti Pank)
Irlanda
Ed Sibley (Central Bank of Ireland/Banc Ceannais na hÉireann)
Grecia
Ilias Plaskovitis (Bank of Greece)
España
Margarita Delgado (Banco de España)
Francia
Denis Beau (Banque de France)
Croatia
Martina Drvar (Hrvatska narodna banka)
Italia
Alessandra Perrazzelli (Banca d'Italia)
Chipre
Angelos Kapatais (Central Bank of Cyprus)
Lituania
Jekaterina Govina (Lietuvos bankas)
Letonia
Kristīne Černaja-Mežmale (Finanšu un kapitāla tirgus komisija)
Māris Kālis (Latvijas Banka)
Luxemburgo
Claude Wampach (Commission de Surveillance du Secteur Financier)
Eric Cadilhac (Banque centrale du Luxembourg)
Malta
(Malta Financial Services Authority)
Oliver Bonello (Bank Ċentrali ta' Malta/Central Bank of Malta)
Países Bajos
M.W. (Thijs) van Woerden (De Nederlandsche Bank)
Austria
Helmut Ettl (Österreichische Finanzmarktaufsicht)
Gottfried Haber (Oesterreichische Nationalbank)
Portugal
Ana Paula Serra (Banco de Portugal)
Eslovenia
Irena Vodopivec Jean (Banka Slovenije)
Eslovaquia
Vladimír Dvořáček (Národná banka Slovenska)
Finlandia
Anneli Tuominen (Finanssivalvonta)
Päivi Tissari (Suomen Pankki – Finlands Bank)
Si la autoridad nacional supervisora designada por un Estado miembro no es un banco central nacional (BCN), el representante de la autoridad competente podrá estar acompañado por un representante de su BCN. En tal caso, los representantes se considerarán un solo miembro a efectos del procedimiento de voto.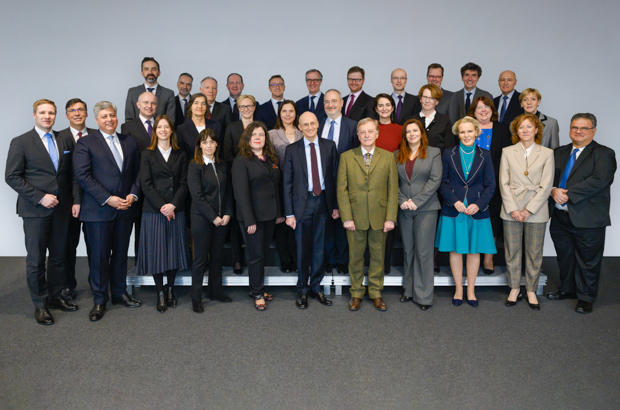 Consejo de Supervisión (composición plena, 3 de febrero de 2020)
El Comité Director
El Comité Director apoya al Consejo de Supervisión en sus actividades y prepara sus reuniones.
Composición
presidente del Consejo de Supervisión
vicepresidente del Consejo de Supervisión
un representante del BCE
cinco representantes de los supervisores nacionales
Los cinco representantes de los supervisores nacionales son nombrados por el Consejo de Supervisión para un mandato de un año de acuerdo con un sistema de rotación que asegura una representación equitativa de los países.
Miembros del Comité Director
| | |
| --- | --- |
| Presidente del Consejo de Supervisión | Andrea Enria |
| Vicepresidente del Consejo de Supervisión | puesto vacante |
| Representante del BCE | Edouard Fernandez-Bollo |
| Alemania | Felix Hufeld (Bundesanstalt für Finanzdienstleistungsaufsicht) |
| España | Margarita Delgado (Banco de España) |
| Portugal | Ana Paula Serra (Banco de Portugal) |
| Eslovaquia | Vladimír Dvořáček (Národná banka Slovenska) |
| Finlandia | Anneli Tuominen (Finanssivalvonta) |