Aufsichtsgremium
Das Aufsichtsgremium trifft sich alle drei Wochen. Bei diesen Treffen bespricht, plant und erledigt es die Aufsichtsaufgaben der EZB. Beschlüsse werden im Verfahren der impliziten Zustimmung erlassen. Das Aufsichtsgremium legt dem EZB-Rat Beschlussentwürfe vor. Erhebt der EZB-Rat innerhalb eines bestimmten Zeitraums keinen Einspruch, gelten diese Beschlüsse als erlassen.
Zusammensetzung
Vorsitzender (wird für eine nicht verlängerbare Amtszeit von fünf Jahren ernannt)
Stellvertretender Vorsitzender (wird aus dem Kreis der Mitglieder des EZB-Direktoriums ausgewählt)
Vier Vertreter der EZB
Vertreter nationaler Aufsichtsbehörden
Mitglieder des Aufsichtsgremiums
EZB-Mitglieder
Vorsitzender
Andrea Enria Lebenslauf
Stellvertretender Vorsitzender
N.N.
EZB-Vertreter
Pentti Hakkarainen Lebenslauf
EZB-Vertreter
Edouard Fernandez-Bollo Lebenslauf
EZB-Vertreterin
Kerstin af Jochnick Lebenslauf
EZB-Vertreterin
Elizabeth McCaul Lebenslauf
Vertreter nationaler Aufsichtsbehörden
Belgien
Tom Dechaene (Nationale Bank van België/Banque Nationale de Belgique)
Bulgarien
Radoslav Milenkov (Българска народна банка (Bulgarische Nationalbank))
Deutschland
Felix Hufeld (Bundesanstalt für Finanzdienst­leistungs­aufsicht)
Joachim Wuermeling (Deutsche Bundesbank)
Estland
Kilvar Kessler (Finantsinspektsioon)
Veiko Tali (Eesti Pank)
Irland
Ed Sibley (Banc Ceannais na hÉireann/Central Bank of Ireland)
Griechenland
Ilias Plaskovitis (Bank of Greece)
Spanien
Margarita Delgado (Banco de España)
Frankreich
Denis Beau (Banque de France)
Kroatien
Martina Drvar (Hrvatska narodna banka)
Italien
Alessandra Perrazzelli (Banca d'Italia)
Zypern
Angelos Kapatais (Central Bank of Cyprus)
Litauen
Jekaterina Govina (Lietuvos bankas)
Lettland
Kristīne Černaja-Mežmale (Finanšu un kapitāla tirgus komisija)
Māris Kālis (Latvijas Banka)
Luxemburg
Claude Wampach (Commission de Surveillance du Secteur Financier)
Eric Cadilhac (Banque centrale du Luxembourg)
Malta
(Malta Financial Services Authority)
Oliver Bonello (Bank Ċentrali ta' Malta/Central Bank of Malta)
Niederlande
M.W. (Thijs) van Woerden (De Nederlandsche Bank)
Österreich
Helmut Ettl (Österreichische Finanzmarktaufsicht)
Gottfried Haber (Oesterreichische Nationalbank)
Portugal
Ana Paula Serra (Banco de Portugal)
Slowenien
Irena Vodopivec Jean (Banka Slovenije)
Slowakei
Vladimír Dvořáček (Národná banka Slovenska)
Finnland
Anneli Tuominen (Finanssivalvonta)
Päivi Tissari (Suomen Pankki – Finlands Bank)
Handelt es sich bei der von einem Mitgliedstaat benannten nationalen Aufsichtsbehörde nicht um eine nationale Zentralbank (NZB), so kann neben dem Vertreter der betreffenden zuständigen Behörde auch ein Vertreter der jeweiligen NZB an den Sitzungen teilnehmen. In diesem Fall werden die Vertreter eines Landes für die Zwecke des Abstimmungsverfahrens als ein Mitglied behandelt.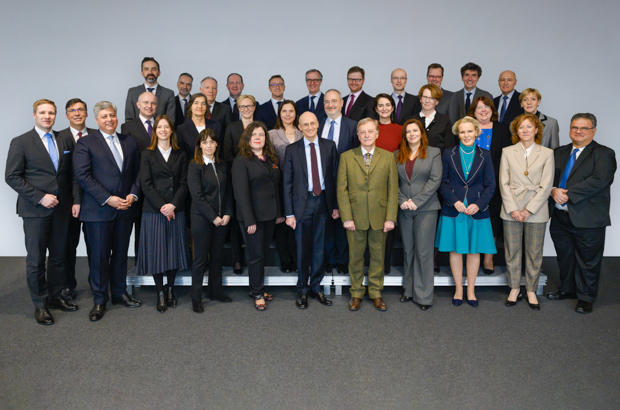 Aufsichtsgremium (in voller Besetzung, 3. Februar 2020)
Lenkungsausschuss
Der Lenkungsausschuss unterstützt die Arbeit des Aufsichtsgremiums und bereitet dessen Sitzungen vor.
Zusammensetzung
Vorsitzender des Aufsichtsgremiums
Stellvertretender Vorsitzender des Aufsichtsgremiums
Ein Vertreter der EZB
Fünf Vertreter nationaler Aufsichtsbehörden
Die fünf Vertreter nationaler Aufsichtsbehörden werden vom Aufsichtsgremium auf Basis eines Rotationssystems, das eine faire Länderrepräsentation gewährleistet, für die Dauer eines Jahres ernannt.
Mitglieder des Lenkungsausschusses
| | |
| --- | --- |
| Vorsitzender des Aufsichtsgremiums | Andrea Enria |
| Stellvertretender Vorsitzender des Aufsichtsgremiums | N.N. |
| EZB-Vertreter | Edouard Fernandez-Bollo |
| Deutschland | Felix Hufeld (Bundesanstalt für Finanzdienstleistungsaufsicht) |
| Spanien | Margarita Delgado (Banco de España) |
| Portugal | Ana Paula Serra (Banco de Portugal) |
| Slowakei | Vladimír Dvořáček (Národná banka Slovenska) |
| Finnland | Anneli Tuominen (Finanssivalvonta) |