Rada ds. Nadzoru
Rada ds. Nadzoru spotyka się dwa razy w miesiącu, by omawiać, planować i wykonywać zadania nadzorcze EBC. Przedstawia Radzie Prezesów projekty decyzji, których uchwalenie następuje w trybie zatwierdzenia przy braku sprzeciwu.
Skład
przewodniczący (mianowany na nieodnawialną pięcioletnią kadencję)
wiceprzewodniczący (jeden z członków Zarządu EBC)
czterech przedstawicieli EBC
przedstawiciele krajowych organów nadzoru.
Członkowie Rady ds. Nadzoru
Członkowie z ramienia EBC
Przewodnicząca
Andrea Enria CV
Wiceprzewodnicząca
Sabine Lautenschläger CV
Przedstawiciel EBC
Ignazio Angeloni CV
Przedstawiciel EBC
wakat
Przedstawiciel EBC
wakat
Przedstawiciel EBC
Pentti Hakkarainen CV
Przedstawiciele krajowych organów nadzoru
Belgia
Tom Dechaene (Nationale Bank van België / Banque Nationale de Belgique)
Niemcy
Felix Hufeld (Bundesanstalt für Finanzdienst­leistungs­aufsicht)
Joachim Wuermeling (Deutsche Bundesbank)

Estonia
Kilvar Kessler (Finantsinspektsioon)
Madis Müller (Eesti Pank)

Irlandia
Ed Sibley (Banc Ceannais na hÉireann / Central Bank of Ireland)
Grecja
Ilias Plaskovitis (Bank of Greece)
Hiszpania
Margarita Delgado (Banco de España)
Francja
Denis Beau (Banque de France)
Włochy
Fabio Panetta (Banca d'Italia)
Cypr
Yiangos Demetriou (Central Bank of Cyprus)
Litwa
Vytautas Valvonis (Lietuvos bankas)
Łotwa
Pēters Putniņš (Finanšu un kapitāla tirgus komisija)
Zoja Razmusa (Latvijas Banka)

Luksemburg
Claude Wampach (Commission de Surveillance du Secteur Financier)
Eric Cadilhac (Banque centrale du Luxembourg)

Malta
Catherine Galea (Malta Financial Services Authority)
Oliver Bonello (Bank Ċentrali ta' Malta / Central Bank of Malta)

Holandia
Frank Elderson (De Nederlandsche Bank)
Austria
Helmut Ettl (Finanzmarktaufsicht)
Andreas Ittner (Oesterreichische Nationalbank)

Portugalia
Elisa Ferreira (Banco de Portugal)
Słowenia
Primož Dolenc (Banka Slovenije)
Słowacja
Vladimír Dvořáček (Národná banka Slovenska)
Finlandia
Anneli Tuominen (Finanssivalvonta)
Mervi Toivanen (Suomen Pankki – Finlands Bank)

Jeżeli krajowy organ nadzoru wyznaczony przez państwo członkowskie nie jest bankiem centralnym, w posiedzeniach Rady ds. Nadzoru oprócz przedstawiciela tego organu może też brać udział przedstawiciel banku centralnego danego państwa. Do celów głosowania liczy się ich jako jedną osobę.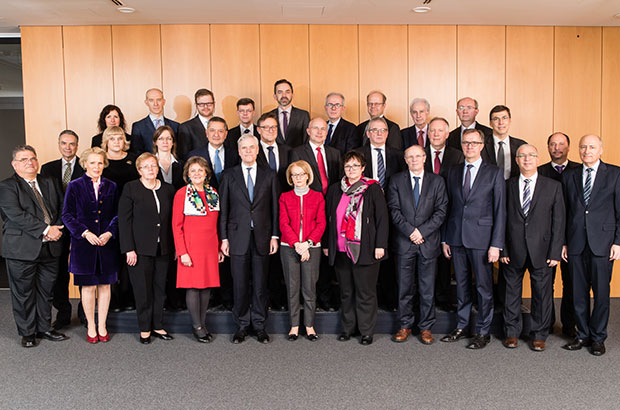 Rada ds. Nadzoru (pełny skład, 22 lutego 2018)
Komitet Sterujący
Komitet Sterujący pomaga Radzie ds. Nadzoru, w tym przygotowuje jej posiedzenia.
Skład
przewodniczący Rady ds. Nadzoru
wiceprzewodniczący Rady ds. Nadzoru
jeden przedstawiciel EBC
pięciu przedstawicieli krajowych organów nadzoru.
Przedstawiciele krajowych organów nadzoru są mianowani przez Radę ds. Nadzoru na jeden rok, według zasady rotacji, mającej zapewnić sprawiedliwą reprezentację krajów.
Członkowie Komitetu Sterującego
| | |
| --- | --- |
| Przewodniczący Rady ds. Nadzoru | Andrea Enria |
| Wiceprzewodnicząca Rady ds. Nadzoru | Sabine Lautenschläger |
| Przedstawiciel EBC | Pentti Hakkarainen |
| Niemcy | Felix Hufeld (Bundesanstalt für Finanzdienstleistungsaufsicht) |
| Włochy | Fabio Panetta (Banca d'Italia) |
| Grecja | Ilias Plaskovitis (Bank of Greece) |
| Irlandia | Ed Sibley (Central Bank of Ireland / Banc Ceannais na hÉireann) |
| Malta | Catherine Galea (Malta Financial Services Authority) |