Nadzorni odbor
Nadzorni odbor se sestaja dvakrat mesečno. Na sejah obravnava, načrtuje in izvaja nadzorniške naloge ECB. V okviru postopka z neugovarjanjem predlaga osnutke odločitev Svetu ECB.
Sestava
Predsednik (imenovan za enkratni petletni mandat)
Podpredsednik (izbran izmed članov Izvršilnega odbora ECB)
Štirje predstavniki ECB
Predstavniki nacionalnih nadzornikov
Člani Nadzornega odbora
Člani ECB
Predsednica
Andrea Enria Življenjepis
Podpredsednica
prosto mesto
Predstavnik ECB
prosto mesto
Predstavnik ECB
prosto mesto
Predstavnik ECB
prosto mesto
Predstavnik ECB
Pentti Hakkarainen Življenjepis
Predstavniki nacionalnih nadzornikov
Belgija
Tom Dechaene (Nationale Bank van België/Banque Nationale de Belgique)
Nemčija
Felix Hufeld (Bundesanstalt für Finanzdienstleistungsaufsicht)
Joachim Wuermeling (Deutsche Bundesbank)
Estonija
Kilvar Kessler (Finantsinspektsioon)
Madis Müller (Eesti Pank)

Irska
Ed Sibley (Central Bank of Ireland/Banc Ceannais na hÉireann)
Grčija
Ilias Plaskovitis (Bank of Greece)
Španija
Margarita Delgado (Banco de España)
Francija
Denis Beau (Banque de France)
Italija
Fabio Panetta (Banca d'Italia)
Ciper
prosto mesto (Central Bank of Cyprus)
Litva
Vytautas Valvonis (Lietuvos bankas)
Latvija
Pēters Putniņš (Finanšu un kapitāla tirgus komisija)
Zoja Razmusa (Latvijas Banka)

Luksemburg
Claude Wampach (Commission de Surveillance du Secteur Financier)
Eric Cadilhac (Banque centrale du Luxembourg)

Malta
Catherine Galea (Malta Financial Services Authority)
Oliver Bonello (Bank Ċentrali ta' Malta/Central Bank of Malta)

Nizozemska
Frank Elderson (De Nederlandsche Bank)
Avstrija
Helmut Ettl (Österreichische Finanzmarktaufsicht)
Andreas Ittner (Oesterreichische Nationalbank)

Portugalska
Elisa Ferreira (Banco de Portugal)
Slovenija
Primož Dolenc (Banka Slovenije)
Slovaška
Vladimír Dvořáček (Národná banka Slovenska)
Finska
Anneli Tuominen (Finanssivalvonta)
Mervi Toivanen (Suomen Pankki – Finlands Bank)

Kadar nacionalni nadzorni organ, ki ga imenuje država članica, ni nacionalna centralna banka, lahko člana Nadzornega odbora spremlja predstavnik njegove centralne banke. V tem primeru se oba predstavnika v postopku glasovanja skupaj štejeta kot en član.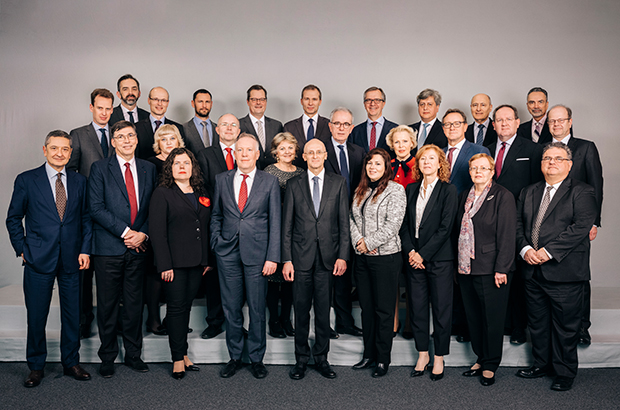 Nadzorni odbor (v polni sestavi, na dan 21. februarja 2019)
Usmerjevalni odbor
Usmerjevalni odbor podpira delovanje Nadzornega odbora in pripravlja njegove seje.
Sestava
Predsednik Nadzornega odbora
Podpredsednik Nadzornega odbora
En predstavnik ECB
Pet predstavnikov nacionalnih nadzornikov
Pet predstavnikov nacionalnih nadzornikov imenuje Nadzorni odbor za eno leto po krožnem sistemu, ki zagotavlja, da so enakopravno zastopane vse države.
Člani usmerjevalnega odbora
| | |
| --- | --- |
| Predsednik Nadzornega odbora | Andrea Enria |
| Podpredsednik Nadzornega odbora | Položaj ni zaseden |
| Predstavnik ECB | Pentti Hakkarainen |
| Francija | Denis Beau (Autorité de contrôle prudentiel et de résolution) |
| Nizozemska | Frank Elderson (De Nederlandsche Bank) |
| Luksemburg | Claude Wampach (Commission de Surveillance du Secteur Financier) |
| Avstrija | Helmut Ettl (Österreichische Finanzmarktaufsicht) |
| Slovenija | Primož Dolenc (Banka Slovenije) |