Što je Europska središnja banka?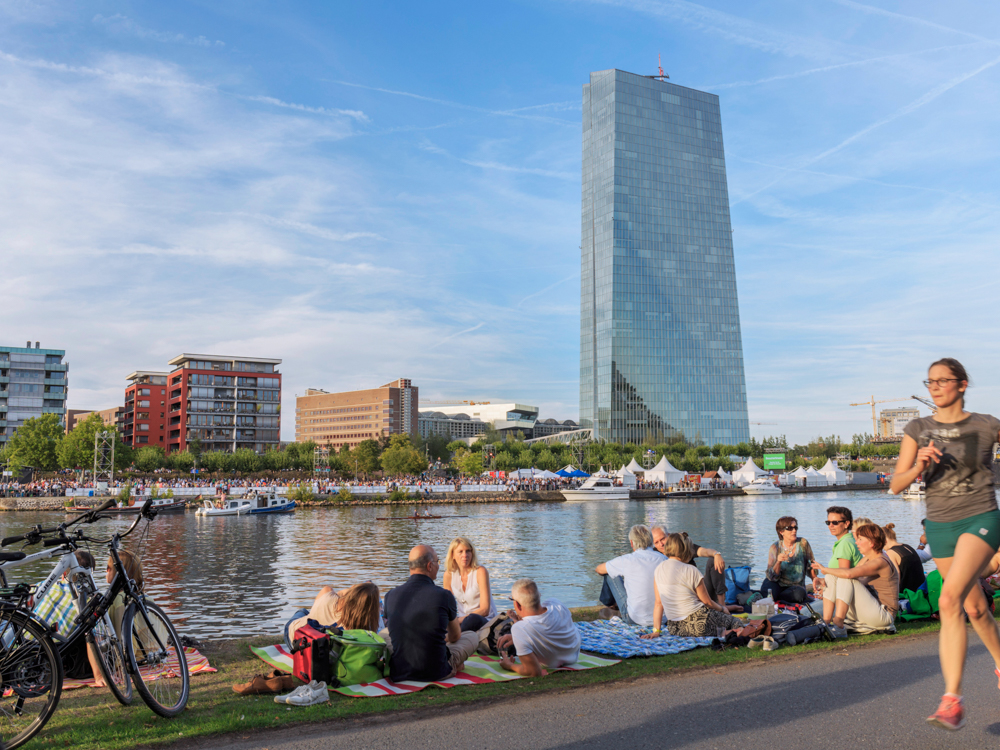 I kako ona utječe na vašu svakodnevicu?
1. lipnja 2018. (posuvremenjeno 14. prosinca 2018.)
U nastavku iznosimo 20 činjenica povodom 20. rođendana, koji smo proslavili 1. lipnja 2018.
Ako živite u europodručju, pripadate skupini od 340 milijuna ljudi povezanih jedinstvenom valutom, kojom upravlja Europska središnja banka. Naše gospodarstvo drugo je po veličini u svijetu.
 
Kako biste bili sigurni da ćete zarađenim novcem sutra moći kupiti koliko i danas, ESB radi na svojoj glavnoj zadaći, odnosno održavanju stabilnosti cijena u europodručju. Od uvođenja eura 1. siječnja 1999. inflacija je u prosjeku iznosila 1,7 %, što je manje nego u 70-im, 80-im ili 90-im godinama prošlog stoljeća.
Zašto su stabilne cijene važne?
 
Kako održavamo stabilnost cijena? Tako što određujemo kamatne stope i provodimo druge mjere monetarne politike. Upravno vijeće ESB-a sastaje se svakih šest tjedana kako bi donijelo odluke o monetarnoj politici.
Što je monetarna politika?
Odluke o monetarnoj politici
 
Zajedno s 19 nacionalnih središnjih banaka proizvodimo euronovčanice (od 2002. proizveli smo 130 milijardi novčanica).
Zaštitna obilježja novčanica
 
Pomno pratimo pokazatelje stabilnosti financijskog sustava. Kada je financijski sustav stabilan, može podnijeti šokove bez većih poremećaja. Drugim riječima, građani i dalje imaju pristup svojim bankovnim računima, poduzeća i dalje mogu vršiti i primati uplate, ulagači mogu nastaviti s trgovanjem itd. ESB analizira rizike za financijski sustav i vladama u europodručju predlaže makrobonitetne politike.
Financijska stabilnost u središtu pozornosti
Kratki vodič o makrobonitetnim politikama
 
Od 2014. izravno nadziremo najveće banke u europodručju kako biste bili sigurni da će dobro raditi i u nepovoljnim okolnostima. Oko 1200 naših zaposlenika pomno prati rad 118 velikih banaka i sastavlja smjernice za bankarski sektor.
Zašto nadziremo poslovne banke?
 
Brinemo se za sigurnost gotovinskih, kartičnih i elektroničkih plaćanja tako što se brinemo za platne sustave koji omogućuju te transakcije. U našem platnom sustavu TARGET2 dnevno se obrađuje 350 000 transakcija ukupne vrijednosti od 1,7 bilijuna EUR.
Što je sustav TARGET2?
 
Kada je riječ o plaćanjima, jeste li znali da će uskoro biti moguća trenutačna elektronička plaćanja u našem sustavu TIPS i da nećete morati čekati nekoliko dana da novac dođe na odredište?
Uskoro: Prekogranična trenutačna plaćanja
Što je namira trenutačnih plaćanja u sustavu TARGET (TIPS)?
 
Istražujemo tehnologiju lanca blokova i druge nove financijske tehnologije. Osim toga, djelujemo u području kiberotpornosti. Činimo to kako bi platni sustavi i dalje bili sigurni, otporni i učinkoviti.
Kako bi nova tehnologija mogla preobraziti financijska tržišta?
Zašto je kiberotpornost važna?
 
Zanimaju nas veliki podatci. Naši stručnjaci u području statistike stalno se bave podatcima iz različitih područja i tako doprinose oblikovanju odluka o monetarnoj politici.
Zašto je statistika važna?
 
Naša monetarna politika doprinosi gospodarskom rastu u europodručju. Jeste li znali da je prosječni BDP po stanovniku europodručja porastao s približno 21.000 EUR na približno 32.000 EUR od uvođenja jedinstvene valute?
 
Naše politike podupiru i zaposlenost. U razdoblju od 2012. do 2017. otvoreno je sedam milijuna novih radnih mjesta u europodručju i 71 % radno sposobnog stanovništva radi.
 
Kako bi se osiguralo da djeluje u najboljem interesu europskih građana, ESB je neovisna institucija. To znači da ne podliježemo kratkoročnim političkim interesima.
Zašto je ESB neovisan?
 
ESB za svoje djelovanje odgovara građanima Europe. Stoga vam nastojimo obrazložiti svoje postupke i za njih smo zakonski obvezni odgovarati vašim zastupnicima u Europskom parlamentu.
Kako ESB odgovara za svoje djelovanje?
 
Možete se pouzdati u nas. Poznato je da je naš predsjednik Mario Draghi 2012. rekao: »ESB je, u okviru svojih ovlasti, spreman učiniti sve što je potrebno da sačuva euro.« U suradnji s drugima uspješno smo prebrodili krizu državnog duga u europodručju.
Govor Marija Draghija, 26. srpnja 2012.
 
Sjedište nam je u Frankfurtu u Njemačkoj. Radimo u novoj zgradi u Ostendu te zgradama Eurotower i Japan Centre u bankarskoj četvrti.
O glavnoj zgradi ESB-a
 
Više nas je od 3000, dolazimo iz cijele Europe i ostatka svijeta te govorimo 23 jezika.
Karijere u ESB-u
 
U ESB-u njegujemo uključivo radno okružje. Naši zaposlenici, među ostalim, sudjeluju u mrežama Rainbow Network i WOW (Žene organiziraju žene) te Etničkoj i kulturnoj grupi.
Raznolikost i uključivost u ESB-u
 
S vrha 185 metara visokog nebodera ESB-a u Ostendu sokolovi polijeću u lov. Pazimo i na »jastrebove i golubice« koji bi mogli svratiti u kućice za ptice oko naše zgrade...
 
Za kraj moramo napomenuti da smo svjesni da se katkad teško povezati s nama, ali voljeli bismo biti u kontaktu s vama što ćešće. Ovo je naša stranica za kontakt. Do nas možete doći i na Twitteru i LinkedInu. Ako dolazite u Frankfurt, svratite u naš centar za posjetitelje!