Európska centrálna banka – čo sa oplatí o nás vedieť?
1. júna 2018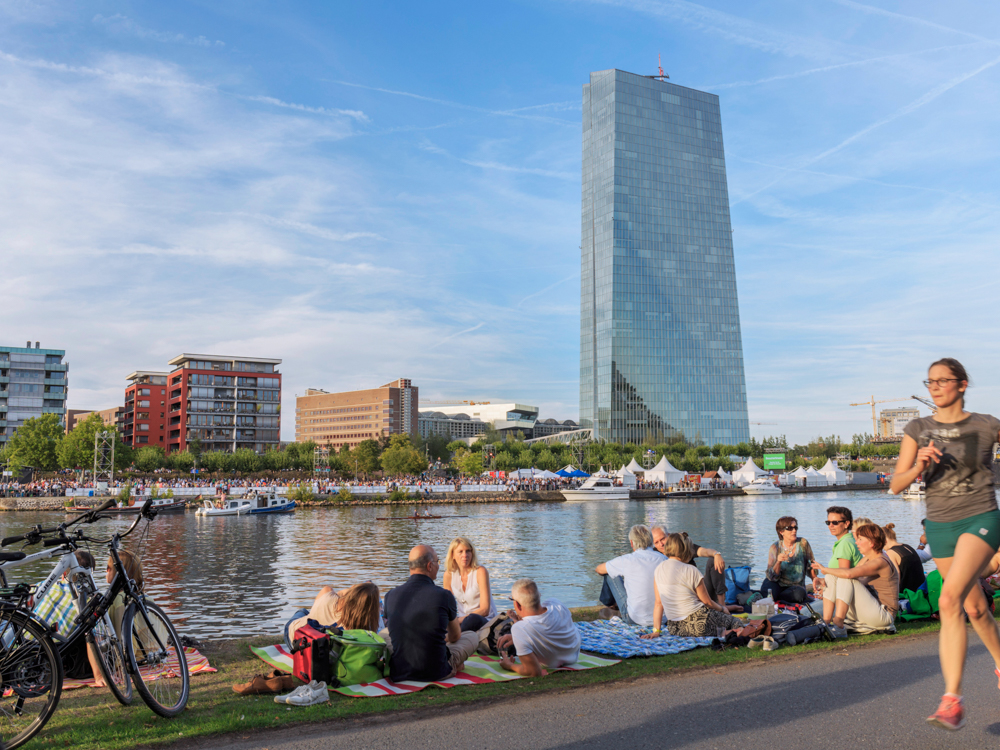 Čo pre vás ECB znamená v bežnom živote?
Pri príležitosti našich 20. narodenín vám prinášame 20 zaujímavých faktov.
Žijete v eurozóne? Ak áno, patríte medzi 340 miliónov ľudí, ktorí používajú jednotnú menu. Eurozóna je druhá najväčšia ekonomika na svete.


Hlavnou úlohou ECB je udržiavanie cenovej stability v eurozóne, aby si jej obyvatelia mohli byť istí, že si za svoje peniaze zajtra dokážu kúpiť toľko ako dnes. Od vzniku eura 1. januára 1999 miera inflácie v priemere dosahuje 1,7 % – menej ako v 70., 80. a 90. rokoch dvadsiateho storočia.
Prečo potrebujeme stabilné ceny?


Stabilitu cien zabezpečujeme prostredníctvom stanovovania úrokových sadzieb a iných opatrení menovej politiky.
Ako funguje program nákupu aktív?


Spolu s centrálnymi bankami jednotlivých krajín eurozóny vyrábame eurové bankovky, ktoré každodenne používate – od roku 2002 sme ich už vytlačili 130 miliárd!
Ochranné prvky bankoviek


Dohliadame na stabilitu finančného systému. Analyzujeme riziká, ktoré ho ohrozujú, a vládam krajín eurozóny navrhujeme vhodné makroprudenciálne opatrenia.
Finančná stabilita podrobnejšie


Od roku 2014 vykonávame priamy dohľad nad najväčšími bankami v eurozóne, aby ste sa mohli spoľahnúť na to, že sa dokážu vyrovnať aj s náročnými podmienkami. Na 118 veľkých bánk pozorne dohliada približne 1 200 zamestnancov. Bankovému sektoru zároveň vydávame usmernenia.
Prečo je potrebné dohliadať na komerčné banky?


Staráme sa o bezpečnosť platieb – hotovostných, kartových i elektronických. Dohliadame totiž na platobné systémy, ktoré umožňujú ich realizáciu. Náš platobný systém TARGET2 spracúva 350 000 transakcií denne, s celkovým denným obratom 1,7 bil. €.
Čo je to TARGET2?


Keď už je reč o platbách, vedeli ste, že pomocou nášho systému TIPS bude onedlho možné uskutočňovať okamžité elektronické platby? Na príchod platby tak už nebudete musieť čakať niekoľko dní.
Už onedlho: okamžité cezhraničné platby
Čo je to TARGET Instant Payments Settlement (TIPS)?


Robíme výskum v oblasti blockchain a ďalších nových finančných technológií a sme aktívni i v oblasti ochrany pred kybernetickými útokmi. Vďaka tomu dokážeme zabezpečiť, aby bol platobný styk aj naďalej bezpečný, odolný a efektívny.
Ako môžu nové technológie transformovať finančné trhy?
Prečo je dôležitá ochrana pred kybernetickými útokmi?


ECB je nezávislá inštitúcia. To znamená, že sa neriadi záujmami jednotlivých krajín.
Prečo je ECB nezávislá?


Sme v neustálom kontakte s inými európskymi a medzinárodnými inštitúciami a vydávame právne stanoviská k finančnej legislatíve.
Akým spôsobom sa ECB zodpovedá za svoje kroky?


Zaujímajú nás veľké dáta. Naši najlepší štatistici sa neustále venujú spracovaniu a analýze údajov z rôznych oblastí. Tieto údaje sú podkladom našich menovopolitických rozhodnutí.
Prečo záleží na štatistike?


Môžete sa na nás spoľahnúť. V roku 2012 sa náš prezident Mario Draghi preslávil vyhlásením: "ECB je v rámci svojho mandátu pripravená prijať všetky potrebné kroky na zachovanie eura." Spolu s ostatnými sme sa úspešne vyrovnali s krízou štátneho dlhu v eurozóne.


Naša menová politika prispieva k rastu hospodárstva eurozóny. Vedeli ste, že priemerný HDP na osobu v eurozóne od zavedenia eura vzrástol z približne 21 000 € na 32 000 €?


Naša politika podporuje i zamestnanosť. Od roku 2012 do roku 2017 bolo v eurozóne vytvorených sedem miliónov nových pracovných miest a približne 71 % ľudí v produktívnom veku je v súčasnosti zapojených do pracovného procesu.


Sídlime v nemeckom Frankfurte nad Mohanom. Naše kancelárie sa nachádzajú v novej výškovej budove v štvrti Ostend a v budovách Eurotower a Japan Centre v bankovej štvrti v centre mesta.
Viac o hlavnej budove ECB


V ECB pracuje viac než 3 000 ľudí z celej Európy. Hovoríme 23 rôznymi jazykmi.


V rámci ECB sa zasadzujeme o rovnaké podmienky pre všetkých zamestnancov. Medzi naše zamestnanecké iniciatívy patrí napríklad Rainbow Network (sieť pre LGBT komunitu), WOW (Women Organise Women – sieť vzájomnej podpory žien) a Ethnic and Cultural Group (sieť podporujúca etnickú a kultúrnu diverzitu).
Diverzita a inklúzia v ECB


Na vrchole 185-metrového mrakodrapu ECB vo frankfurtskom Ostende hniezdia sokoly. Sledujeme i jastraby a holuby, ktoré môžu zavítať do vtáčích búdok na našom pozemku...


Vieme, že niekedy nie je ľahké sa s nami spojiť. Aj napriek tomu by sme sa s vami radi porozprávali častejšie. Tu je naša kontaktná stránka. Spojiť sa s nami môžete i na portáloch Twitter a LinkedIn, a ak zavítate do Frankfurtu, zastavte sa v našom návštevníckom centre!