What is the European Central Bank?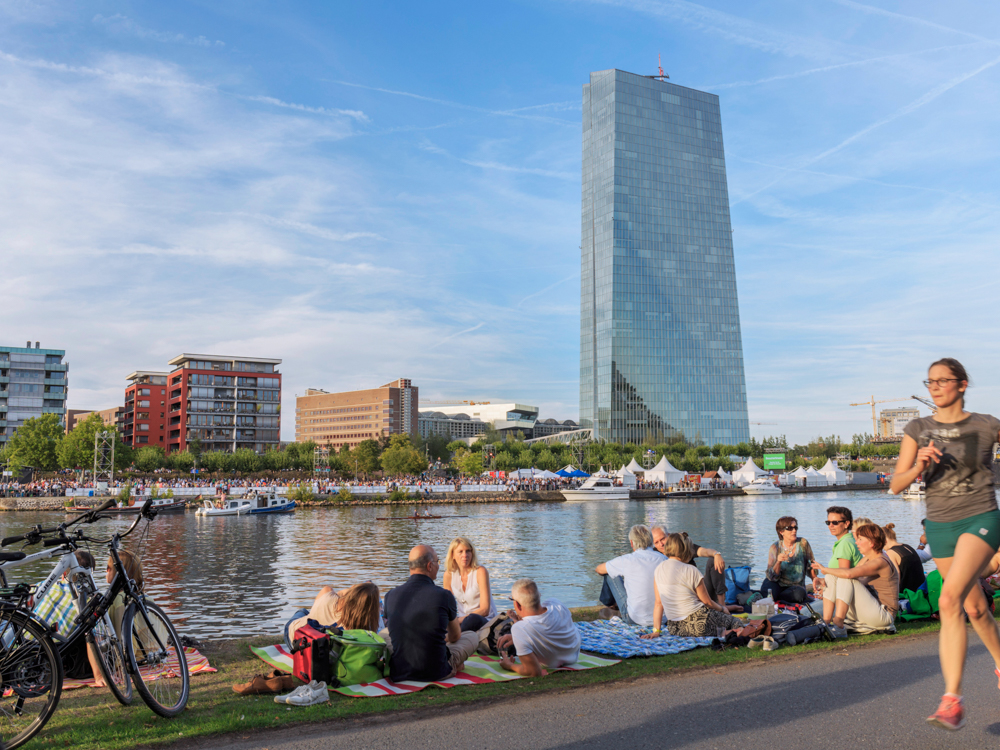 …and what does the ECB mean for you in your daily life?
1 June 2018 (updated on 14 December 2018)
Here are 20 facts we compiled to mark our 20th birthday on 1 June 2018.
If you live in the euro area you are one of 340 million people who share a single currency, which is managed by the European Central Bank. Our economy is the second largest in the world.


So that you can feel secure in the knowledge that you will be able to buy as much with your earnings tomorrow as you can today, we at the ECB work to keep prices stable in the euro area – that's our main task. Since the euro was born on 1 January 1999, inflation has averaged 1.7% – which is lower than in the 70s, 80s and 90s.
Why are stable prices important?


How do we keep prices stable? By setting the interest rates and via other monetary policy measures. The ECB's Governing Council meets every six weeks to make monetary policy decisions.
What is monetary policy?
Monetary policy decisions


Together with the 19 national central banks we also produce euro banknotes (we have produced 130 billion notes since 2002).
Banknote security features


We keep a close eye on the stability of the financial system. If the financial system is stable it can withstand shocks without major disruption. In other words, people can still access their bank accounts, businesses can still make and receive payments, investors can continue to trade, etc. We analyse risks to the system and propose macroprudential policies to euro area governments.
Spotlight on financial stability
A quick guide to macroprudential policies


Since 2014 we have also been directly supervising the biggest banks in the euro area, so that you can rest assured that they can weather a rainy day. Around 1200 staff are looking closely at 118 big banks and setting guidelines for the sector.
Why supervise commercial banks?


We make sure that you can make payments safely, whether by cash, card or electronically. This is because we look after the payment systems that make those transactions possible. Our payment system TARGET2 deals with 350,000 transactions a day, with a daily value of €1.7 trillion.
What is TARGET2?


Speaking of payments, did you know that it will soon be possible to make instant electronic payments via our TIPS system, instead of waiting several days for the payment to arrive?
Coming soon: cross-border instant payments
What is TARGET Instant Payments Settlement (TIPS)?


We research blockchain and other new financial technologies, and we are active in the field of cyber resilience. This is so we can ensure that payment systems continue to be safe, resilient and efficient.
How could new technology transform financial markets?
Why is cyber resilience important?


We are interested in big data. Our statisticians are constantly working on data in all kinds of areas, which helps inform our monetary policy decisions.
Why do statistics matter?


Our monetary policy contributes to the euro area's growing economy. Did you know that the average GDP per person in the euro area has gone up from around €21,000 to around €32,000 since the creation of our currency?


Our policies also support employment. Between 2012 and 2017, seven million new jobs were created in the euro area and 71% of people of working age are now in work.


To ensure we act in the best interests of the European people, we are independent. This means we can't be swayed by short-term political considerations.
Why is the ECB independent?


We are accountable to the people of Europe. For this reason we strive to explain our actions to you and we are legally obliged to account for them to your elected representatives in the European Parliament.
How is the ECB accountable for its actions?


You can rely on us. In 2012 our President, Mario Draghi, famously said: "Within our mandate, the ECB is ready to do whatever it takes to preserve the euro." Together with others we weathered the euro area sovereign debt crisis.
Speech by Mario Draghi, 26 July 2012


We are based in Frankfurt, Germany. Our offices are in the new skyscraper in the Ostend, and the Eurotower and Japan Centre in the banking district.
About the ECB's main building


The more than 3,000 of us working here are from all over Europe and beyond, speaking 23 different languages.
Careers at the ECB


We cultivate an inclusive working environment at the ECB. Our staff networks include the Rainbow Network, the WOW network (Women Organise Women) and the Ethnic and Cultural Group.
Diversity and inclusion at the ECB


There are falcons hunting from the top of the ECB skyscraper in the Ostend of Frankfurt, which is 185 metres high. We also look out for any hawks or doves that might visit the bird houses in our grounds…


And last but not least: sometimes it's hard to connect with us, we know. But we'd love to chat with you more often. Here's our contacts page. You can also engage with us on Twitter and LinkedIn, or if you are ever in Frankfurt, pop by our Visitor Centre!