Wat is de Europese Centrale Bank?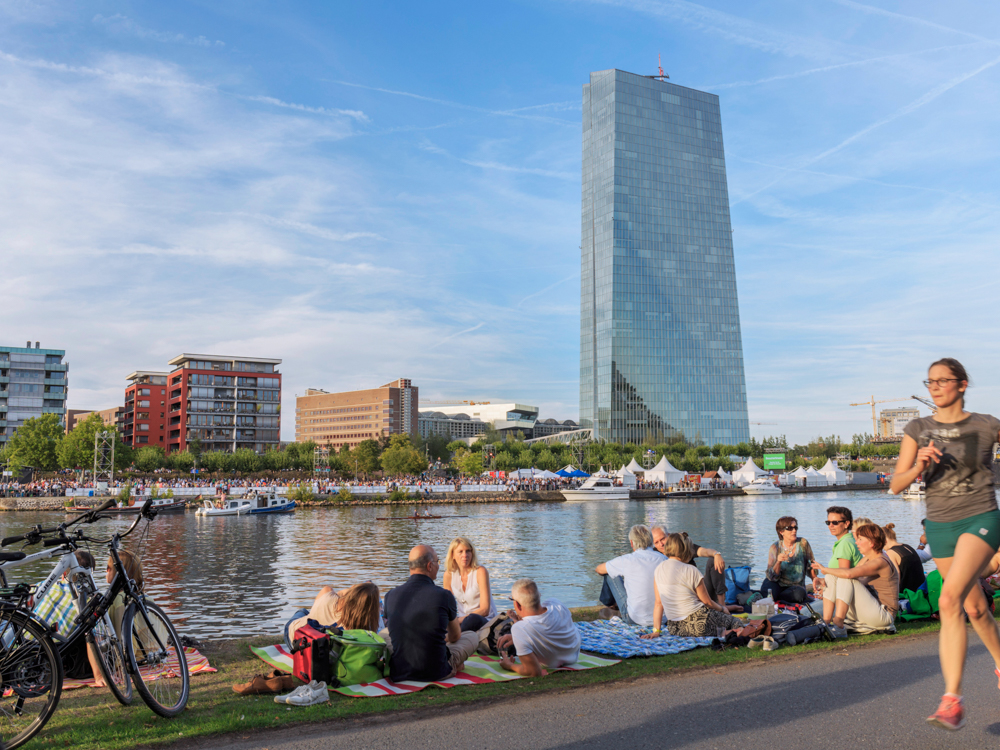 … en wat betekent de ECB voor u in uw dagelijks leven?
1 juni 2018 (bijgewerkt op 14 december 2018)
In het licht van onze twintigste verjaardag op 1 juni 2018 hebben we twintig feiten over de ECB verzameld.
Als u in het eurogebied woont, bent u een van de 340 miljoen gebruikers van onze gemeenschappelijke munt. En het is de Europese Centrale Bank die over deze munt waakt. Onze economie is de op één na grootste ter wereld.
 
Onze hoofdtaak bij de ECB is de prijzen in het eurogebied stabiel te houden, zodat u erop kunt vertrouwen dat u morgen met uw geld evenveel kunt kopen als vandaag. Sinds de invoering van de euro op 1 januari 1999 bedraagt de inflatie gemiddeld 1,7%, en dat is lager dan in de jaren zeventig, tachtig en negentig van de vorige eeuw.
Waarom zijn stabiele prijzen belangrijk?
 
Wij houden de prijzen stabiel door middel van vaststelling van de rentetarieven en andere monetairbeleidsmaatregelen. De Raad van Bestuur van de ECB komt elke zes weken bijeen om monetairbeleidsbeslissingen te nemen.
Wat is monetair beleid?
Monetairbeleidsbeslissingen
 
Samen met de negentien nationale centrale banken produceren we ook de eurobankbiljetten (sinds 2002 hebben we 130 miljard bankbiljetten geproduceerd).
Echtheidskenmerken van de bankbiljetten
 
Wij houden de stabiliteit van het financiële stelsel goed in de gaten. Als het financiële stelsel stabiel is, kan het zonder grote problemen schokken weerstaan. Dat wil zeggen dat mensen toegang blijven houden tot hun bankrekening, bedrijven betalingen kunnen blijven verrichten en ontvangen, beleggers kunnen blijven handelen, enzovoort. Wij analyseren de risico's voor het systeem en stellen macroprudentieel beleid voor aan de landen van het eurogebied.
Spotlight op financiële stabiliteit
Een snelgids voor macroprudentieel beleid
 
Sinds 2014 oefenen wij ook direct toezicht uit op de grootste banken in het eurogebied. U kunt er dus op vertrouwen dat zij tegen een stootje kunnen. Ongeveer 1200 medewerkers nemen 118 banken onder de loep en stellen richtsnoeren vast voor de sector.
Waarom toezicht houden op commerciële banken?
 
Wij zorgen ervoor dat u op een veilige manier kunt betalen, of dit nu elektronisch is of met contant geld of een betaalkaart. Om dit voor elkaar te krijgen, houden wij ons bezig met de betalingssystemen die dergelijke transacties mogelijk maken. Ons betalingssysteem TARGET2 verwerkt 350.000 transacties per dag, met een dagelijkse waarde van € 1,7 biljoen.
Wat is TARGET2?
 
Nu we het toch over betalingen hebben … Wist u dat het binnenkort mogelijk is elektronische betalingen zonder enige vertraging te verrichten via ons TIPS-systeem? Wachttijden van enkele dagen totdat bijboeking plaatsvindt, behoren daarmee tot het verleden.
Binnenkort: grensoverschrijdende directe betalingen
Wat is TARGET Instant Payments Settlement (TIPS)?
 
Wij doen onderzoek naar blockchain- en andere nieuwe financiële technologieën, en wij zijn zeer actief op het gebied van cyberweerbaarheid. Wij willen er namelijk op die manier voor zorgen dat de betalingssystemen veilig, schokbestendig en efficiënt blijven.
Hoe zou nieuwe technologie de financiële markten kunnen veranderen?
Waarom is cyberweerbaarheid belangrijk?
 
Wij zijn geïnteresseerd in big data. Onze statistici werken continu met gegevens op allerlei verschillende gebieden en dragen zo bij aan de onderbouwing van onze monetairbeleidsbeslissingen.
Waarom zijn statistieken belangrijk?
 
Ons monetair beleid draagt bij aan de groeiende economie van het eurogebied. Wist u dat het gemiddelde bbp per inwoner van het eurogebied sinds de creatie van de euro gestegen is van ongeveer € 21.000 naar zo'n € 32.000?
 
Ons beleid ondersteunt tevens de werkgelegenheid. Tussen 2012 en 2017 zijn in het eurogebied zeven miljoen nieuwe banen gecreëerd en 71% van de mensen in een arbeidsgeschikte leeftijd heeft nu een baan.
 
Om ervoor te zorgen dat we in het belang van de Europese burgers handelen, zijn we onafhankelijk. Dat betekent dat we niet worden beïnvloed door politieke overwegingen op de korte termijn.
Waarom is de ECB onafhankelijk?
 
Wij zijn verantwoording verschuldigd aan de inwoners van Europa en proberen u daarom zo goed mogelijk te informeren over ons doen en laten. Bovendien zijn we bij wet verplicht ons te verantwoorden tegenover de door u gekozen vertegenwoordigers in het Europees Parlement.
Hoe legt de ECB verantwoording af voor haar handelen?
 
U kunt op ons vertrouwen. In 2012 deed onze president Mario Draghi de inmiddels beroemde uitspraak: "De ECB staat klaar om binnen ons mandaat alles te doen wat nodig is om de euro te behouden." Samen met anderen zijn wij de overheidsschuldencrisis in het eurogebied te boven gekomen.
Speech door Mario Draghi op 26 juli 2012
 
Wij zijn gevestigd in Frankfurt (Duitsland). Ons nieuwe hoofdgebouw bevindt zich in de wijk Ostend; verder houden we kantoor in de Eurotower en het Japan Centre in de bankenwijk.
Over het hoofdgebouw van de ECB
 
Onze meer dan 3.000 medewerkers zijn afkomstig uit heel Europa en daarbuiten, en spreken 23 verschillende talen.
Werken bij de ECB
 
Wij streven bij de ECB naar een inclusieve werkomgeving, wat tot uitdrukking komt in onze medewerkersnetwerken (onder meer het Rainbow Network, het WOW-netwerk (Women Organise Women) en de Ethnic and Cultural Group).
Diversiteit en inclusie bij de ECB
 
Valken gebruiken het dak van ons 185 meter hoge hoofdgebouw in de wijk Ostend als jachtbasis. Ook zijn we op onze hoede voor de haviken en duiven die ons terrein zouden kunnen aandoen …
En ook niet onbelangrijk: we weten dat het soms lastig is met ons in contact te komen. Maar we zouden graag vaker met u willen spreken. Hier is onze contactpagina. U kunt ons ook bereiken via Twitter en LinkedIn. Mocht u ooit in Frankfurt zijn, kom dan zeker eens langs in ons bezoekerscentrum!