Co je to Evropská centrální banka?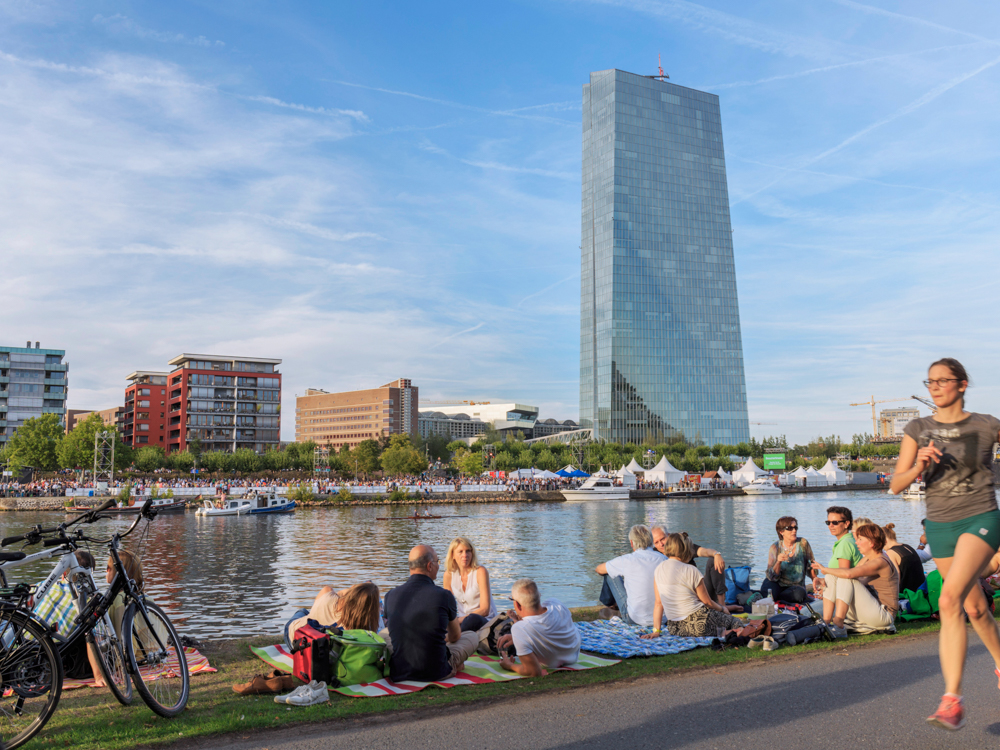 ... a jakou roli hraje ECB ve vašem každodenním životě?
1. června 2018 (aktualizováno 14. prosince 2018)
Zde je 20 faktů, které jsme shromáždili u příležitosti našich 20. narozenin 1. června 2018.
Pokud žijete v eurozóně, patříte k 340 milionům lidí, kteří používají společnou měnu, kterou spravuje Evropská centrální banka. Naše ekonomika je druhá největší na světě.
 
Hlavním úkolem ECB je zajistit stabilitu cen v eurozóně, abyste si mohli být jisti tím, že si za svůj plat budete moci zítra koupit tolik jako dnes. Od 1. ledna 1999, kdy euro vzniklo, činí inflace v průměru 1,7 %, což je méně než v 70., 80. i 90. letech.
Proč jsou stabilní ceny důležité?
 
Jak udržujeme ceny stabilní? Stanovováním úrokových sazeb a přijímáním dalších měnověpolitických opatření. Rada guvernérů ECB zasedá jednou za šest týdnů a přijímá měnová rozhodnutí.
Co je měnová politika?
Měnová rozhodnutí
 
Společně s 19 národními centrálními bankami také vyrábíme eurobankovky (od r. 2002 jsme vyrobili 130 mld. bankovek).
Ochranné prvky bankovek
 
Pečlivě sledujeme stabilitu finančního systému. Pokud je finanční systém stabilní, je schopen odolat otřesům, aniž by bylo jeho fungování výraznějším způsobem narušeno. Jinými slovy, lidé mají nadále přístup ke svým účtům, podniky mohou dále posílat a přijímat platby, investoři mohou pokračovat v obchodování atd. My analyzujeme rizika, která systému hrozí, a vládám zemí eurozóny navrhujeme makroobezřetnostní politiky.
Finanční stabilita pod drobnohledem
Rychlý průvodce makroobezřetnostními politikami
 
Od roku 2014 také provádíme přímý dohled nad největšími bankami v eurozóně, abyste se mohli spolehnout, že zvládnou případné komplikace. Zhruba 1200 pracovníků se pečlivě zabývá 118 velkými bankami a přípravou obecných zásad pro tento sektor.
Proč vykonáváme dohled nad komerčními bankami?
 
Zajišťujeme, abyste mohli provádět platby bezpečně, ať už hotově, kartou nebo elektronicky. Staráme se totiž o platební systémy, které tyto transakce umožňují. Náš platební systém TARGET2 denně zpracuje 350 000 transakcí v hodnotě 1,7 bilionu EUR.
Co je to TARGET2?
 
Když jsme u plateb, věděli jste, že bude brzy možné provádět v našem systému TIPS okamžité elektronické platby? Na příchod platby tak už nebudete muset čekat několik dní.
Již brzy: přeshraniční okamžité platby
Co je to vypořádání okamžitých plateb v systému TARGET (TIPS)?
 
Zkoumáme blockchain a další nové finanční technologie a jsme aktivní i na poli kybernetické odolnosti. Chceme totiž zajistit, aby byly platební systémy nadále bezpečné, odolné a efektivní.
Jak by nové technologie mohly přeměnit finanční trhy?
Proč je kybernetická odolnost důležitá?
 
Zajímají nás data velkého objemu. Naši statistici se neustále věnují datům v mnoha různých oblastech, a vytvářejí tak podklady pro rozhodnutí o naší měnové politice.
Proč je statistika důležitá?
 
Naše měnová politika přispívá k růstu ekonomiky eurozóny. Věděli jste, že od vzniku naší měny vzrostl v eurozóně průměrný HDP na obyvatele z přibližně 21 000 EUR na zhruba 32 000 EUR?
 
Naše opatření podporují také zaměstnanost. Od roku 2012 do roku 2017 bylo v eurozóně vytvořeno 7 milionů nových pracovních míst a práci má nyní 71 % lidí v produktivním věku.
 
Aby bylo zajištěno, že jednáme v nejlepším zájmu Evropanů, jsme nezávislí. To znamená, že nemůžeme být ovlivněni krátkodobými politickými faktory.
Proč je ECB nezávislá?
 
Jsme odpovědní Evropanům. Z tohoto důvodu se vám snažíme vysvětlit své aktivity, ze kterých se musíme na základě právní povinnosti zodpovídat vašim voleným zástupcům v Evropském parlamentu.
Jak se ECB zodpovídá za svou činnost?
 
Můžete se na nás spolehnout. V roce 2012 náš prezident Mario Draghi pronesl slavnou větu: "V rámci svého mandátu učiní ECB vše, co bude zapotřebí pro zachování eura." Spolu s ostatními jsme překonali krizi státních dluhopisů v eurozóně.
Projev Maria Draghiho, 26. července 2012
 
Sídlíme v německém Frankfurtu. Naše kanceláře se nacházejí v novém mrakodrapu ve čtvrti Ostend a v budovách Eurotower a Japan Centre v bankovní čtvrti.
Informace o hlavní budově ECB
 
Více než 3 000 zaměstnanců sem přišlo ze všech koutů Evropy i odjinud a mluví 23 různými jazyky.
Kariéra v ECB
 
V ECB pěstujeme inkluzivní pracovní prostředí. Fungují zde sítě zaměstnanců, jako např. Duhová síť pro LGBT zaměstnance, WOW (Women Organise Women – síť vzájemné podpory žen) a Etnická a kulturní skupina.
Různorodost a inkluze v ECB
 
Ze střechy mrakodrapu ECB, vysokého 185 metrů, ve frankfurtské čtvrti Ostend slétají na lov sokoli. Také někdy pozorujeme, jestli zavítají do ptačích budek na našem pozemku jestřáby nebo holubice...
 
A nakonec jedna věc: Je pravda, že je někdy obtížné se s námi spojit. Ale v kontaktu s vámi bychom byli rádi častěji. Tady je stránka s našimi kontaktními údaji. Najdete nás také na Twitteru a LinkedIn; a jestli někdy přijedete do Frankfurtu, zastavte se v našem návštěvnickém centru!