Czym zajmuje się Europejski Bank Centralny?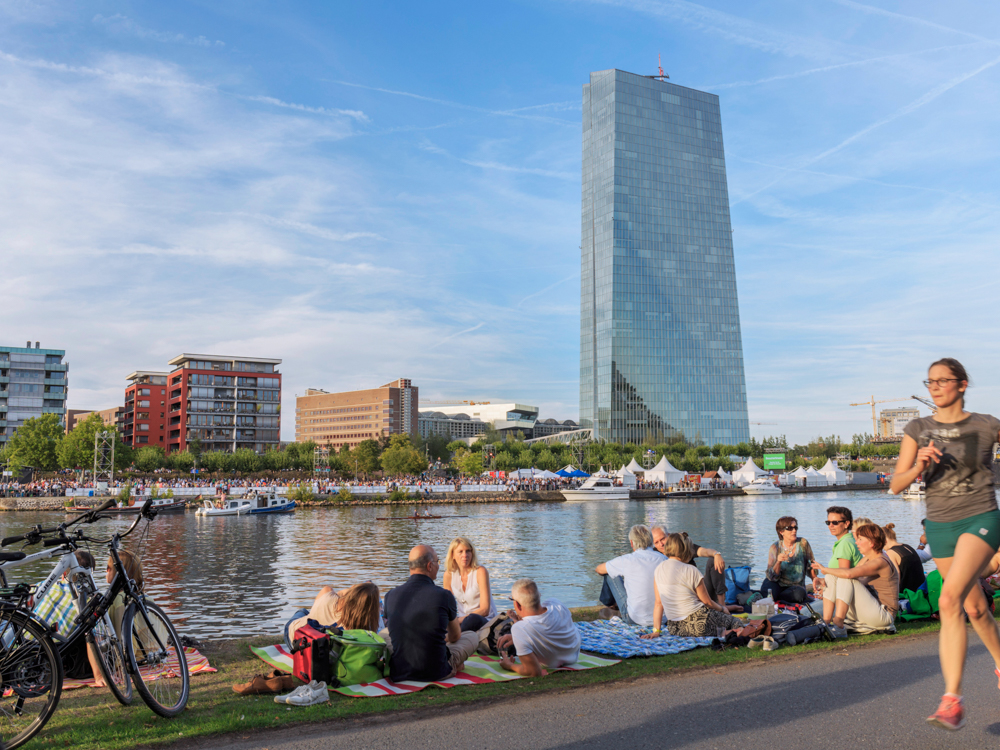 …i jak wpływa na Twoje codzienne życie?
1 czerwca 2018 (zaktualizowano 14 grudnia 2018)
1 czerwca 2018 EBC obchodził okrągłe urodziny – z tej okazji przedstawiamy 20 faktów podsumowujących 20 lat naszej działalności:
Jeśli mieszkasz w strefie euro, należysz do 340 milionów ludzi posługujących się wspólną walutą, na której straży stoi Europejski Bank Centralny. Strefa euro to druga pod względem wielkości gospodarka na świecie.
 
Głównym zadaniem EBC jest ochrona stabilności cen w strefie euro, tak aby jej mieszkańcy byli spokojni, że jutro będą mogli za swoje pieniądze kupić tyle samo co dziś. Od 1 stycznia 1999, gdy narodziło się euro, inflacja wynosi średnio 1,7% – mniej niż w latach 70., 80. i 90. ubiegłego wieku.
Dlaczego potrzebujemy stabilnych cen?
 
Podstawowym narzędziem, za pomocą którego utrzymujemy ceny na stabilnym poziomie, są referencyjne stopy procentowe. Stosujemy też różne inne środki polityki pieniężnej. Decyzje w sprawie tej polityki podejmuje Rada Prezesów EBC, której posiedzenia odbywają się co sześć tygodni.
Na czym polega polityka pieniężna?
Decyzje w sprawie polityki pieniężnej (po angielsku)
 
Wspólnie z bankami centralnymi wszystkich 19 państw strefy euro produkujemy także banknoty euro – od 2002 roku wydrukowano ich 130 miliardów!
Zabezpieczenia banknotów
 
Dbamy o stabilność całego systemu finansowego strefy euro, aby mógł on bez większych problemów wytrzymać ewentualne wstrząsy i zaburzenia. Kiedy system finansowy jest stabilny, klienci banków mają nieprzerwany dostęp do środków na swoich kontach, przedsiębiorstwa normalnie przekazują i przyjmują płatności, inwestorzy finansowi mogą zawierać transakcje itd. Analizujemy zagrożenia dotyczące tego systemu i przedstawiamy rządom krajowym zalecenia dotyczące tzw. polityki makroostrożnościowej.
Temat na dziś: stabilność finansowa
Krótko o polityce makroostrożnościowej
 
Od 2014 roku sprawujemy także bezpośredni nadzór nad 118 największymi bankami w strefie euro, aby mieć pewność, że poradzą sobie one także w gorszych czasach. Przy nadzorze nad tymi bankami i wydawaniu wytycznych dla całej branży bankowej pracuje blisko 1200 osób.
Dlaczego banki komercyjne są objęte nadzorem?
 
Dbamy o systemy do obsługi płatności, żeby płacenie gotówką, kartą i przez internet było bezpieczne. Prowadzony przez nas system TARGET2 przetwarza dziennie 350 tys. transakcji o łącznej wartości 1,7 bln euro.
Co to jest TARGET2?
 
Skoro mowa o płatnościach, czy wiecie, że niedługo będzie można dokonywać natychmiastowych płatności elektronicznych przez nasz system TIPS? Już nie będzie trzeba czekać kilka dni, aż dojdzie przelew!
Już niebawem: natychmiastowe płatności transgraniczne
Przelewy natychmiastowe TARGET Instant Payment Settlement (TIPS)
 
Prowadzimy badania nad rozwiązaniami typu blockchain i innymi nowymi technologiami finansowymi. Aktywnie pracujemy też nad ochroną przed atakami cybernetycznymi. Dążymy do tego, by także w dobie nowych technologii systemy płatności były bezpieczne, odporne na zagrożenia i sprawne.
Jak nowa technologia może odmienić rynki finansowe?
Dlaczego trzeba dbać o cyberodporność?
 
Interesujemy się analizą wielkich zbiorów danych, tzw. big data. Nasi statystycy stale pracują nad danymi z różnych dziedzin. Dane te pomagają nam podejmować decyzje dotyczące polityki pieniężnej.
Znaczenie statystyk
 
Nasza polityka pieniężna pobudza wzrost gospodarczy strefy euro. Od wprowadzenia wspólnej waluty średni PKB na głowę mieszkańca tej strefy wzrósł z około 21 tys. euro do około 32 tys. euro!
 
Polityka EBC wpływa także korzystnie na zatrudnienie. W latach 2012–2017 w strefie euro przybyło siedem milionów miejsc pracy. Obecnie zatrudnionych jest 71% ludności w wieku produkcyjnym.
 
Zawsze kierujemy się interesem wszystkim Europejczyków. EBC cieszy się niezależnością, która chroni nas przed uleganiem doraźnym względom politycznym.
Znaczenie niezależności EBC
 
Jesteśmy odpowiedzialni przed obywatelami Europy. Zgodnie z prawem mamy obowiązek rozliczać się przed wybranymi demokratycznie przedstawicielami społeczeństwa w Parlamencie Europejskim, ale staramy się też szerzej wyjaśniać nasze działania opinii publicznej.
Jak EBC rozlicza się ze swoich działań?
Pokazaliśmy, że można na nas polegać. W 2012 roku prezes Mario Draghi wypowiedział słynne zdanie: W granicach swojego mandatu EBC jest gotów zrobić absolutnie wszystko, żeby utrzymać euro. I rzeczywiście walnie przyczyniliśmy się do tego, że strefa euro przetrwała kryzys zadłużenia publicznego.
Przemówienie Maria Draghiego, 26 lipca 2012 (po angielsku)
 
Naszą siedzibą jest Frankfurt nad Menem w Niemczech. Biura EBC mieszczą się w trzech budynkach: nowym wysokościowcu w dzielnicy Ostend oraz Eurotower i Japan Centre w tzw. kwartale bankowym w centrum miasta.
Główna siedziba EBC
 
W EBC pracuje ponad 3 tys. osób z całej Europy i spoza niej, mówiących wszystkimi 23 językami unijnymi.
Praca w EBC (po angielsku)
 
Zależy nam na pełnej integracji społecznej wśród naszych pracowników. W EBC działają: sieć wzajemnego wsparcia kobiet, grupa na rzecz równości etniczno-kulturowej i sieć tęczowa na rzecz równouprawnienia osób LGBT.
Diversity and inclusion at the ECB (po angielsku)
 
Na 185-metrowym wieżowcu EBC na frankfurckim Ostendzie zagnieździły się sokoły. Nie zapominajmy też o "jastrzębiach" i "gołębiach" – tak określa się zwolenników różnych strategii w polityce pieniężnej.
I jeszcze jedno: wiemy, że trudno do nas dotrzeć, ale naprawdę zależy nam na kontakcie ze społeczeństwem! Tu są nasze dane adresowe. Zachęcamy też do zaglądania na strony EBC na Twitterze i LinkedIn, a jeśli będziecie we Frankfurcie, zapraszamy do naszego centrum dla zwiedzających!