Mi az Európai Központi Bank?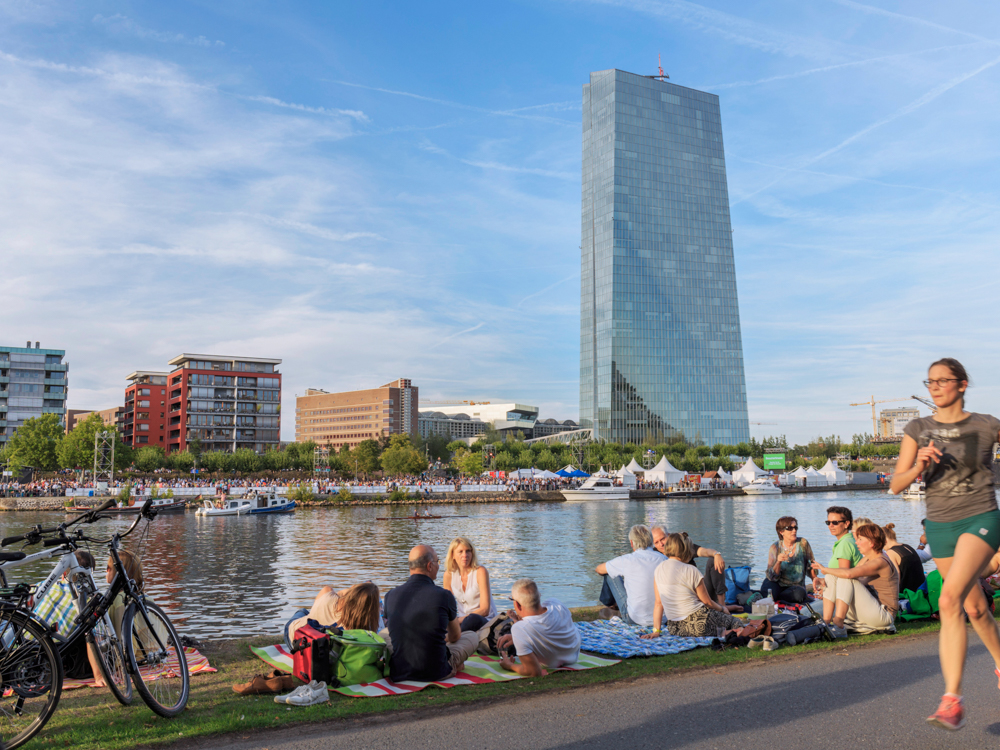 Mit jelent számunkra az EKB a mindennapokban?
2018. június 1. (aktualizálás napja: 2018. december 14.)
Az EKB 2018. június 1-én ünnepelte megalapításának 20. évfordulóját, és ebből az alkalomból csokorba kötöttünk húsz tudnivalót.
Az euroövezetben élő minden ember abba a 340 millió fős közösségbe tartozik, amely az Európai Központi Bank irányítása alatt álló közös pénzzel fizet. A világ második legnagyobb gazdaságát mondhatjuk a magunkénak.


Az EKB munkájának az a célja, hogy az övezet lakossága a keresetéből holnap is meg tudja vásárolni, amit ma. Ezt az árak stabilan tartásával érjük el, ami egyben a fő feladatunk. Az euro 1999. január 1-jei bevezetése óta az infláció átlagosan 1,7%, ami kisebb, mint a hetvenes, nyolcvanas és a kilencvenes években volt.
Miért fontos az árak stabilitása?
 
Hogyan tartjuk stabilan az árakat? A kérdésre a választ a kamatmeghatározás és az egyéb monetáris politikai intézkedéseink adják. Az EKB Kormányzótanácsa hathetente tartott ülésein hoz pénzpolitikai döntéseket.
Mi a monetáris politika?
Monetáris politikai döntések
 
Tizenkilenc nemzeti központi bankkal együtt eurobankjegyeket is előállítunk (2002 óta 130 milliárdot).
A bankjegyek biztonsági elemei
 
Szoros figyelemmel kísérjük a pénzügyi rendszer szilárdságát. Egy szilárd rendszer nagyobb zavar nélkül tud ellenállni a sokkoknak. Vagyis a lakosság továbbra is hozzáférhet bankszámláihoz, a vállalatok végrehajthatják fizetési tranzakciókat, a befektetők tovább kereskedhetnek. Elemezzük továbbá a rendszert veszélyeztető kockázatokat, és makroprudenciális irányelveket javaslunk az euroövezeti kormányzatoknak.
Reflektorfényben a pénzügyi stabilitás
Rövid útmutató a makroprudenciális irányelvekhez
 
Az euroövezet legnagyobb bankjait 2014 óta közvetlenül felügyeljük, ezért a lakosságnak nem kell attól tartania, hogy a bankok nem tudják átvészelni a nehéz időket. Mintegy 1200 dolgozónk foglalkozik nagy figyelemmel a 118 nagybankkal, és iránymutatásokkal látja el a szektort.
Miért kell felügyelni a kereskedelmi bankokat?
 
A készpénzes, kártyás és elektronikus fizetés biztonságosságát mindenki részére garantáljuk. Ezt úgy érjük el, hogy vigyázunk a fizetési rendszerekre, amelyek révén az említett tranzakciók lebonyolíthatók. A TARGET2 fizetési rendszerünkben napi 350 ezer ügylet bonyolódik le 1,7 billió € értékben.
Mi a TARGET2?
 
A fizetésforgalomról szólva, tudott róla, hogy a TIPS rendszerünkkel hamarosan azonnali elektronikus átutalást végezhet, így nem kell többé napokat várni az összeg megérkezésére?
Rövidesen: azonnali fizetés a határon túlra is
Mi a TARGET azonnali fizetéskiegyenlítés (TIPS)?
 
Kutatjuk a blockchaint és az egyéb új pénzügyi technológiákat, továbbá a kiberreziliencia terén is aktívak vagyunk. Ezzel a célunk a folyamatosan biztonságos, rugalmas és hatékony fizetési rendszerek garantálása.
Hogyan formálhatják át a technológiai újítások a pénzügyi piacokat?
Miért fontos a kibertámadásokkal szembeni ellenálló képesség?
 
Érdekel bennünket a "big data". Statisztikusaink a legkülönfélébb területeken folyamatosan adatokkal dolgoznak, ami lehetővé teszi, hogy pénzpolitikai döntéseinkhez minden információt megkapjunk.
Miért számítanak a statisztikák?
 
Monetáris politikánk hozzájárul az euroövezeti gazdaság növekedéséhez. Tudta, hogy az europénznem létrehozása óta az euroövezetben az egy főre jutó átlagos GDP 21 000 €-ról mintegy 32 000 €-ra emelkedett?
 
Intézkedéseink a foglalkoztatást is támogatják. Az euroövezetben 2012 és 2017 között hétmillió új munkahely jött létre, és jelenleg a munkaképes korú lakosság 71%-a dolgozik.
 
Függetlenségünk a garanciája, hogy az európai lakosság érdekeinek messzemenő figyelembevételétével látjuk el feladatainkat. A rövid távú politikai megfontolások tehát nem tántoríthatnak el bennünket.
Miért független az EKB?
 
Európa népének elszámolással tartozunk. Ezért arra törekszünk, hogy intézkedéseinket megindokoljuk, és jogilag is kötelezve vagyunk rá, hogy az Európai Parlamentben a lakosság választott képviselői előtt elszámoljunk velük.
Hogyan számoltatható el az EKB az intézkedéseiért?
 
Számíthat ránk. Elnökünk, Mario Draghi 2012-ben tette a híressé vált megjegyzést: "Megbízatásunk keretein belül az EKB készen áll rá, hogy minden lehetőt megtegyen az euro megőrzése érdekében." Másokkal együtt átvészeltük az euroövezeti államadósság-válságot.
Mario Draghi beszéde, 2012. július 26.
 
Székhelyünk a németországi Frankfurtban található. Irodáinknak az Ostend városnegyedben felépített új felhőkarcoló, valamint a banknegyedben található Eurotower és Japan Centre ad otthont.
Az EKB főépületéről
 
Az Európa minden sarkából (vagy akár Európán kívülről) származó, több mint 3000 alkalmazottunk 23 nyelven beszél.
Karrier az EKB-ban
 
Az EKB-ban befogadó munkakörnyezetet alakítottunk ki. Munkavállalóink többféle hálózat tagjai: ilyen például a Rainbow Network (szivárvány hálózat), a WOW network (Women Organise Women – nők a nőkért) és az Ethnic and Cultural Group (etnikai és kulturális csoport).
A sokszínű, befogadó EKB
 
Az EKB 185 méter magas ostendi felhőkarcolójának tetején sólyom fészkel. Figyeljük a héjákat és a vadgalambokat is, amelyek el-ellátogatnak a területünkön levő madárházakba...
Végül, de nem utolsósorban: tudjuk, hogy időnként nehéz bennünket elérni, de szeretnénk gyakrabban beszélgetni az érdeklődőkkel. Az elérhetőségeink itt találhatók, ezenkívül pedig Twitteren és LinkedIn-en is meg lehet bennünket találni. Ha pedig Frankfurtban járnak, térjenek be a látogatóközpontunkba.