Kas yra Europos Centrinis Bankas?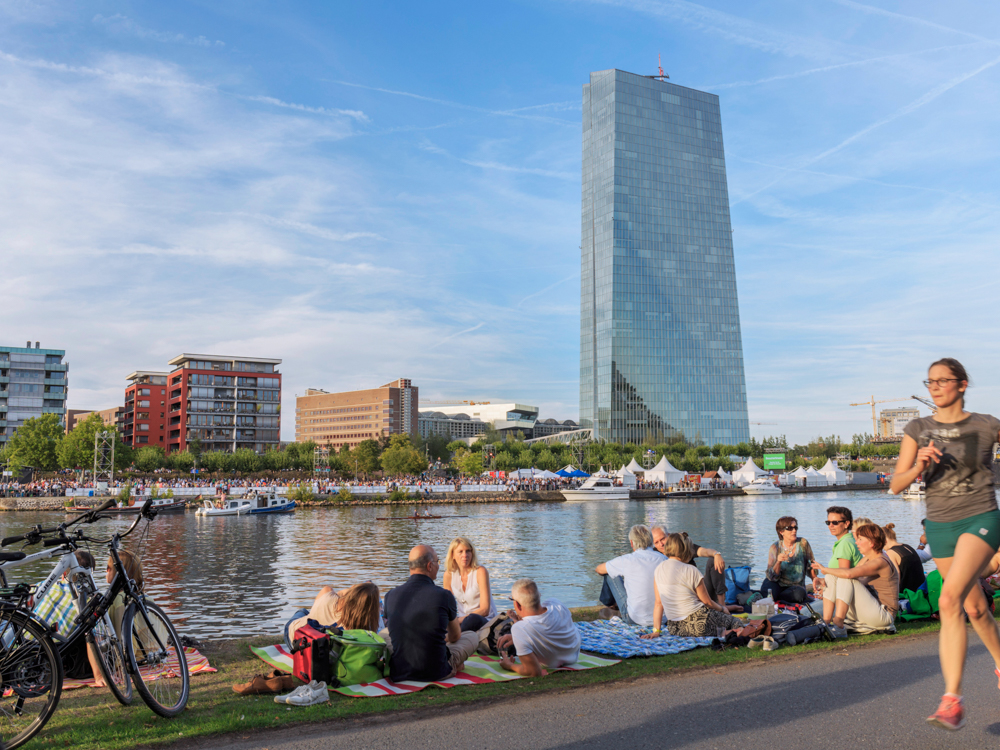 ... ir kaip jis susijęs su jūsų kasdieniu gyvenimu?
2018 06 01 (atnaujinta 2018 12 14)
2018 m. birželio 1 d. sukako 20 metų nuo ECB įsteigimo. Štai 20 faktų, kuriais šia proga norėtume pasidalyti.
Jeigu gyvenate euro zonoje, esate vienas iš 340 milijonų žmonių, naudojančių bendrą valiutą, kuria rūpinasi Europos Centrinis Bankas. Mūsų ekonomika – antra pagal dydį pasaulyje.
 
Kad jums nereikėtų nerimauti, ar rytoj už savo pinigus galėsite nusipirkti tiek pat kiek šiandien, ECB rūpinasi kainų stabilumu euro zonoje – tai pagrindinė ECB užduotis. Nuo euro įvedimo 1999 m. sausio 1 d. infliacija vidutiniškai siekia 1,7 % ir yra mažesnė negu praėjusio amžiaus aštuntąjį, devintąjį ir dešimtąjį dešimtmečius.
Kodėl stabilios kainos svarbu?
 
Kaip palaikome kainų stabilumą? Nustatydami palūkanų normas ir taikydami kitas pinigų politikos priemones. ECB valdančioji taryba kas šešias savaites susirenka į posėdžius, kad priimtų sprendimus dėl pinigų politikos.
Kas yra pinigų politika?
Sprendimai dėl pinigų politikos
 
Kartu su 19 nacionalinių centrinių bankų mes taip pat gaminame eurų banknotus (nuo 2002 m. pagaminome 130 mlrd. banknotų).
Banknotų apsaugos priemonės
 
Akylai stebime, kad finansų sistema būti stabili. Kai finansų sistema yra stabili, ji gali be didelių sutrikimų atlaikyti sukrėtimus. Kitaip sakant, žmonės gali ir toliau naudotis savo banko sąskaitomis, įmonės – atlikti ir gauti mokėjimus, investuotojai gali tęsti savo veiklą ir pan. Analizuojame įvairią sistemai galinčią kilti riziką ir euro zonos šalių vyriausybėms teikiame pasiūlymus dėl makroprudencinės politikos.
Apie finansinį stabilumą
Trumpai apie makroprudencinę politiką
 
Nuo 2014 m. mes tiesiogiai prižiūrime didžiausius euro zonos bankus, tad galite neabejoti – jie pajėgūs atlaikyti sunkumus. Apie 1 200 mūsų darbuotojų įdėmiai stebi 118 stambiųjų bankų darbą ir bankų sektoriui rengia įvairias gaires.
Kodėl prižiūrimi komerciniai bankai?
 
Rūpinamės, kad mokėjimus (grynaisiais, kortele ar elektroniniu būdu) galėtumėte atlikti saugiai. Tai darome prižiūrėdami mokėjimo sistemas, per kurias vyksta visi šie sandoriai. Mūsų mokėjimo sistemoje TARGET2 per dieną apdorojama 1,7 trilijonų eurų vertės 350 000 sandorių.
Kas yra TARGET2?
 
Ar žinojote, kad netrukus per mūsų sistemą TIPS bus galima atlikti momentinius elektroninius mokėjimus ir nebereikės laukti kelias dienas, kol sumokėti pinigai pasieks sąskaitą?
Tarpvalstybiniai momentiniai mokėjimai – jau netrukus
Kas yra TARGET momentinių mokėjimų paslauga (TIPS)?
 
Nagrinėjame blokų grandinės ir kitas naujas finansines technologijas. Be to, intensyviai dirbame kibernetinio atsparumo klausimu. Tai darome siekdami užtikrinti, kad mokėjimo sistemos ir toliau būtų saugios, atsparios ir gerai veiktų.
Kaip nauja technologija gali iš esmės pakeisti finansų rinkas?
Kodėl kibernetinis atsparumas yra svarbus?
 
Mus domina didieji duomenys. Mūsų statistikos specialistai nuolat dirba su įvairiausių sričių duomenimis, kad ECB pinigų politikos sprendimus būtų galima priimti remiantis išsamia informacija.
Kodėl statistika yra svarbi?
 
Savo vykdoma pinigų politika prisidedame prie euro zonos ekonomikos augimo. Ar žinojote, kad, įvedus eurą, euro zonoje vidutinis BVP vienam gyventojui padidėjo nuo maždaug 21 000 eurų iki maždaug 32 000 eurų?
 
Mūsų politika taip pat teigiamai veikia užimtumą. Nuo 2012 m. iki 2017 m. euro zonoje sukurta septyni milijonai naujų darbo vietų. Šiuo metu dirba 71 % darbingo amžiaus žmonių.
 
Kad Europos gyventojų interesams atstovautume kuo geriau, esami nepriklausomi. Tai reiškia, kad trumpalaikiai politiniai vertinimai mums negali padaryti jokios įtakos.
Kodėl ECB yra nepriklausomas?
 
Esame atskaitingi Europos gyventojams. Todėl stengiamės paaiškinti savo sprendimus ir teisiškai privalome už juos atsiskaityti Europos gyventojų išrinktiems Europos Parlamento atstovams.
Kaip ECB atsiskaito už savo sprendimus?
 
Galite mumis pasikliauti. Gerai žinomi Pirmininko Draghi žodžiai, pasakyti 2012 metais: "Atsižvelgdamas į savo įgaliojimus ECB padarys viską, kas būtina, kad išsaugotų eurą." Kartu su kitais atlaikėme euro zonos šalių valstybės skolos krizę.
Mario Draghi kalba, 2012 m. liepos 26 d.
 
Esame įsikūrę Frankfurte, Vokietijoje. Dirbame naujajame dangoraižyje rytiniame rajone Ostend ir pastatuose Eurotower bei Japan Centre bankų rajone miesto centre.
Apie pagrindinį ECB pastatą
 
ECB dirba daugiau nei 3 000 darbuotojų iš visos Europos ir kitur. Čia kalbama 23 kalbomis.
Karjera ECB
 
ECB kuriame ir palaikome įtraukią darbo kultūrą. Jau susibūrusios tokios tikslinės darbuotojų grupės kaip Rainbow Network, moterų iniciatyvinė grupė WOW (angl. Women Organise Women) bei Etikos ir kultūros grupė.
Įvairovė ir įtrauktis ECB
Nuo Frankfurto rytiniame rajone esančio 185 metrų aukščio ECB dangoraižio stogo medžioja sakalai. Kartais banko teritorijoje galima pastebėti ir vieną kitą vanagą ar balandį...
 
Ir paskutinis, bet ne mažiau svarbus dalykas – kartais su mumis sudėtinga susisiekti, ir mes tai žinome. Tačiau norėtume su jumis pabendrauti dažniau. Mūsų kontaktinius duomenis rasite čia. Be to, su mumis galite bendrauti socialiniuose tinkluose "Twitter" ir "LinkedIn", o jeigu kada būsite Frankfurte, būtinai užsukite į mūsų Lankytojų centrą!