Kaj je Evropska centralna banka?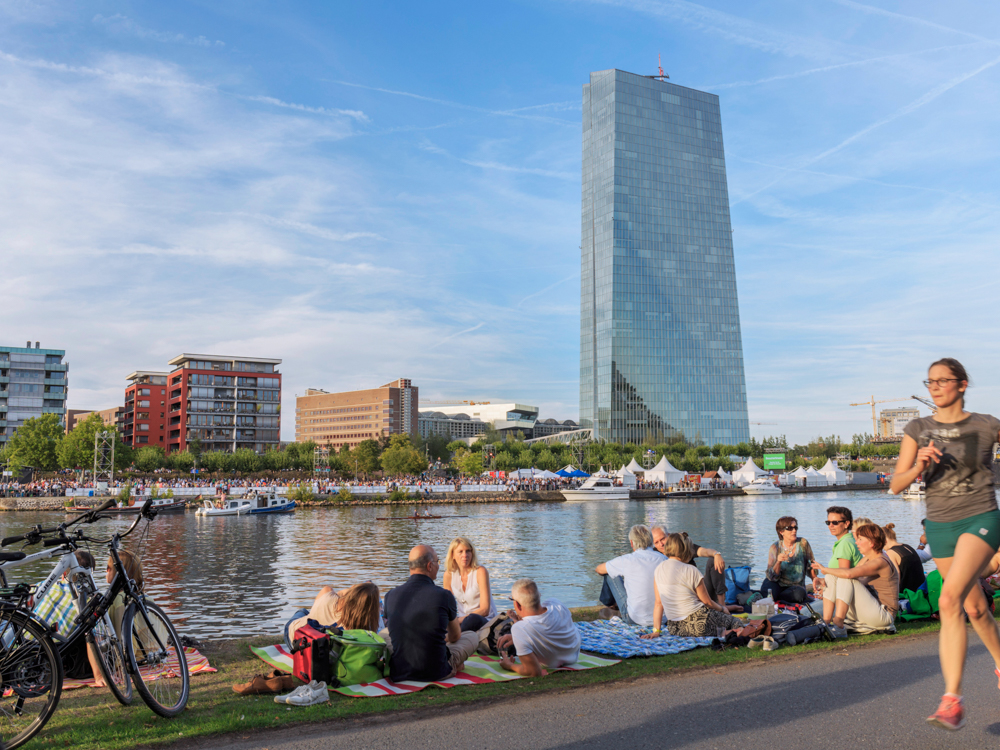 In kaj vam ECB pomeni v vsakdanjem življenju?
1. junij 2018 (zadnja sprememba: 14. december 2018)
Tu je 20 točk v obeležitev našega 20. rojstnega dne, ki je bil 1. junija 2018.
Če bivate v euroobmočju, ste eden od 340 milijonov ljudi, ki uporabljajo enotno valuto, za katero skrbi Evropska centralna banka. Naše gospodarstvo je drugo največje na svetu.
 
V ECB delamo vse za to, da cene v euroobmočju ostajajo stabilne – to je naša glavna naloga. Zato se lahko zanesete, da boste jutri s svojimi euri lahko kupili prav toliko kot danes. Od rojstva eura 1. januarja 1999 znaša inflacija povprečno 1,7% – manj kot v zadnjih treh desetletjih prejšnjega stoletja.
Zakaj je pomembno, da so cene stabilne?
Kako zagotavljamo stabilne cene? Z uravnavanjem obrestnih mer in drugimi ukrepi denarne politike. Svet ECB ima sejo vsakih šest tednov, na kateri sprejema sklepe o denarni politiki.
Kaj je denarna politika?
Sklepi o denarni politiki
 
Skupaj z 19 nacionalnimi centralnimi bankami tiskamo tudi eurobankovce (od leta 2002 smo proizvedli 130 milijard bankovcev).
Zaščitni elementi bankovcev
 
Pozorno spremljamo stabilnost finančnega sistema. Če je finančni sistem stabilen, lahko vzdrži šoke brez večjih motenj. Povedano drugače, ljudje lahko še vedno dostopajo do bančnih računov, podjetja lahko opravljajo in prejemajo plačila, vlagatelji lahko še naprej trgujejo itd. Analiziramo tveganja v sistemu in vladam držav euroobmočja predlagamo makrobonitetne politike.
Finančna stabilnost v središču pozornosti
Kratka predstavitev makrobonitetne politike
 
Od leta 2014 tudi neposredno nadziramo največje banke v euroobmočju, zato se lahko zanesete, da bodo sposobne prebroditi hude čase. Približno 1200 zaposlenih skrbno spremlja delovanje 118 velikih bank in določa smernice za bančni sektor.
Zakaj nadzirati poslovne banke?
Skrbimo za to, da lahko varno opravljate vsa plačila, ne glede na to, ali plačujete z gotovino, s kartico ali prek spleta. V ta namen nadzorujemo plačilne sisteme, ki ta plačila omogočajo. Naš plačilni sistem TARGET2 dnevno obdela 350.000 transakcij v skupni vrednosti 1,7 bilijona EUR.
Kaj je TARGET2?
 
Ko že govorimo o plačilih, ste vedeli, da bo z našim sistemom TIPS kmalu mogoče opravljati takojšnja elektronska plačila? To pomeni, da ne bo več treba čakati več dni, da plačilo prispe.
Kmalu na voljo: čezmejna takojšnja plačila
Kaj je poravnava takojšnjih plačil v sistemu TARGET (TIPS)?
 
Preučujemo veriženje podatkovnih blokov in druge nove finančne tehnologije, dejavni pa smo tudi na področju kibernetske odpornosti. S tem zagotavljamo, da plačilni sistemi ostajajo varni, odporni in učinkoviti.
Kako bi nova tehnologija lahko preoblikovala finančne trge?
Zakaj je kibernetska odpornost pomembna?
 
Veliko vrednost pripisujemo masovnim podatkom. Naši statistiki ves čas obdelujejo podatke na najrazličnejših področjih, kar nam pomaga pri sprejemanju odločitev o denarni politiki.
Zakaj je statistika pomembna?
 
Naša denarna politika prispeva k boljšemu delovanju gospodarstva v euroobmočju. Ste vedeli, da se je povprečni BDP na prebivalca v euroobmočju od nastanka enotne valute povečal s približno 21.000 EUR na okrog 32.000 EUR?
 
Naše politike podpirajo zaposlenost. Od leta 2012 do leta 2017 je bilo v euroobmočju ustvarjenih sedem milijonov novih delovnih mest, tako da je zdaj zaposlenih 71% delovno sposobnega prebivalstva.
 
Da bi zagotovili, da zares delujemo v dobro vseh prebivalcev Evrope, smo neodvisna institucija. To pomeni, da ne podlegamo kratkotrajnim političnim težnjam.
Zakaj je ECB neodvisna?
 
Odgovorni smo vsem prebivalcem Evrope. Zato si prizadevamo pojasniti svoje ukrepe, glede katerih smo tudi pravno zavezani, da odgovarjamo vašim izvoljenim predstavnikom v Evropskem parlamentu.
Kako ECB odgovarja za svoje ukrepe?
 
Na nas se lahko zanesete. Leta 2012 je predsednik ECB Mario Draghi dal zdaj že slavno izjavo: »V okviru svojega mandata je ECB pripravljena storiti vse, kar je potrebno, da zaščiti euro.« Skupaj z drugimi organi smo uspešno prebrodili državno dolžniško krizo v euroobmočju.
Govor Maria Draghija z dne 26. julija 2012
 
Naš sedež je v Frankfurtu v Nemčiji. Prostore imamo v novem nebotičniku v četrti Ostend ter v stavbah Eurotower in Japan Centre v bančni četrti.
Glavna stavba ECB
 
V glavni stavbi ECB je zaposlenih več kot 3000 ljudi, ki prihajajo z vseh koncev Evrope in zunaj nje ter govorijo 23 različnih jezikov.
Zaposlitev v ECB
 
V ECB negujemo vključujoče delovno okolje. Med mrežami zaposlenih so mavrična mreža, mreža WOW (Women Organise Women) ter etnična in kulturna mreža.
Raznolikost in vključenost v ECB
 
Na vrhu 185 metrov visokega nebotičnika ECB v frankfurtski četrti Ostend so na preži sokoli. Oprezamo tudi za jastrebi in golobicami, če so morda obiskali ptičje hišice na tleh.
 
Vemo, da je včasih težko priti v stik z nami. A z veseljem bi večkrat poklepetali z vami. Tu so naši kontaktni podatki. Lahko nas kontaktirate tudi na Twitterju ter LinkedInu, če vas pot zanese v Frankfurt, pa se oglasite v našem centru za obiskovalce!