Natjecanje #EUROat20 ECB-QuizClash
Povodom dvadesete obljetnice uvođenja eura udružili smo se s timom koji je razvio aplikaciju QuizClash i organizirali smo posebno natjecanje za sve stanovnike EU‑a u razdoblju od 18. veljače do 10. ožujka 2019.
Više od 1,6 milijuna sudionika širom Europske unije natjecalo se u šest krugova koji su sadržavali po tri pitanja.
Onima koji su točno odgovorili na sva pitanja poručujemo: pravi ste stručnjaci za euro! Među znalcima ždrijebom je odabrano tridesetero dobitnika koji su obaviješteni da mogu odabrati svoju nagradu (tablet iPad Pro ili kartu Interrail Global Pass). Popis dobitnika možete pronaći ovdje.
Zahvaljujemo svima koji su sudjelovali u natjecanju i čestitamo dobitnicima! Ako imate pitanja o natjecanju, molimo da nam se javite e-porukom na adresu ecbyouthinitiatives@ecb.europa.eu.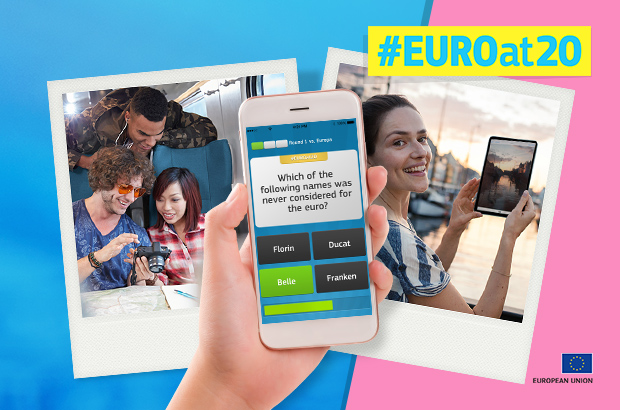 Jeste li znali...?
Trideset pet posto natjecatelja mislilo je da je Europska središnja banka smještena u Strasbourgu.
Strasbourg je zapravo službeno sjedište Europskog parlamenta. Mi smo smješteni u Frankfurtu na Majni u Njemačkoj.
Pratite naš profil na Instagramu i poželjet ćemo vam dobro jutro iz svojih ureda s panoramskim pogledom na Frankfurt.
Velik postotak natjecatelja mislio je da ESB može financirati vlade država EU‑a.
To nije točno. ESB je neovisna institucija. Ugovor o funkcioniranju Europske unije zabranjuje ESB‑u kreditiranje institucija EU‑a i javnog sektora. Na taj je način Eurosustav zaštićen od utjecaja tijela javne vlasti.
Održavanje stabilnosti cijena jedna je od glavnih zadaća ESB‑a.
To je znalo osamdeset pet posto natjecatelja! ESB održava stabilnost cijena nadziranjem količine novca u optjecaju u gospodarstvu i određivanjem kamatnih stopa. Prati cijene robe i usluga pazeći da previše ne porastu kako bi svatko za svoje eure sutra mogao kupiti približno jednako koliko i danas.
Zašto su stabilne cijene važne?
Odgovornost za nadzor banaka preuzeli smo u studenome 2014., a ne u siječnju 2002.
Gotovo polovica sudionika kviza #EUROat20 nije znala koji od ta dva datuma odabrati.
Siječanj 2002. doista je bio ključan u našoj povijesti: tada su u optjecaj puštene prve euronovčanice i eurokovanice.
No ESB je preuzeo odgovornost za nadzor europskih banaka u studenome 2014. Financijska kriza pokazala je kako se problemi financijskog sektora mogu brzo i silovito proširiti, posebno unutar monetarne unije, te kako ti problemi mogu izravno utjecati na ljude u cijelom europodručju. U vezi s tim ESB nastoji vratiti povjerenje u bankarski sektor EU‑a i povećati otpornost banaka.
Ukratko o nadzoru banaka ESB-a
Zahvaljujemo Valentinu Hasneru, Constantinu Weißu, Heinrichu Westphalenu, Anniki Schwarz i Sarah Christini Zuellig (studentima profesora dr Eliane Bucher i dr Markusa Willa na preddiplomskom studiju upravljanja medijima i komunikacijom sveučilišta u St. Gallenu u Švicarskoj 2018.), koji su nam predložili održavanje ovog natjecanja.