#EUROat20 ECB-QuizClash competition
Win an iPad Pro or a month-long Interrail trip around Europe!
Put your knowledge of the euro and the European Central Bank to the test and be in with a chance of winning. We have teamed up with QuizClash to launch this special competition, marking the 20th anniversary of the euro.
The competition is open until 23:59 CET on Sunday, 10 March 2019.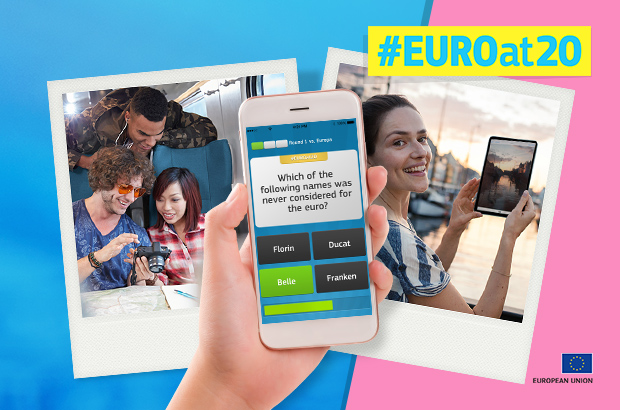 How it works
Getting started:
Download QuizClash (if you don't already have it)
Open the app and choose the "#EUROat20" quiz to begin playing
How to play:
There are 18 questions on topics related to the euro and the ECB
The questions are split into six rounds of three questions each
You have 30 seconds to answer each question
Try to achieve a high score and work your way up the leader boards
How to win:
Once the competition closes on 10 March 2019, we will randomly draw 30 winners from all participants who answered every question correctly
The QuizClash app will notify you if you are lucky enough to win – so make sure you keep your push notifications on[1]
The prizes
If you're one of the lucky winners (as well as being able to bask in the glory of being a true euro expert!) you can choose one of these two prizes:

or
if your holidays are already booked this year, or if you would just rather a new tablet instead, you can choose an iPad Pro 10.5" display 64 GB
Who can take part?
Anyone living in the European Union and eligible to register in the app can take part! Make sure you have read our terms and conditions and our data protection policy before entering the competition.
If you have any questions about the competition, email us at info@ecb.europa.eu.
We would like to thank Valentin Hasner, Constantin Weiß, Heinrich Westphalen, Annika Schwarz and Sarah Christina Zuellig (students of the 2018 Bachelor's Class in Media and Communications Management, taught by Dr Eliane Bucher and Dr Markus Will, at the University of St. Gallen, Switzerland) for suggesting this competition.
[1]If you have an iOS device, tap the "Settings" icon on your device, then tap "Notifications" and select "QuizClash" in the list of apps. Make sure you set all of the available switches to ON.
If you have an Android device, tap "Apps" then "Settings" and look for "QuizClash" in the list of apps. Make sure notifications are on by checking the box next to "Show notifications".