Súťaž #EUROat20 QuizClash
V čase od 18. februára do 10. marca 2019 sme pri príležitosti 20. výročia zavedenia eura v spolupráci s prevádzkovateľmi aplikácie QuizClash zorganizovali súťaž pre všetkých obyvateľov EÚ.
Viac ako 1,6 milióna súťažiacich z rôznych kútov Európskej únie si zmeralo sily v šiestich kolách po troch otázkach.
Gratulujeme tým, ktorí odpovedali správne na všetky otázky – ste ozajstní odborníci na euro! Spomedzi úspešných súťažiacich sme vybrali 30 výhercov, ktorých sme kontaktovali a dali im možnosť vybrať si jednu z dvoch cien (iPad Pro alebo lístok Interrail Global Pass). Zoznam výhercov je k dispozícii tu.
Ďakujeme všetkým súťažiacim a gratulujeme výhercom!
V prípade akýchkoľvek otázok k súťaži sa na nás môžete obrátiť e-mailom na adresu ecbyouthinitiatives@ecb.europa.eu.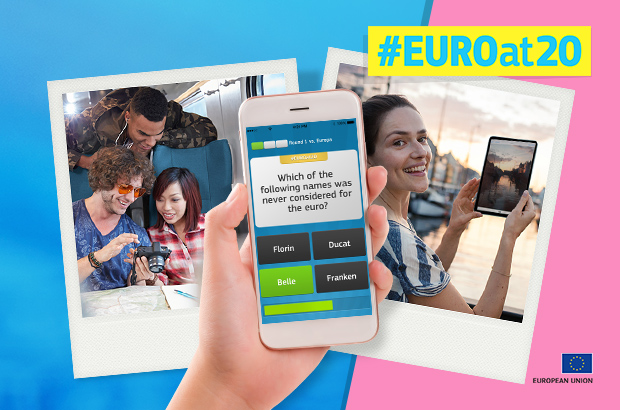 Zaujímavosti
35 % účastníkov si myslelo, že Európska centrálna banka sa nachádza v Štrasburgu.
Štrasburg je však oficiálnym sídlom Európskeho parlamentu. Európska centrálna banka sídli v nemeckom Frankfurte nad Mohanom.
Sledujte naše konto na Instagrame a dostávajte ranné zábery z kancelárií ECB s výhľadom na frankfurtskú panorámu.
Značná časť účastníkov si myslela, že ECB môže financovať vlády krajín EÚ.
To je omyl. Sme nezávislá inštitúcia. Zmluva o fungovaní EÚ zakazuje ECB poskytovať úvery inštitúciám EÚ alebo verejnému sektoru. Toto opatrenie chráni Eurosystém pred vplyvom verejných orgánov.
Viac informácií o nezávislosti ECB
Jednou z hlavných úloh ECB je udržiavať cenovú stabilitu.
85 % účastníkov to vedelo. ECB udržiava cenovú stabilitu tak, že riadi objem peňazí obiehajúcich v ekonomike a určuje úrokové sadzby. Sleduje ceny tovarov a služieb a dáva pozor, aby nerástli príliš rýchlo. Vďaka tomu si ľudia i zajtra môžu kúpiť rovnaké množstvo tovarov a služieb ako dnes.
Prečo potrebujeme stabilné ceny?
Zodpovednosť za bankový dohľad sme prevzali v novembri 2014, nie v januári 2002.
Tieto dva dátumy si pomýlila takmer polovica účastníkov kvízu #EUROat20.
Je pravda, že január 2002 bol významným dátumom v našich dejinách: do obehu boli uvedené prvé eurové bankovky a mince.
Zodpovednosť za dohľad nad európskymi bankami však ECB prevzala v novembri 2014. Finančná kríza ukázala, ako rýchlo a výrazne sa môžu šíriť problémy vo finančnom sektore, predovšetkým v rámci menovej únie, a ako tieto problémy priamo ovplyvňujú ľudí v celej eurozóne. V tejto súvislosti sa ECB usiluje obnoviť dôveru v bankový sektor EÚ a zvýšiť odolnosť bánk.
S nápadom usporiadať túto súťaž prišli Valentin Hasner, Constantin Weiß, Heinrich Westphalen, Annika Schwarz a Sarah Christina Zuellig (absolventi bakalárskeho štúdia odboru manažmentu médií a komunikácie švajčiarskej University of St. Gallen z roku 2018 pod vedením Dr. Eliane Bucherovej a Dr. Markusa Willa), ktorým by sme sa touto cestou chceli poďakovať.