Concorso BCE-QuizDuello #EUROat20
Fra il 18 febbraio e il 10 marzo 2019 abbiamo invitato tutti i residenti nell'UE a partecipare a questa sfida speciale organizzata insieme a QuizDuello per celebrare il ventesimo anniversario dell'euro.
Oltre 1,6 milioni di giocatori nell'Unione europea hanno gareggiato in sei tornate da tre domande ciascuna.
Complimenti ai giocatori che hanno risposto bene a tutte le domande: siete proprio grandi esperti dell'euro! Fra questi campioni abbiamo estratto a sorte 30 vincitori, che sono stati contattati per scegliere il premio (un iPadPro o un Interrail Global Pass). L'elenco dei vincitori è accessibile qui.
Un grazie a tutti i partecipanti al concorso e congratulazioni ai vincitori!
Hai domande sul concorso? Scrivici all'indirizzo ecbyouthinitiatives@ecb.europa.eu.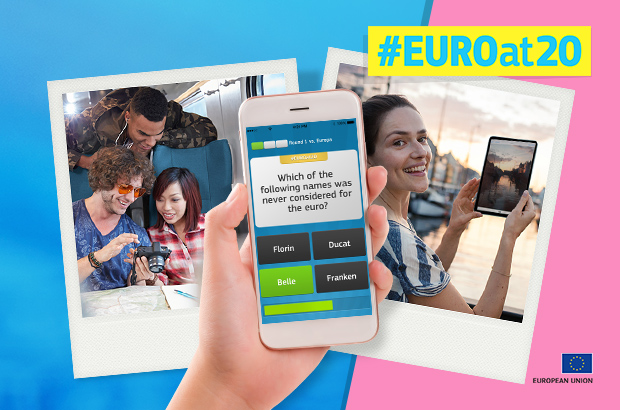 Lo sapevi?
Il 35% dei giocatori pensava che la Banca centrale europea si trova a Strasburgo.
In realtà Strasburgo è la sede ufficiale del Parlamento europeo! La nostra sede è a Francoforte sul Meno, in Germania.
Seguici su Instagram! Troverai i nostri saluti dagli uffici che dominano il profilo urbano di Francoforte.
Gran parte dei giocatori pensava che la BCE può finanziare i governi dei paesi dell'UE.
E invece non è così. Siamo un'istituzione indipendente. Il Trattato sul funzionamento dell'UE vieta alla BCE di concedere prestiti alle istituzioni dell'UE o al settore pubblico. Questo divieto pone l'Eurosistema al riparo da ingerenze delle autorità pubbliche.
Per saperne di più sull'indipendenza della BCE
Uno degli obiettivi primari della BCE è mantenere stabili i prezzi.
L'85% dei giocatori lo sapeva! La BCE preserva la stabilità dei prezzi controllando quanta moneta circola nell'economia e fissando i tassi di interesse. Tiene sotto osservazione i prezzi dei beni e servizi per verificare che non aumentino troppo. Così, con lo stesso importo in euro puoi comprare più o meno le stesse cose che ti puoi permettere oggi.
Perché è importante la stabilità dei prezzi?
Abbiamo assunto le funzioni di vigilanza bancaria a novembre 2014 e non a gennaio 2002.
Quasi la metà dei giocatori di QuizDuello #EUROat20 ha confuso le due date!
Gennaio 2002 è infatti una data fondamentale nella nostra storia: sono entrate in circolazione le prime banconote e monete in euro.
Nel novembre 2014 invece la BCE ha assunto il compito di vigilare sulle banche europee. La crisi finanziaria ha messo in luce la rapidità e la virulenza con cui possono propagarsi i problemi del settore finanziario, soprattutto in un'unione monetaria, ma anche le ricadute dirette per le persone nell'area dell'euro. Quindi, l'obiettivo della BCE è ricostruire la fiducia nel settore bancario dell'UE e rendere le banche più solide.
La Vigilanza bancaria della BCE a colpo d'occhio
Ringraziamo per l'idea di questo concorso Valentin Hasner, Constantin Weiß, Heinrich Westphalen, Annika Schwarz e Sarah Christina Zuellig (studenti del corso di "Media and Communications Management" 2018, tenuto dalla Dott.ssa Eliane Bucher e dal Dott. Markus Will, presso la University of St. Gallen, Svizzera).
Hai bisogno di chiarimenti sul concorso? Scrivici all'indirizzo ecbyouthinitiatives@ecb.europa.eu.