Konkurs Quizwanie EBC #EUROat20
Z okazji 20-lecia euro od 18 lutego do 10 marca 2019 przeprowadziliśmy w Unii Europejskiej konkurs w aplikacji Quizwanie.
Ponad 1,6 miliona osób z różnych krajów rywalizowało ze sobą w quizie składającym się z sześciu rund po trzy pytania.
Do tych, którzy bezbłędnie odpowiedzieli na wszystkie pytania: jesteście prawdziwymi ekspertami od euro! Spośród was wylosowaliśmy trzydziestu zwycięzców, których zaprosiliśmy do odebrania nagrody (tabletu iPad Pro albo biletu Interrail Global Pass). Listę tych osób można znaleźć tutaj.
Dziękujemy wszystkim uczestnikom i gratulujemy zwycięzcom!
Pytania na temat konkursu można przesyłać na adresem ecbyouthinitiatives@ecb.europa.eu.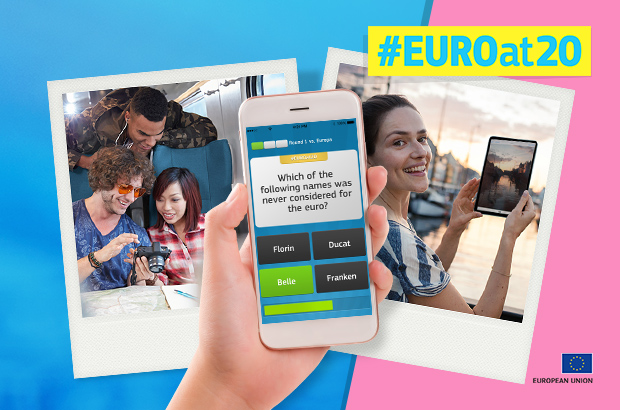 Ciekawostki
35% uczestników było przekonanych, że Europejski Bank Centralny znajduje się w Strasburgu.
Strasburg jest siedzibą... Parlamentu Europejskiego! Natomiast EBC mieści się w Niemczech, we Frankfurcie nad Menem.
Obserwuj konto EBC na Instagramie, gdzie na dzień dobry wieszamy zdjęcia panoramy Frankfurtu widocznej z naszych okien.
Sporo uczestników sądziło, że EBC może przekazywać pieniądze rządom państw należących do UE.
To nieprawda. Traktat o funkcjonowaniu UE zakazuje EBC udzielania pożyczek instytucjom unijnym i sektorowi publicznemu. Zapewnia to nam niezależność i chroni Eurosystem przed naciskami ze strony organów publicznych.
Więcej informacji o niezależności EBC
Jednym z głównych zadań EBC jest utrzymywanie stabilności cen.
Wiedziało o tym aż 85% uczestników konkursu! EBC dba o stabilność cen przez kontrolowanie ilości pieniędzy w obiegu i określanie wysokości stóp procentowych. Obserwuje poziom cen towarów i usług, by sprawdzać, czy nadmiernie one nie rosną. Dzięki temu jutro za posiadane pieniądze będzie można kupić podobną ilość dóbr co dziś.
Dlaczego potrzebujemy stabilnych cen?
Nadzorem bankowym zajmujemy się od listopada 2014, a nie stycznia 2002.
Prawie połowa uczestników quizu #EUROat20 pomyliła te dwie daty.
Styczeń 2002 rzeczywiście był dla nas przełomowym momentem – wtedy weszły do obiegu pierwsze banknoty i monety euro.
Natomiast nadzór nad europejskimi bankami EBC objął w listopadzie 2014. Kryzys finansowy pokazał, jak szybko i mocno problemy występujące w sektorze finansowym mogą się rozprzestrzeniać, zwłaszcza w obrębie unii walutowej, i jak problemy te bezpośrednio dotykają zwykłych ludzi w całej strefie euro. Dlatego też EBC chce odbudować zaufanie do unijnego sektora bankowego i zwiększyć odporność banków.
Migawka z nadzoru bankowego EBC
Dziękujemy autorom pomysłu na konkurs, którymi są Valentin Hasner, Constantin Weiß, Heinrich Westphalen, Annika Schwarz i Sarah Christina Zuellig – studenci (licencjat 2018) mediów i zarządzania komunikacją na Uniwersytecie w St. Gallen pod kierunkiem dr Eliane Bucher i dr. Markusa Willa.