Konkurrencen #EUROat20 ECB-Quizkampen
Vind en iPad Pro eller en Interrailtur rundt i Europa i en måned!
Test din viden om euroen og Den Europæiske Centralbank og bliv en af de heldige vindere. Vi er gået sammen med Quizkampen om at afholde denne særlige konkurrence i anledning af euroens 20-årsfødselsdag.
Konkurrencen er åben indtil søndag den 10. marts 2019, kl. 23.59 CET.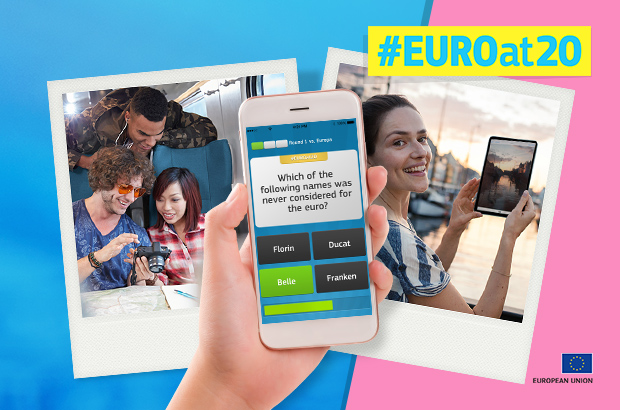 Sådan skal du gøre
Sådan kommer du i gang:
Download Quizkampen (hvis du ikke allerede har gjort det)
Åbn appen og vælg "#EUROat20"-quizzen
Sådan deltager du quizzen:
Der er 18 spørgsmål om emner i forbindelse med euroen og ECB.
Spørgsmålene er opdelt i seks runder af hver tre spørgsmål.
Du har 30 sekunder til at besvare hvert spørgsmål.
Prøv at få en høj score, så du kan komme højere op på resultattavlen.
Hvordan vinder man:
Når konkurrencen slutter den 10. marts 2019, trækker vi lod blandt de deltagere, der besvarede alle spørgsmål rigtigt. Der trækkes 30 vindere.
Du får besked via Quizkampen-appen, hvis du er en af de heldige vindere – så tjek, at du har slået "Vis notifikationer" til.[1]
Præmierne
Er du en af de heldige vindere, kan du (ud over at sole dig i den ære, det er at være en ægte euroekspert) vælge én af følgende to præmier:
Et Interrail Global Pass, som giver dig ret til at rejse ubegrænset med tog i hele Europa en hel måned
eller
hvis du allerede har booket din ferie i år, eller – hvis du bare hellere vil have en ny tablet i stedet – kan du vælge en iPad Pro 10.5"-skærm 64 GB
Hvem kan deltage?
Alle, der bor i Den Europæiske Union, og som har ret til at registrere sig i appen, kan deltage! Læs konkurrencebetingelserne og databeskyttelsespolitikken, inden du melder dig til konkurrencen.
Har du spørgsmål, er du velkommen til at sende dem til os på e-mailadressen info@ecb.europa.eu.
Vi vil gerne takke Valentin Hasner, Constantin Weiß, Heinrich Westphalen, Annika Schwarz og Sarah Christina Zuellig, studerende på bachelorårgangen (2018) i Medien- und Kommunikations-Management ved Universität St. Gallen, Schweiz, og deres undervisere dr. Eliane Bucher og dr. Markus Will for at foreslå denne konkurrence.
[1]Har du en iOS-enhed, skal du trykke på skærmsymbolet for "Indstillinger" og vælge "Quizkampen" i listen med apps. Tjek, at du har sat alle valgmuligheder på "ON".
Har du en Android-enhed, skal du trykke på "Apps", derefter "Indstillinger", og vælge "Quizkampen" i listen med apps. Tjek, at boksen ved siden af "Vis notifikationer" er slået til.