Soutěž #EUROat20 ECB-QuizClash
Ve spolupráci s QuizClash jsme k 20. výročí zavedení eura připravili v období od 18. února do 10. března 2019 speciální soutěž pro všechny rezidenty EU.
V šesti kolech po třech otázkách proti sobě navzájem soutěžilo více než 1,6 milionu hráčů z celé Evropské unie.
Těm, kdo správně odpověděli na všechny otázky, chceme říct: Bravo, jste skuteční odborníci na euro! Z těchto eurošampionů jsme vylosovali třicet vítězů, které jsme kontaktovali, aby si zvolili cenu (buď iPad Pro, nebo jízdenku Interrail Global Pass). Seznam vítězů je k dispozici zde.
Velké díky všem, kdo se soutěže zúčastnili, a vítězům blahopřejeme!
S dotazy na soutěž nás prosím kontaktujte na adrese ecbyouthinitiatives@ecb.europa.eu.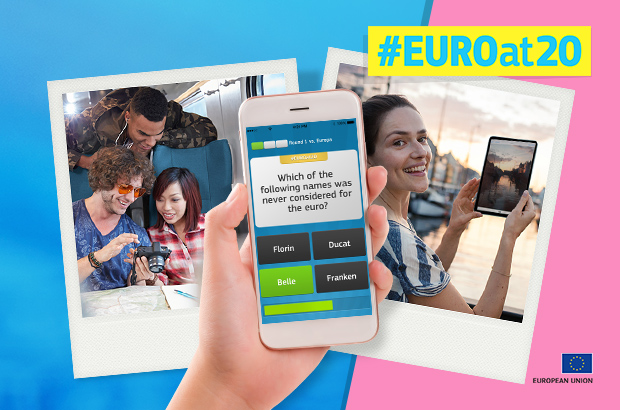 Věděli jste, že...?
35 % hráčů si myslelo, že Evropská centrální banka má sídlo ve Štrasburku?
Štrasburk je ale oficiálním sídlem Evropského parlamentu! My sídlíme ve Frankfurtu nad Mohanem v Německu.
Sledujte náš účet na Instagramu a podívejte se na naše ranní přivítání z kanceláří ECB nad frankfurtským panoramatem.
Značná část hráčů si myslela, že ECB může financovat vlády zemí EU.
To ale není pravda – jsme nezávislá instituce. Smlouva o fungování EU zakazuje ECB úvěrovat instituce EU nebo veřejný sektor. To Eurosystém chrání před vlivem státních orgánů.
Přečtěte si více o nezávislosti ECB
Jedním z prvořadých úkolů ECB je udržovat stabilní ceny.
To vědělo 85 % hráčů! ECB udržuje cenovou stabilitu tím, že určuje, kolik peněz obíhá v ekonomice, a stanovováním úrokových sazeb. Sleduje ceny zboží a služeb, aby viděla, zda nerostou příliš. Díky tomu mohou lidé nakoupit s eurem zítra podobné množství zboží a služeb jako dnes.
Proč jsou stabilní ceny důležité?
Úkolů v oblasti dohledu jsme se ujali v listopadu 2014 a nikoli v lednu 2002.
Téměř polovina hráčů kvízu #EUROat20 si tato data spletla!
Leden 2002 byl skutečně jedním z klíčových dat v našich dějinách: do oběhu byly uvedeny první eurobankovky a mince.
Ale dohledu nad evropskými bankami se ECB ujala v listopadu 2014. Finanční krize ukázala, jak rychle a s jakou silou se mohou problémy ve finančním sektoru rozšířit, a to zejména v měnové unii, a jak takové problémy také přímo ovlivňují občany v celé eurozóně. V tomto kontextu si ECB klade za cíl obnovit důvěru v bankovní sektor EU a zvýšit odolnost bank.
Bankovní dohled ECB stručně a jasně
Rádi bychom za nápad uspořádat tuto soutěži poděkovali Valentinu Hasnerovi, Constantinu Weißovi, Heinrichu Westphalenovi, Annike Schwarzové a Sarah Christine Zuelligové (studenti bakalářského studia v roce 2018 v oboru management médií a komunikace, jejichž vyučujícími na University of St. Gallen ve Švýcarsku jsou Dr. Eliane Bucherová a Dr. Markus Will).