Banknote production and stocks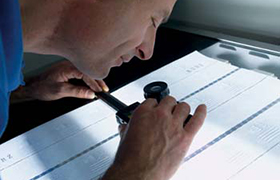 In April 2001 the ECB's Governing Council decided that the production of euro banknotes should be decentralised and pooled after the initial cash changeover. Therefore, since 2002 each national central bank of the euro area has been allocated a share of the total annual production of euro banknotes in respect of certain denominations. The respective bank bears the production costs for the share allocated.
In September 2002 the Governing Council decided to establish a Eurosystem Strategic Stock (ESS). This stock is intended for use in exceptional circumstances, i.e. when logistical stocks in the Eurosystem are insufficient to cover an unexpected increase in the demand for banknotes or in the event of a sudden interruption in supply.
The logistical and strategic stocks ensure that any changes in demand for banknotes can be handled at any time by the national central banks, irrespective of whether the demand comes from inside or outside the euro area. The logistical stocks meet the demand for banknotes in normal circumstances in order to
replace unfit (poor-quality) banknotes returning from circulation;
accommodate an expected increase in circulation;
meet seasonal fluctuations in demand; and
optimise banknote transportation between central bank branches.
Second series of euro banknotes
The Europa series of euro banknotes will be gradually introduced in the euro area over the next few years. So far three new denominations have been issued in this series: the €5, the €10 and the €20. The €50 banknote was unveiled on 5 July 2016. It is planned that the new note will start circulating in spring 2017. Find out more about the Europa series.
Do you handle cash as part of your work? See all our information material on euro banknotes.