Tekmovanje #EUROat20 ECB-QuizClash
Med 18. februarjem in 10. marcem 2019 smo se povezali z aplikacijo QuizClash in za vse prebivalce EU organizirali posebno tekmovanje, s katerim smo obeležili 20. obletnico eura.
Več kot 1,6 milijonov igralcev iz vse Evropske unije je tekmovalo v šestih krogih s po tremi vprašanji.
Tisti, ki ste pravilno odgovorili na vsa vprašanja – bravo, ste pravi poznavalci eura! Izmed teh igralcev smo izžrebali 30 zmagovalcev in jih kontaktirali, da si izberejo nagrado (iPad Pro ali vozovnica Interrail Global Pass). Seznam zmagovalcev lahko najdete tukaj.
Hvala vsem, ki ste sodelovali na tekmovanju in čestitke zmagovalcem!
Če imate kakšna vprašanja o tekmovanju, se nam oglasite na ecbyouthinitiatives@ecb.europa.eu.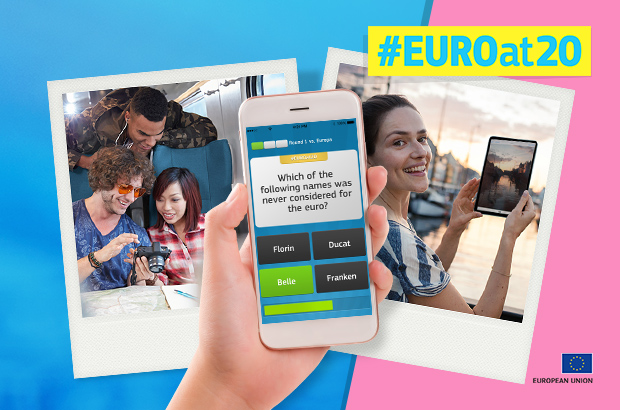 Ali veš...?
35% igralcev je menilo, da se Evropska centralna banka nahaja v Strasbourgu.
Strasbourg je uradni sedež Evropskega parlamenta! Mi se nahajamo v Frankfurtu na Majni v Nemčiji.
Sledite našemu Instagram računu, da boste dobili jutranje pozdrave iz naših pisarn, ki imajo pogled na frankfurtsko panoramo.
Precej igralcev je mislilo, da ECB lahko financira vlade držav EU.
To ni res – smo neodvisna institucija. Pogodba o delovanju Evropske unije prepoveduje ECB, da bi posojala institucijam EU ali javnemu sektorju. To Eurosistem varuje pred kakršnimkoli vplivom javnih organov.
Eden glavnih ciljev ECB je ohranjanje cenovne stabilnosti.
To je vedelo kar 85% igralcev! ECB ohranja stabilnost cen tako, da nadzoruje, koliko denarja je v obtoku v gospodarstvu, in določa obrestne mere. Preverja cene blaga in storitev in pazi, da ne rastejo preveč. Na ta način lahko ljudje z določenim zneskom eurov jutri kupijo približno enako količino stvari kot danes.
Zakaj je pomembno, da so cene stabilne?
Pristojnosti za bančni nadzor smo prevzeli novembra 2014 – ne januarja 2002.
Skoraj polovica igralcev kviza #EUROat20 je pomešala ta dva odgovora!
Januar 2002 je res bil ključen čas v naši zgodovini: tedaj so v obtok prišli prvi eurobankovci in eurokovanci.
Pristojnosti za nadzor evropskih bank pa je ECB prevzela novembra 2014. Finančna kriza je pokazala, kako hitro in silovito se lahko širijo problemi v finančnem sektorju – še posebej v monetarni uniji - in tudi, kako taki problemi neposredno škodujejo ljudem v celotnem evroobmočju. V tem kontekstu je cilj ECB obnoviti zaupanje v bančni sektor EU in povečati odpornost bank.
Tekmovanje so nam predlagali Valentin Hasner, Constantin Weiß, Heinrich Westphalen, Annika Schwarz in Sarah Christina Zuellig (študenti dodiplomskega študija medijev in komunikacij v letu 2018 na švicarski univerzi St. Gallen pod mentorstvom dr. Eliane Bucher in dr. Markusa Willa), za kar se jim zahvaljujemo.