Ledamot av ECB:s direktion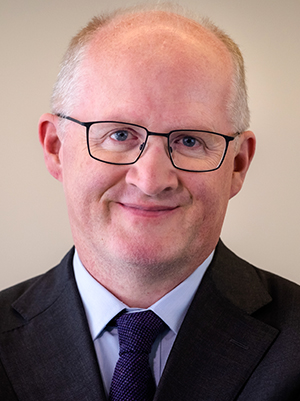 Philip R. Lane
Födelsedatum: 27 augusti 1969
Utbildning
1995

Doktorsexamen i ekonomi, Harvard University

1993

Masterexamen i ekonomi, Harvard University

1991

Kandidatexamen (Mod.) (Ekonomi), högsta betyg och guldmedalj (First Class Honours and Gold Medal), Trinity College Dublin
Utnämningar
2015–2019

Chef för Irlands centralbank

2012–2019

Whately-professor i nationalekonomi, Trinity College Dublin

2004–2012

Professor i internationell makroekonomi, Trinity College Dublin

2000-2004

Biträdande professor i ekonomi, Trinity College Dublin

1997-2000

Lektor i ekonomi, Trinity College Dublin

1995-1997

Biträdande professor i ekonomi och internationella frågor, Columbia University
Relevant yrkesverksamhet
Ordförande, Europeiska systemrisknämndens (ESRB) rådgivande tekniska kommitté, 2017–2019.
Ordförande, ESRB:s högnivågrupp för säkra tillgångar, 2016–2018.
Ordförande, statistiska centralbyråns grupp för granskning av ekonomisk statistik, 2016.
Ordförande, Europeiska systemrisknämndens (ESRB) rådgivande vetenskapliga kommitté, 2015.
Medordförande, ESRB:s gemensamma ATC-ASC-FSC-arbetsgrupp för makrotillsynsfrågor och strukturella förändringar i ett lågt ränteläge, 2015.
Direktör för International Macroeconomics and Finance Programme, Centre for Economic Policy Research (CEPR), 2015. Forskare vid CEPR, 2002–. Gästforskare vid CEPR, 1997−2001
Ordförande, Irish Economics Association, (2012–2014).
Ledamot, Royal Irish Academy, 2007–.
Ledamot, Committee on International Economic Policy and Reform (CIEPR), 2012-2015.
Medlem av Bellagio-gruppen, 2010–2015.
Ledamot, ESRI-rådet, 2010–2016.
Grundare, The Irish Economy Blog, 2008–.
Ledamot, akademiska rådgivande panelen, slovakiska budgetrådet, 2013–2015.
Ledamot, styrelsen för nationella statistikbyrån, 2009–2013.
Ledamot, ECB Shadow Council, Handelsblatt, 2005–2007.
Internationell forskare, Kiel Institute of World Economics, 2005–.
Ledamot, externa granskningskommittén (Finlands Bank 2004, Europeiska centralbanken 2010/2011, Irlands centralbank 2011/2012, Israels centralbank 2012).
Akademisk rådgivare (huvudsaklig verksamhet):
Europeiska centralbanken (2006–2007, 2014–2016). Banken för internationell betalningsutjämning (2015). Portugals centralbank (2015). Internationella valutafonden (2014). Världsbanken (2006–2007, 2011, 2014–2015). Monetary Authority of Singapore (2013). Europeiska kommissionen (2012–2013). Federal Reserve Board (2013). New Zealand Treasury (2010–2011). Asiatiska utvecklingsbanken (2009–2011). Oireachtas gemensamma utskott för finans och offentliga tjänster (2010). OECD (2009−2010). SIEPS (2009–2010). NESC (2009). ESRI-Japan (2007–2009). Sveriges Riksbank (2005–2006). Nationella konkurrenskraftsrådet för pris- och lönekonkurrens (2004). Premiärministerns kansli (Department of the Taoiseach), 2002.
Juridisk rådgivare vid enstaka tillfällen. Konferenstalare.
Särskilda utmärkelser, priser och stipendier
Royal Irish Academy: förtjänsttecken i guld inom socialvetenskaperna, 2015.
Bhagwati-priset (tillsammans med Gian Maria Milesi-Ferretti), 2010.
ECB:s Lamfalussystipendium, 2004–2005.
Tyska Bernacer-priset i monetär ekonomi, 2001.
Barrington-priset 1997–1998.
Stipendium från NSF-sponsrade Harvard-MIT Research Training Group, positiv politisk ekonomi, 1994–1995.
John F. Kennedy-stipendium, 1994.
Harvard Graduate Student Fellowship, 1991–1995.
Förtjänsttecken i guld, Whately- och Bastable-priser i nationalekonomi, Trinity College Dublin, 1991. Högsta betyg och topprankning i kandidatexamen i ekonomi,
Foundation Scholarship (stipendium), Trinity College Dublin, 1989. Topprankning i proven inför stipendiet.
Entrance Exhibition, Trinity College Dublin, 1987.
Stipendier:
Irish Research Council, Institute for New Economic Thinking, Fondation Banque de France, NORFACE, Royal Irish Academy
Akademisk profil
Huvudsakliga forskningsområden:
internationell makroekonomi, europeisk monetär ekonomi, finansiell globalisering, finanspolitikens cyklisitet, den irländska ekonomin.
Publikationer i:
Publikationer i: Journal of the Statistical and Social Inquiry Society of Ireland, Journal of International Economics, Pacific Economic Review, Fiscal Studies, Scandinavian Journal of Economics, International Journal of Central Banking, National Institute Economic Review, World Economics, Economic and Social Review, Open Economies Review, Journal of International Money and Finance, New Zealand Economic Papers, European Economic Review, Moneda y Credito, World Economy, Journal of Economic Perspectives, International Finance, IMF Economic Review, Nordic Economic Policy Review, American Economic Review, Journal of Money, Credit and Banking, Journal of the Japanese and International Economies, Review of Economics and Statistics, Economic Policy, The Economic Journal, Journal of Public Economics, NEER Macroeconomics Annual, Oxford Economic Papers, Canadian Journal of Economics, Journal of Development Economics.