Az Európai Központi Bank Igazgatóságának tagja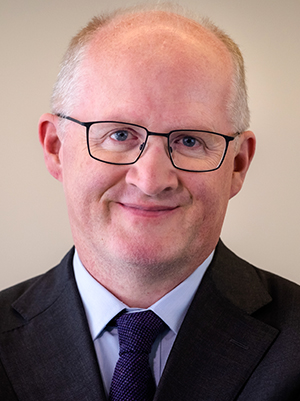 Philip R. Lane
Születési idő: 1969. augusztus 27.
Tanulmányok
1995

Közgazdasági PhD, Harvard Egyetem

1993

Közgazdasági A.M. mesterfokozat, Harvard Egyetem

1991

Felsőfokú alapdiploma (B.A.) (Mod.) (közg.), "magna cum laude" minősítéssel és arany fokozattal, Trinity College Dublin
Szakmai pályafutás
2015–2019

A Central Bank of Ireland elnöke

2012–2019

Politikai gazdaságtan Whately professzora, Trinity College Dublin

2004–2012

Egyetemi tanár, nemzetközi makrogazdaságtan, Trinity College Dublin

2000–2004

Egyetemi docens, közgazdaságtan, Trinity College Dublin

1997–2000

Adjunktus, közgazdaságtan, Trinity College Dublin

1995–1997

Tanársegéd, Columbia Egyetem közgazdaságtani és nemzetközi ügyek tanszéke
Jelentősebb szakmai tevékenységek
Európai Rendszerkockázati Testület (ERKT) szakmai tanácsadó bizottságának (ATC) elnöke, 2017–2019
ERKT biztonságos eszközökkel foglalkozó magas szintű munkacsoportjának elnöke, 2016–2018
Central Statistics Office, Economic Statistics Review Group elnöke, 2016
ERKT tudományos tanácsadó bizottságának (ASC) elnöke, 2015
ERKT ATC-ASC-FSC közös munkacsoportjának társelnöke; témakör: alacsony kamatkörnyezetre jellemző makroprudenciális kérdések és szerkezeti változás, 2015
Gazdaságpolitikai Kutatóközpont (CEPR) nemzetközi makrogazdasági és pénzügyi programjának igazgatója, 2015; CEPR kutatói ösztöndíjasa, 2002–; CEPR kutatási munkatársa, 1997–2001
Irish Economics Association elnöke, 2012–2014
Ír Királyi Akadémia tagja, 2007–
Nemzetközi Gazdaságpolitikai és Reformbizottság (CIEPR) tagja, 2012–2015
Bellagio Csoport tagja, 2010–2015
Gazdaság- és Társadalomkutató Intézet (ESRI) tagja, 2010–2016
The Irish Economy Blog alapítója, 2008–
Szlovák Költségvetési Tanács felsőoktatási tanácsadó bizottságának tagja, 2013–2015
National Statistics Board tagja, 2009–2013
Handelsblatt EKB-s árnyéktanácsának (Shadow Council) tagja, 2005–2007
Kiel Világgazdasági Intézet nemzetközi tudományos munkatársa, 2005–
External Review Committee tagja (Suomen Pankki – Finlands Bank 2004, Európai Központi Bank 2010/2011, Central Bank of Ireland 2011/2012, Bank of Israel 2012)
Tudományos tanácsadó (elsődleges tevékenységek):
Európai Központi Bank (2006–2007, 2014–2016); Nemzetközi Fizetések Bankja (2015); Banco de Portugal (2015); Nemzetközi Valutaalap (2014); Világbank (2006–2007, 2011, 2014–2015); Monetary Authority of Singapore (2013); Európai Bizottság (2012–2013); Federal Reserve Board (2013); New Zealand Treasury (2010–2011); Ázsiai Fejlesztési Bank (2009–2011); Oireachtas Joint Committee on Finance and the Public Services (2010); Gazdasági Együttműködési és Fejlesztési Szervezet (2009–2010); Swedish Institute for European Policy Studies (2009–2010); National Economic and Social Council (2009); ESRI-Japan (2007–2009); Sveriges Riksbank (2005–2006); National Competitiveness Council on Price and Wage Competitiveness (2004); Department of the Taoiseach (2002)
Eseti jogi tanácsadó; pénzügyi szektorbeli konferenciákon eseti előadó
Fontosabb elismerések, kitüntetések, ösztöndíjak
Ír Királyi Akadémia: Társadalomtudományi aranyérem, 2015
Bhagwati-díj (Gian Maria Milesi-Ferrettivel megosztva), 2010
EKB Lámfalussy-ösztöndíja, 2004–2005
Német monetáris közgazdasági Bernacer-kitüntetés, 2001
Barrington-díj, 1997–1998
NSF által szponzorált, Harvard-MIT pozitív politikai gazdaságtani kutatóképző csoport ösztöndíja, 1994–1995
John F. Kennedy Fund ösztöndíja, 1994
Harvard Graduate Student Fellowship ösztöndíj, 1991–1995
Aranyérem, közgazdasági Whateley- és Bastable-díjak, Trinity College Dublin, 1991. Elsőrendű diploma, kitűnő minősítés a közgazdasági egyetemi vizsgákon
Foundation Scholarship ösztöndíj, Trinity College Dublin, 1989. Kitűnő eredmény az ösztöndíjvizsgákon
Felvételi vizsga, Trinity College Dublin, 1987
Tanulmányi ösztöndíjak:
Irish Research Council, Institute for New Economic Thinking, Fondation Banque de France, NORFACE, Royal Irish Academy
Tudományos pályafutás
Fő kutatási területek:
nemzetközi közgazdaságtan, európai monetáris közgazdaságtan; pénzügyi globalizáció; fiskális politika ciklikus viselkedése; az ír gazdaság
Publikációk az alábbi szakfolyóiratokban:
Journal of the Statistical and Social Inquiry Society of Ireland, Journal of International Economics, Pacific Economic Review, Fiscal Studies, Scandinavian Journal of Economics, International Journal of Central Banking, National Institute Economic Review, World Economics, Economic and Social Review, Open Economies Review, Journal of International Money and Finance, New Zealand Economic Papers, European Economic Review, Moneda y Credito, World Economy, Journal of Economic Perspectives, International Finance, IMF Economic Review, Nordic Economic Policy Review, American Economic Review, Journal of Money, Credit and Banking, Journal of the Japanese and International Economies, Review of Economics and Statistics, Economic Policy, The Economic Journal, Journal of Public Economics, NBER Macroeconomics Annual, Oxford Economic Papers, Canadian Journal of Economics, Journal of Development Economics.