Medlem af ECB's direktion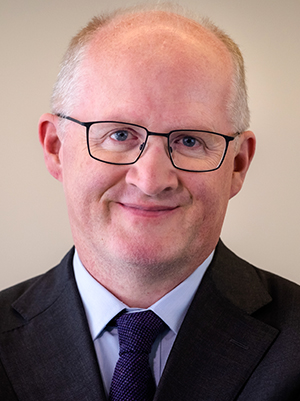 Philip R. Lane
Uddannelse
1995

PhD i økonomi, Harvard University

1993

M.A. i økonomi, Harvard University

1991

B.A. (Mod.) (Econ.), eksamen med udmærkelse og guldmedalje, Trinity College Dublin
Karriere
2015-2019

Chef for Banc Ceannais na hÉireann/Central Bank of Ireland

2012-2019

Whately, lektor i politisk økonomi, Trinity College Dublin

2004-2012

Lektor i international makroøkonomi, Trinity College Dublin

2000-2004

Lektor i økonomi, Trinity College Dublin

1997-2000

Forelæser i økonomi, Trinity College Dublin

1995-1997

Universitetsadjunkt i økonomi og internationale anliggender, Columbia University
Udvalgte faglige aktiviteter
Formand for Det Rådgivende Tekniske Udvalg (ATC) for Det Europæiske Udvalg for Systemiske Risici (ESRB), 2017-2019.
Formand for ESRB's taskforce på højt plan om sikre aktiver, 2016-2018.
Formand for den økonomiske statistikgruppe under det centrale statistiske kontor, 2016.
Formand for Det Rådgivende Tekniske Udvalg (ATC) for Det Europæiske Udvalg for Systemiske Risici (ESRB), 2015.
Medformand for den fælles TC-ASC-FSC ESRB taskforce om makroprudentielle spørgsmål og strukturelle ændringer i et lavrentemiljø 2015.
Direktør for programmet for international makroøkonomi og finanser, center for økonomisk politisk forskning (CEPR), 2015; CEPR forskningsstipendiat, 2002-; CEPR forskningstilknytning, 1997-2001.
Formand for Irish Economics Association, 2012-2014.
Medlem af Royal Irish Academy, 2007-.
Medlem af Udvalget om International Økonomisk Politik og Reform (CIEPR), 2012-2015.
Medlem af Bellagio Group, 2010-2015.
Medlem af ESRI Council, 2010-2016.
Grundlægger, The Irish Economy Blog, 2008-.
Medlem af det videnskabelige rådgivende panel, Slovakiets budgetråd, 2013-2015.
Medlem af National Statistics Board, 2009-2013.
Medlem, ECB Shadow Council, Handelsblatt, 2005-2007.
International forskningsstipendiat, Kiel Institute of World Economics, 2005-.
Medlem, External Review Committee (Den finske nationalbank 2004, Den Europæiske Centralbank 2010/2011, Banc Ceannais na hÉireann/Central Bank of Ireland 2011/2012, den israelske centralbank 2012).
Akademisk konsulent (primære aktiviteter):
Den Europæiske Centralbank (2006-2007, 2014-2016), Den Internationale Betalingsbank (2015), Portugals centralbank (2015), Den Internationale Valutafond (2014), Verdensbanken (2006-2007, 2011, 2014-2015), Monetary Authority of Singapore (2013), Europa-Kommissionen (2012-2013), Federal Reserve Board (2013), New Zealand Treasury (2010-2011), Asian Development Bank (2009-2011), Oireachtas Joint Committee on Finance and the Public Services (2010), OECD (2009-2010), SIEPS (2009-2010), NESC (2009), ESRI-Japan (2007-2009), Sveriges Riksbank (2005-2006), National Competitiveness Council on Price and Wage Competitiveness (2004), Department of the Taoiseach (2002).
Lejlighedsvis juridisk konsulent; lejlighedsvis taler på fagkonferencer.
Udvalgte udmærkelser, priser og legater
Royal Irish Academy: Guldmedalje i samfundsvidenskab, 2015.
Bhagwati-prisen (sammen med Gian Maria Milesi-Ferretti), 2010.
ECB Lamfalussy Fellowship, 2004-2005.
Den tyske Bernacer-pris i monetær økonomi, 2001.
Barrington-prisen 1997-1998.
NSF-sponsoreret Harvard-MIT Research Training Group in Positive Political Economy Fellowship, 1994-1995.
Stipendium fra John F. Kennedy-fonden, 1994.
Harvard Graduate Student Fellowship, 1991-1995.
Guldmedalje, Whately- og Bastable-priser i økonomi, Trinity College Dublin, 1991. Kandidatgrad med udmærkelse og bedst rangerende studerende i kandidatgraden i økonomi.
Stipendium, Trinity College Dublin, 1989. Bedst rangerende studerende i eksamener til stipendiet.
Adgangsstipendie, Trinity College Dublin, 1987.
Legater:
Irish Research Council, Institute for New Economic Thinking, Fondation Banque de France, NORFACE, Royal Irish Academy.
Akademisk profil
Centrale forskningsområder:
international makroøkonomi, europæisk monetær økonomi, finansiel globalisering, finanspolitikkens cykliske adfærd, den irske økonomi.
Offentliggørelser i:
Journal of the Statistical and Social Inquiry Society of Ireland, Journal of International Economics, Pacific Economic Review, Fiscal Studies, Scandinavian Journal of Economics, International Journal of Central Banking, National Institute Economic Review, World Economics, Economic and Social Review, Open Economies Review, Journal of International Money and Finance, New Zealand Economic Papers, European Economic Review, Moneda y Credito, World Economy, Journal of Economic Perspectives, International Finance, IMF Economic Review, Nordic Economic Policy Review, American Economic Review, Journal of Money, Credit and Banking, Journal of the Japanese and International Economies, Review of Economics and Statistics, Economic Policy, The Economic Journal, Journal of Public Economics, NEER Macroeconomics Annual, Oxford Economic Papers, Canadian Journal of Economics, Journal of Development Economics.