ECB vykdomosios valdybos narys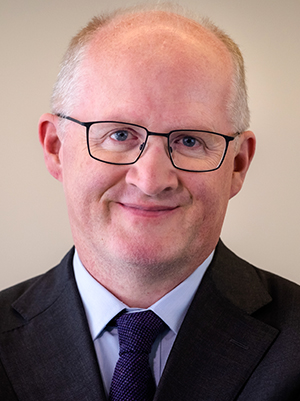 Philip R. Lane
Gimimo data: 1969 m. rugpjūčio 27 d.
Išsilavinimas
1995

Ekonomikos mokslų daktaro laipsnis, Harvardo universitetas

1993

Ekonomikos mokslų magistro laipsnis, Harvardo universitetas

1991

Ekonomikos bakalauro laipsnis (Mod.) su pirmojo laipsnio pagyrimu ir aukso medaliu, Dublino Švč. Trejybės kolegija
Profesinė patirtis
2015–2019

Airijos centrinio banko valdytojas

2012–2019

Dublino Švč. Trejybės kolegijos R. Whately vardo politinės ekonomijos profesorius

2004–2012

Dublino Švč. Trejybės kolegijos tarptautinės makroekonomikos profesorius

2000–2004

Dublino Švč. Trejybės kolegijos ekonomikos docentas

1997–2000

Dublino Švč. Trejybės kolegijos ekonomikos dėstytojas

1995–1997

Kolumbijos universiteto ekonomikos ir tarptautinių reikalų docentas
Kai kuri profesinė veikla
Europos sisteminės rizikos valdybos (ESRV) Patariamojo techninio komiteto pirmininkas (2017–2019 m.)
ESRV Aukšto lygio darbo grupės saugaus turto klausimams pirmininkas (2016–2018 m.)
Centrinės statistikos tarnybos Ekonominės statistikos peržiūros grupės pirmininkas (2016 m.)
ESRV Patariamojo mokslinio komiteto pirmininkas (2015 m.)
Vienas iš ESRV Patariamojo techninio komiteto, Patariamojo mokslinio komiteto ir Finansinio stabilumo komiteto jungtinės darbo grupės makroprudenciniams klausimams ir struktūriniams pokyčiams esant žemoms palūkanų normoms pirmininkų (2015 m.)
Ekonominės politikos mokslinių tyrimų centro (CEPR) Tarptautinės makroekonomikos ir finansų programos direktorius (2015 m.), CEPR mokslo darbuotojas (nuo 2002 m.), CEPR asocijuotasis mokslo darbuotojas (1997–2001 m.)
Airijos ekonomikos asociacijos pirmininkas (2012–2014 m.)
Airijos karališkosios akademijos narys (nuo 2007 m.)
Tarptautinės ekonominės politikos ir reformų komiteto (CIEPR) narys (2012–2015 m.)
Beladžo grupės narys (2010–2015 m.)
Ekonominių ir socialinių tyrimų instituto (ESRI) tarybos narys (2010–2016 m.)
Tinklaraščio The Irish Economy steigėjas (nuo 2008 m.)
Akademinės patariamosios grupės narys Slovakijos biudžeto taryboje (2013–2015 m.)
Nacionalinės statistikos tarybos narys (2009–2013 m.)
Dienraščio Handelsblatt įkurtos ECB šešėlinės tarybos narys (2005–2007 m.)
Kylio pasaulio ekonomikos instituto tarptautinis mokslo darbuotojas (nuo 2005 m.)
Išorės priežiūros komiteto narys (Suomijos banke (2004 m.), Europos Centriniame Banke (2010–2011 m.), Airijos centriniame banke (2011–2012 m.), Izraelio banke (2012 m.))
Akademinis konsultantas (pagrindinė veikla):
Europos Centriniame Banke (2006–2007 m., 2014–2016 m.), Tarptautinių atsiskaitymų banke (2015 m.), Portugalijos banke (2015 m.), Tarptautiniame valiutos fonde (2014 m.), Pasaulio banke (2006–2007 m., 2011 m., 2014–2015 m.), Singapūro pinigų institucijoje (2013 m.), Europos Komisijoje (2012–2013 m.), Federalinio rezervo valdyboje (2013 m.), Naujosios Zelandijos ižde (2010–2011 m.), Azijos plėtros banke (2009–2011 m.), Airijos Irachto Finansų ir viešųjų paslaugų jungtiniame komitete (2010 m.), Ekonominio bendradarbiavimo ir plėtros organizacijoje (2009–2010 m.), Švedijos Europos politikos studijų institute (2009–2010 m.), Nacionalinėje ekonomikos ir socialinių reikalų taryboje (2009 m.), Japonijos ekonominių ir socialinių mokslinių tyrimų institute (2007–2009 m.), Švedijos centriniame banke (2005–2006 m.), Nacionalinėje kainų ir darbo užmokesčio konkurencingumo taryboje (2004 m.), Ministro pirmininko (Taoiseach) kabinete (2002 m.)
Kartais teikia teisines konsultacijas, skaito panešimus finansų sektoriaus konferencijose
Kai kurie apdovanojimai, premijos ir stipendijos
Airijos karališkoji akademija: socialinių mokslų srities aukso medalis (2015 m.)
J. Bhagwati vardo premija (kartu su Gian Maria Milesi-Ferretti) (2010 m.)
ECB Lamfalussy stipendija (2004–2005 m.)
G. Bernacerio vardo pinigų ekonomikos srities premija (2001 m.)
J. Barringtono vardo premija (1997–1998 m.)
Nacionalinio mokslo fondo finansuojama stipendija dalyvauti Harvardo universiteto ir Masačusetso technologijos instituto mokymo grupėje pozityviosios politinės ekonomijos klausimais (1994–1995 m.)
Džono F. Kenedžio fondo stipendija (1994 m.)
Harvardo absolventų stipendija (1991–1995 m.)
Dublino Švč. Trejybės kolegijos aukso medalis, R. Whately ir C. F. Bastable vardo ekonomikos apdovanojimai (1991 m.). Pirmojo laipsnio pagyrimas, aukščiausiais balais ekonomikos mokslų egzaminus išlaikęs studentas
Dublino Švč. Trejybės kolegijos fondo stipendija (1989 m.). Aukščiausiais balais stipendijos egzaminus išlaikęs studentas
Dublino Švč. Trejybės kolegijos apdovanojimas už stojimo egzaminų rezultatus (1987 m.)
Stipendijos:
Airijos mokslinių tyrimų tarybos, instituto "Institute for New Economic Thinking", fondo "Fondation Banque de France", agentūros NORFACE, Airijos karališkosios akademijos suteiktos stipendijos
Akademinis profilis
Pagrindinės mokslinių tyrimų sritys:
tarptautinė makroekonomika, Europos pinigų ekonomika, finansų globalizacija, fiskalinės politikos cikliškumas, Airijos ekonomika
Straipsniai skelbti šiuose leidiniuose:
Journal of the Statistical and Social Inquiry Society of Ireland, Journal of International Economics, Pacific Economic Review, Fiscal Studies, Scandinavian Journal of Economics, International Journal of Central Banking, National Institute Economic Review, World Economics, Economic and Social Review, Open Economies Review, Journal of International Money and Finance, New Zealand Economic Papers, European Economic Review, Moneda y Credito, World Economy, Journal of Economic Perspectives, International Finance, IMF Economic Review, Nordic Economic Policy Review, American Economic Review, Journal of Money, Credit and Banking, Journal of the Japanese and International Economies, Review of Economics and Statistics, Economic Policy, The Economic Journal, Journal of Public Economics, NBER Macroeconomics Annual, Oxford Economic Papers, Canadian Journal of Economics, Journal of Development Economics.