Euronovčanice iz serije Europa
Novčanice iz serije Europa uvodile su se postupno tijekom nekoliko godina. Nove novčanice od 5 € puštene su optjecaj 2013., nove novčanice od 10 € 2014. Nove novčanice od 20 € u optjecaju su od 2015., a one od 50 € od 2017. Nove novčanice od 100 € i 200 € puštene su u optjecaj 28. svibnja 2019. Njima je upotpunjena serija Europa.
Premda je ESB odlučio prestati proizvoditi novčanice od 500 €, novčanice od 500 € iz prve serije i dalje su zakonsko sredstvo plaćanja.
Europa
Druga serija novčanica nazvana je serija Europa zato što dva zaštitna obilježja sadržavaju portret Europe. Taj lik iz grčke mitologije na novim je euronovčanicama zbog jasne povezanosti s europskim kontinentom i zato što novčanicama daje ljudsku crtu. Europin portret preuzet je s vaze koja se nalazi u muzeju Louvre u Parizu.
Zašto nam trebaju nove novčanice?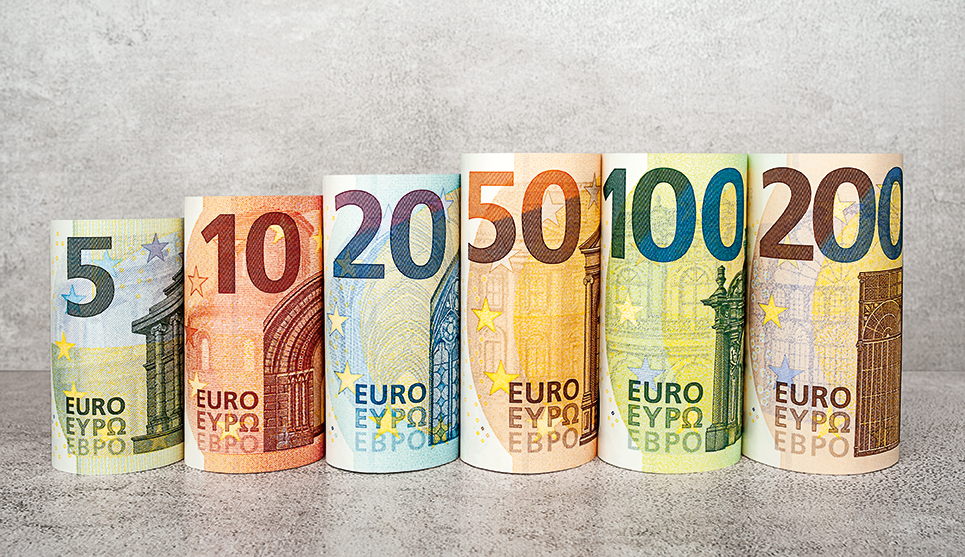 ESB i nacionalne središnje banke Eurosustava odgovorni su za integritet euronovčanica. Zbog toga su razvili drugu seriju euronovčanica s poboljšanim zaštitnim obilježjima zahvaljujući kojima će novčanice i dalje biti sigurne, a povjerenje javnosti u valutu ostati nepoljuljano.
Korak ispred krivotvoritelja
Napredak u tehnologiji proizvodnje novčanica vidljiv je i u proizvodnji novih euronovčanica. Nova zaštitna obilježja bolja su zaštita od krivotvorenja.
Prema istraživačkoj i razvojnoj strategiji Eurosustava euronovčanice se moraju »štititi same« i tako krivotvoriteljima otežati posao. Banke, osobe koje profesionalno rukuju gotovinom i javnost moraju moći prepoznati krivotvorene novčanice i tako poduprijeti strategiju Eurosustava za borbu protiv krivotvorenja.
Otpornije i trajnije
Nove euronovčanice trajnije su od onih iz prve serije. To znači da će te novčanice trebati rjeđe zamjenjivati, čime će se smanjiti troškovi i negativan utjecaj na okoliš. To je važno, posebno za novčanice od 5 € i 10 €, koje češće od drugih novčanica prelaze iz ruke u ruku.
Novčanice iz prve serije i novčanice iz serije Europa istodobno su u optjecaju
Prva serija euronovčanica izdavat će se usporedno sa serijom Europa dok se ne iskoriste preostale zalihe. Nakon toga će postupno izići iz optjecaja. Datum s kojim će euronovčanice iz prve serije prestati biti zakonsko sredstvo plaćanja bit će pravodobno objavljen. Međutim, novčanice iz prve serije zauvijek će zadržati vrijednost: razdoblje tijekom kojeg će se moći zamijeniti u središnjim bankama Eurosustava neće biti ograničeno.
Pripreme za uvođenje novih novčanica
ESB odgovarajućim sektorima omogućuje upoznavanje s novim novčanicama znatno prije njihova uvođenja i blisko surađuje sa svim dionicima u sklopu Partnerskog programa Eurosustava kako bi olakšao uvođenje novih novčanica.
Međutim, odgovornost za prilagodbu uređaja novim novčanicama je na vlasnicima i proizvođačima uređaja za novčanice.