Eurové bankovky série Európa
Bankovky série Európa sa uvádzali do obehu postupne v priebehu niekoľkých rokov. Bankovky prvých štyroch nominálnych hodnôt tejto série, 5 €, 10 €, 20 € a 50 €, boli uvedené do obehu v rokoch 2013, 2014, 2015 a 2017. Nové bankovky 100 € a 200 € boli uvedené do obehu 28. mája 2019. Ich vydaním je séria Európa kompletná.
Hoci bankovka 500 € zostáva zákonným platidlom, ECB sa rozhodla produkciu bankovky 500 € ukončiť.
Európa
Druhá séria eurových bankoviek je nazvaná Európa, pretože dva z ochranných prvkov obsahujú portrét Európy. Táto postava z gréckej mytológie sa stala súčasťou nových eurových bankoviek pre jej očividnú spojitosť s európskym kontinentom, pričom bankovkám zároveň prepožičiava "ľudský rozmer". Portrét Európy bol prevzatý z vázy vystavenej v parížskom Louvri.
Prečo nové bankovky?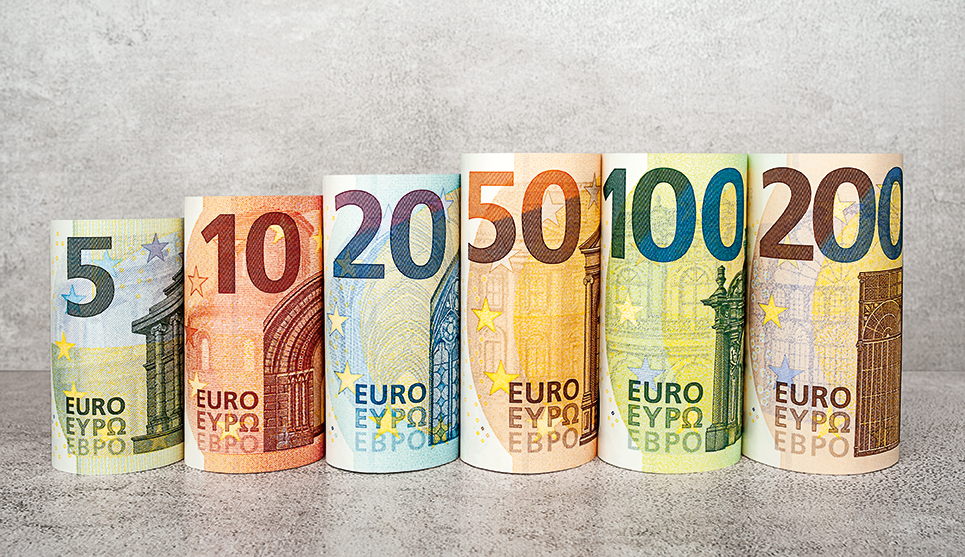 ECB a národné centrálne banky Eurosystému zodpovedajú za integritu eurových bankoviek. Vyvinuli preto druhú sériu eurových bankoviek so zdokonalenými ochrannými prvkami, vďaka ktorým bankovky zostávajú bezpečné a zachovávajú tak dôveru verejnosti v euro.
Náskok pred falšovateľmi
Nové eurové bankovky vychádzajú z najnovších poznatkov v oblasti technológie výroby a spracovania bankoviek. Nové ochranné prvky poskytujú lepšiu ochranu proti falšovaniu.
Podľa stratégie Eurosystému v oblasti výskumu a vývoja majú byť eurové bankovky vo svojej ochrane sebestačné. To znamená, že cieľom je postaviť falšovateľom do cesty čo najviac prekážok. Banky, profesionálni spracovatelia peňazí a verejnosť musia byť schopní rozpoznať falošné bankovky a podporovať tak stratégiu Eurosystému v boji proti falšovaniu.
Odolné a trvácnejšie
Nové eurové bankovky budú zároveň trvácnejšie ako bankovky prvej série. To znamená, že bankovky nebude potrebné vymieňať tak často, čím sa znížia náklady a vplyv na životné prostredie. Je to dôležitý faktor, najmä v prípade bankoviek 5 € a 10 €, ktoré sa používajú častejšie než ostatné bankovky.
Paralelný obeh bankoviek prvej série a série Európa
Až do vyčerpania existujúcich zásob sa budú spoločne s bankovkami série Európa stále vydávať aj eurové bankovky prvej série. Následne sa budú postupne sťahovať z obehu. Dátum ukončenia platnosti prvej série eurových bankoviek bude oznámený v dostatočnom predstihu. Bankovky prvej série si však vždy zachovajú svoju hodnotu: v národných centrálnych bankách Eurosystému sa budú dať vymeniť bez časového obmedzenia.
Prípravy na zavedenie nových bankoviek
ECB sprístupňuje nové bankovky zástupcom príslušných odvetví v dostatočnom predstihu pred ich zavedením. S cieľom zabezpečiť hladký prechod na nové bankovky intenzívne spolupracuje so všetkými zainteresovanými stranami v rámci partnerského programu Eurosystému.
Konečnú zodpovednosť za prispôsobenie zariadení na nové bankovky však nesú ich vlastníci a výrobcovia.