Eiropas sērijas euro banknotes
Eiropas sērijas banknotes ieviestas pakāpeniski vairāku gadu laikā. Četras pirmās šā izlaiduma banknotes – 5 euro, 10 euro, 20 euro un 50 euro – nonāca apgrozībā attiecīgi 2013., 2014., 2015. un 2017. gadā. 100 euro un 200 euro banknotes nonāca apgrozībā 2019. gada 28. maijā. Ar to laišanu apgrozībā Eiropas sērijas ieviešana ir noslēgusies.
ECB pieņēma lēmumu pārtraukt 500 euro banknotes izgatavošanu, taču pirmā izlaiduma 500 euro banknotes joprojām būs likumīgs maksāšanas līdzeklis.
Eiropa
Otrais banknošu izlaidums nosaukts par Eiropas sēriju, jo divos banknošu pretviltošanas elementos ietverts Eiropas portrets. Šo grieķu mitoloģijas tēlu jaunajām euro banknotēm izvēlējās tāpēc, ka tas nepārprotami asociējas ar Eiropas kontinentu un turklāt piešķir banknotēm cilvēciskas iezīmes. Šis Eiropas portrets attēlots uz vāzes Luvras muzejā Parīzē.
Kāpēc vajadzīgas jaunas banknotes?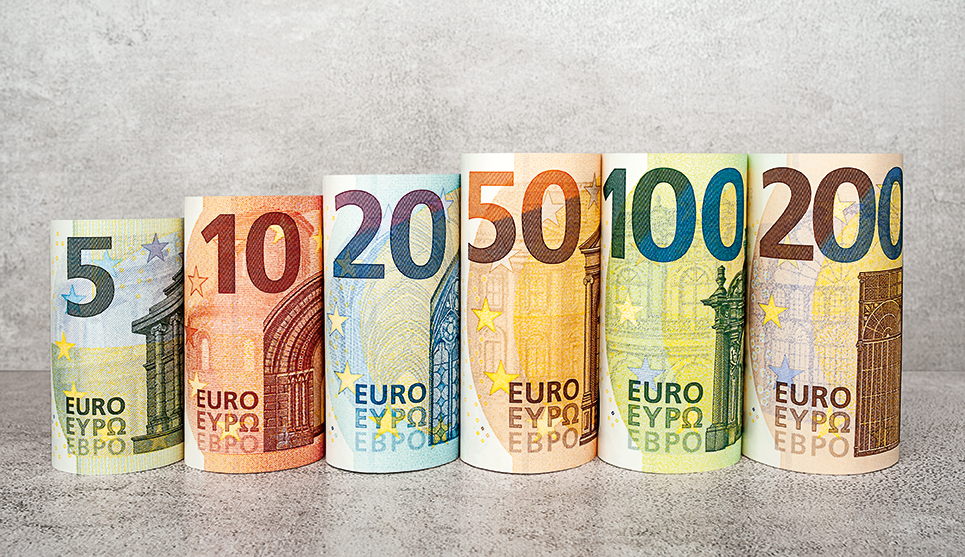 Eiropas Centrālā banka un Eurosistēmas centrālās bankas ir atbildīgas par euro banknošu integritāti. Tāpēc tās sagatavoja euro banknošu otro izlaidumu ar uzlabotiem pretviltošanas elementiem, kas palīdz saglabāt banknošu drošību un nodrošināt sabiedrības uzticēšanos valūtai.
Apsteigt viltotājus
Jaunajās euro banknotēs izmantoti jaunākie banknošu tehnoloģijas sasniegumi. Jaunie pretviltošanas elementi nodrošina labāku aizsardzību pret viltošanu.
Eurosistēmas pētniecības un attīstības stratēģija nosaka, ka euro banknotēm jāspēj sevi aizsargāt, padarot viltojumu izgatavošanu sarežģītāku. Bankām, profesionāliem skaidrās naudas apstrādātājiem un sabiedrībai jāspēj atpazīt viltotas banknotes, tādējādi atbalstot Eurosistēmas pretviltošanas stratēģiju.
Vēl izturīgākas
Jaunās euro banknotes turklāt ir izturīgākas nekā pirmā izlaiduma banknotes. Tas nozīmē, ka banknotes būs nepieciešams mainīt retāk, samazinot izmaksas un ietekmi uz vidi. Tas ir īpaši svarīgi 5 euro un 10 euro banknotes gadījumā, jo tās ceļo no rokas rokā biežāk nekā citas banknotes.
Pirmā izlaiduma un Eiropas sērijas banknošu vienlaicīga apgrozība
Pirmā izlaiduma banknotes joprojām tiks emitētas vienlaikus ar Eiropas sērijas banknotēm, kamēr tiks izlietoti atlikušie krājumi. Pēc tam tās pamazām tiks izņemtas no apgrozības. Diena, kad pirmā izlaiduma euro banknotes pārstās būt likumīgs maksāšanas līdzeklis, tiks izziņota ļoti savlaicīgi. Tomēr pirmā izlaiduma banknotes vienmēr saglabās vērtību – tās bez laika ierobežojuma varēs apmainīt Eurosistēmas centrālajās bankās.
Gatavošanās jauno banknošu laišanai apgrozībā
ECB nodrošina attiecīgajiem sektoriem pieeju jaunajām banknotēm ilgi pirms to nonākšanas apgrozībā un Eurosistēmas Partnerības programmas ietvaros sadarbojas ar visām iesaistītajām pusēm, lai nodrošinātu raitu pāreju.
Tomēr galīgā atbildība par banknošu apstrādes iekārtu pielāgošanu jauno banknošu apstrādei gulstas uz iekārtu īpašniekiem un ražotājiem.