Eurobankovky série Europa
Bankovky série Europa se postupně zavádějí několik let. První bankovky čtyř nominálních hodnot ze série, 5 €, 10 €, 20 € a 50 €, byly uvedeny do oběhu v letech 2013, 2014, 2015 a 2017. Bankovky 100 € a 200 € byly uvedeny do oběhu 28. května 2019. Tím byla série Europa završena.
ECB se rozhodla ukončit výrobu bankovky 500 €, ačkoli bankovka ve stejné hodnotě z první série zůstává zákonným platidlem.
Európa
Druhá série bankovek je souhrnně nazývána série Europa, protože dva z ochranných prvků obsahují podobiznu Európy. Tato postava z řecké mytologie byla pro nové eurobankovky zvolena, protože je neodmyslitelně spjatá s evropským kontinentem a bankovkám dodává lidský rozměr. Vyobrazení Európy bylo převzato z vázy v pařížském Louvru.
Proč jsou nové bankovky třeba?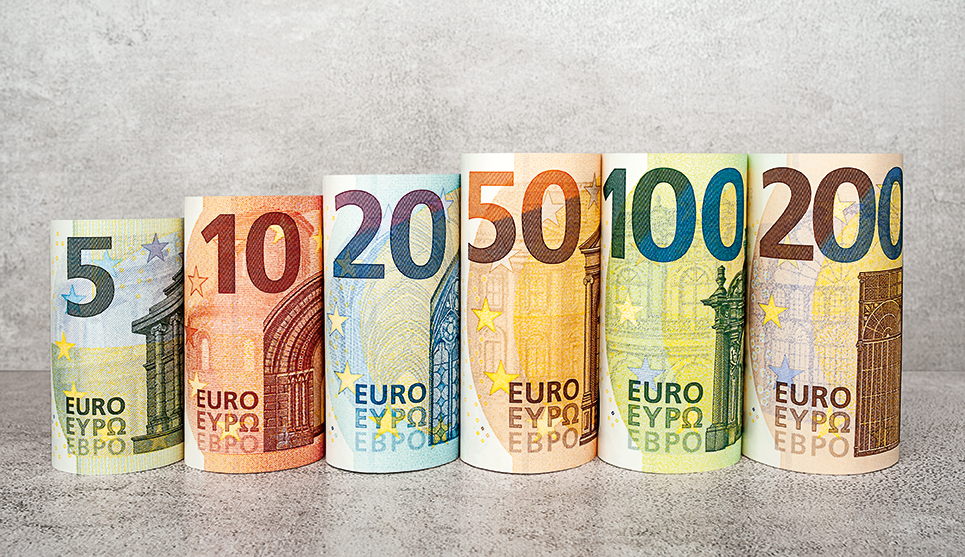 ECB a národní centrální banky Eurosystému odpovídají za důvěryhodnost eurobankovek. Z tohoto důvodu vyvinuly druhou sérii eurobankovek se zdokonalenými ochrannými prvky, které je zachovají bezpečné a udrží důvěru veřejnosti v tuto měnu.
Vždy o krok před padělateli
Nové eurobankovky využívají technologický pokrok dosažený ve výrobě bankovek. Nové ochranné prvky nabízejí lepší ochranu proti padělání.
Podle strategie výzkumu a vývoje Eurosystému mají být eurobankovky "padělánívzdorné", tzn. co nejvíce ztížit padělatelům život. Je třeba, aby banky, pracovníci zpracovávající hotovost i veřejnost byli schopni padělané bankovky rozpoznat. Tímto způsobem podporují strategii Eurosystému na potírání padělatelství.
Odolné a s delší životností
Nové eurobankovky jsou také odolnější než bankovky první série. To znamená, že nebude třeba je tak často obměňovat. Tím se sníží náklady i dopad na životní prostředí. To je důležité zejména v případě bankovek 5 € a 10 € – ty totiž mění majitele častěji než bankovky ostatních hodnot.
Souběžné používání bankovek první série a série Europa
Bankovky první série budou nadále vydávány společně s bankovkami série Europa až do vyčerpání stávajících zásob. Pak budou postupně stahovány z oběhu. Ukončení platnosti první série eurobankovek bude oznámeno v dostatečném předstihu. Bankovky první série si však vždy zachovají svou hodnotu: jejich výměna u národních centrálních bank Eurosystému nebude nijak časově omezena.
Příprava na zavedení nových bankovek
ECB zpřístupňuje nové bankovky příslušným odvětvím s velkým předstihem před jejich zavedením a úzce spolupracuje se všemi zainteresovanými stranami v rámci programu partnerství Eurosystému s cílem podpořit bezproblémový přechod.
Konečná odpovědnost za úpravu strojů a zařízení na nové bankovky však spočívá na vlastnících a výrobcích těchto strojů a zařízení.