Seria "Europa"
Banknoty z serii "Europa" wchodzą do obiegu sukcesywnie, od kilku lat. Pierwsze cztery nominały z nowej serii – 5, 10, 20 i 50 euro – wprowadzono kolejno w 2013, 2014, 2015 i 2017 roku. Banknoty 100 i 200 euro zostały zaprezentowane po raz pierwszy 17 września 2018, a do obiegu wejdą 28 maja 2019. Będą to już ostatnie nominały z serii "Europa".
EBC podjął decyzję o zaprzestaniu produkcji banknotu 500 euro, przy czym pięćsetki z pierwszej serii pozostaną prawnym środkiem płatniczym.
Europa
Nowa seria banknotów euro nosi nazwę "Europa", gdyż dwa z zastosowanych w niej zabezpieczeń przedstawiają portret Europy – postaci z mitologii greckiej. Została ona wybrana jako motyw na nowych banknotach euro, ponieważ kojarzy się z nazwą naszego kontynentu, a jednocześnie nadaje im ludzki wymiar. Wizerunek Europy pochodzi ze starożytnej wazy znajdującej się w paryskim Luwrze.
Po co nowe banknoty?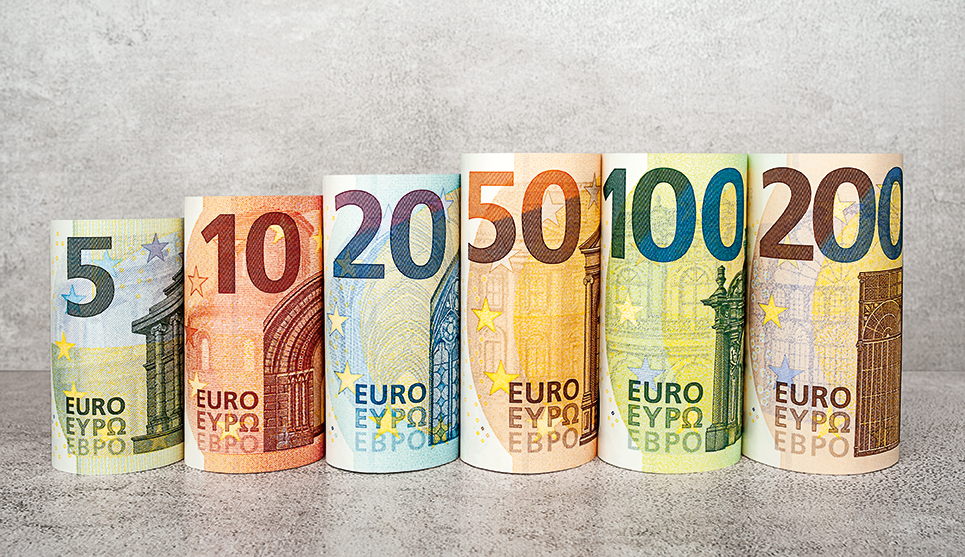 EBC i krajowe banki centralne z Eurosystemu odpowiadają za pewność banknotów euro. W trosce o zaufanie społeczeństwa opracowały drugą serię banknotów ze zmodernizowanymi zabezpieczeniami.
Zawsze o krok przed fałszerzami
W drugiej serii wykorzystano najnowsze osiągnięcia techniki produkcji banknotów. Nowe zabezpieczenia dają lepszą ochronę przed fałszerstwem.
Strategia badawczo-rozwojowa Eurosystemu zakłada, że banknoty powinny same bronić się przed sfałszowaniem, czyli być jak najtrudniejsze do podrobienia. Pracownicy banków, osoby pracujące z gotówką i zwykli ludzie powinni umieć rozpoznawać falsyfikaty – w ten sposób będą wspierać walkę Eurosystemu z fałszerzami.
Mocniejsze i trwalsze banknoty
Nowe banknoty euro są też bardziej wytrzymałe od banknotów z pierwszej serii. Dzięki temu będą rzadziej wymieniane, co pozwoli obniżyć koszty finansowe i ekologiczne. Jest to szczególnie ważne w przypadku 5 i 10 euro, które przechodzą z rąk do rąk częściej niż inne nominały.
Równoległy obieg banknotów z obu serii
Banknoty euro z pierwszej serii będą wprowadzane do obiegu równolegle z banknotami z serii "Europa" aż do wyczerpania zapasów. Następnie zostaną stopniowo wycofane. Termin, w którym banknoty z pierwszej serii przestaną być prawnym środkiem płatniczym, zostanie ogłoszony z dużym wyprzedzeniem. Jednak banknoty te zachowają swoją wartość – będzie je można bezterminowo wymieniać w krajowych bankach centralnych z Eurosystemu.
Przygotowania do wprowadzenia nowych banknotów
Przed emisją kolejnych nominałów EBC udostępnia je z dużym wyprzedzeniem zainteresowanym podmiotom, z którymi ściśle współpracuje w ramach prowadzonego przez Eurosystem programu partnerstwa, aby ułatwić sprawne wprowadzenie nowych banknotów.
Ostateczną odpowiedzialność za adaptację sprzętu obsługującego banknoty ponoszą jednak jego właściciele i producenci.