Zašto su stabilne cijene važne?
8. svibnja 2017.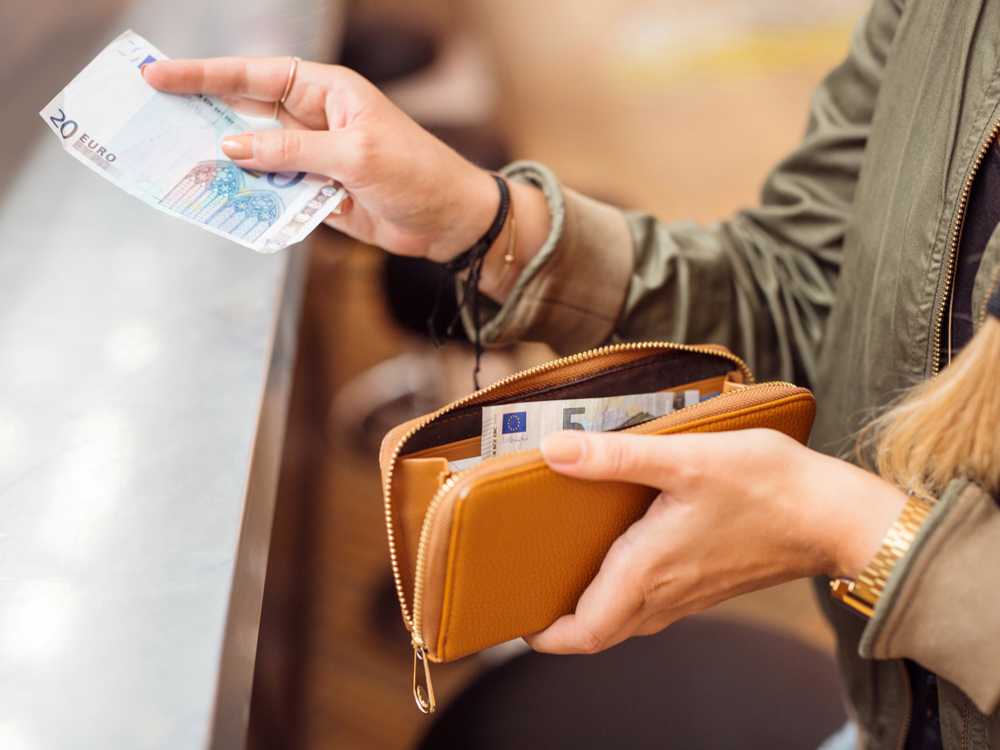 Glavni je cilj ESB-a održavati stabilnost cijena. To znači da se cijene ne bi smjele znatno povisiti (inflacija) kao i to da treba izbjegavati dulje razdoblje pada cijena (deflacija) jer duga razdoblja prekomjerne inflacije ili deflacije negativno utječu na gospodarstvo.
Zašto je visoka inflacija loša?
Ako se cijene mnogih proizvoda ili usluga povise, gubite kupovnu moć. Drugim riječima, svojim novcem – prihodima i ušteđevinom – možete kupiti manje nego prije. To može dovesti do lančanog povećanja cijena jer biste zbog općeg poskupljenja od poslodavca mogli zatražiti povećanje plaće. Kako bi podmirio povećanja plaća koja su zatražili zaposlenici, vaš bi poslodavac mogao povećati cijene. Ako se to dogodi u više poduzeća, cijene mnogih proizvoda i usluga dodatno će porasti, čime će se nastaviti lančana reakcija. Takva situacija i vama i poduzećima otežava planiranje štednje i ulaganja. Ljudi mogu izgubiti povjerenje u valutu kojoj se brzo smanjuje vrijednost. Ovo su samo neki primjeri negativnih nuspojava visokih stopa inflacije.
Zašto su loša dulja razdoblja deflacije?
Kao potrošaču, možda vam pad cijena zvuči dobro. To zaista može biti tako ako je riječ o samo nekoliko proizvoda ili usluga čije se cijene smanjuju. Posljednjih su desetljeća tako pale cijene brojnih elektroničkih uređaja, na primjer prijenosnih računala i telefona, u prvom redu zahvaljujući inovacijama, koje omogućuju smanjenje troškova proizvodnje.
Međutim, kontinuiran i raširen pad cijena u gospodarstvu kojemu uzrok nisu poboljšanja u proizvodnji nije dobar trend jer može dovesti do lančanog pada cijena. Na primjer, ako namjeravate kupiti novu sofu, ali znate da će se njezina cijena sniziti ako malo pričekate s kupnjom, vjerojatno ćete upravo to i učiniti. Ako se svi budu tako ponašali, poduzeća će se naći u teškoj situaciji jer neće moći prodati svoje proizvode. Možda će morati sniziti ili zamrznuti plaće ili čak smanjiti broj radnika zbog pada potražnje, što će dovesti do porasta nezaposlenosti. Gospodarski rast počet će se usporavati kako potrošači i poduzeća budu smanjivali potrošnju i ulaganja. Osim toga, moguće je da će vam postati teže otplaćivati dugove koje možda imate, poput hipoteke, a koji se, za razliku od vašeg dohotka, sigurno neće smanjiti.
To vrijedi i za javne financije. Porezni prihodi slabe usporedno sa smanjenjem prihoda i potrošnje, ali državni se dug i dalje mora platiti. Posljedica može biti, na primjer, smanjenje javne potrošnje u području infrastrukture i zdravstva. Dakle, svi osjećaju negativne posljedice deflacije.
Cijena same stabilnosti cijena
Održavanje stabilnosti cijena najbolji je način na koji središnje banke mogu pridonijeti poboljšanju blagostanja pojedinaca. Zbog toga je Ugovorom o funkcioniranju Europske unije upravo to određeno kao glavni cilj ESB-a. Kako bi ostvario taj cilj, ESB je stvorio kvantitativnu definiciju stabilnosti cijena, kojom je određena ciljna godišnja stopa inflacije »ispod, ali blizu 2 % u srednjoročnom razdoblju«, mjerena harmoniziranim indeksom potrošačkih cijena (HIPC).
Riječ je o mjerilu uspješnosti ESB-ova rada, zahvaljujući kojemu je djelovanje ESB-a transparentno. To također znači da možete bolje planirati jer znate kolike promjene cijena, u prosjeku, možete očekivati u europodručju tijekom vremena.
ESB-ov cilj stabilnosti cijena vrijedi za inflaciju u europodručju u cjelini. Usmjeren je na srednjoročno razdoblje jer se uzima u obzir stopa inflacije tijekom vremena umjesto kratkoročnih najviših i najnižih vrijednosti, koje se s vremenom uravnoteže i nemoguće ih je kontrolirati monetarnom politikom.
Zašto ispod, ali blizu 2 %?
Ako ESB želi da cijene ostanu stabilne, zašto mu je cilj inflacija ispod, ali blizu 2 % u srednjoročnom razdoblju, a ne 0 % ili 1 %? Za to postoji više razloga.
Zaštitni sloj zbog različitih mjerenja
Kako bi se uzela u obzir mogućnost da podatci o inflaciji blago precjenjuju inflaciju.
Sigurnosna granica
Kako bi se utvrdila sigurnosna granica s obzirom na moguće rizike deflacije.
Razlike među zemljama
Kako bi se predvidjele razlike u inflaciji u državama europodručja.
Zaštitni sloj zbog različitih mjerenja

ESB uzima u obzir mogućnost da podatci o inflaciji (mjerenoj indeksom HIPC) blago precjenjuju inflaciju zbog načina mjerenja. Jedan primjer toga je kada se cijena stavke iz košarice dobara koja se upotrebljava za izračun indeksa poveća zbog poboljšane kvalitete proizvoda, na primjer cijena automobila s boljom sigurnosnom tehnologijom. Ako pri izračunu inflacije nije u potpunosti uzeta u obzir činjenica da je do promjene cijene došlo zbog poboljšanja proizvoda, indeks će pokazivati inflaciju koja je viša od stvarne.

Sigurnosna granica

Ciljnom inflacijom ispod, ali blizu 2 % određena je sigurnosna granica s obzirom na moguće rizike deflacije. U slučaju deflacije uobičajeni instrumenti monetarne politike, odnosno promjene ključnih kamatnih stopa, ograničena su djelovanja. U određenom trenutku nema više smisla da središnja banka i dalje snižava kamatne stope. Usto, čak se i kontrolirana inflacija tijekom vremena kreće oko prosječne vrijednosti. Zahvaljujući pozitivnoj ciljnoj stopi zbog uključivanja zaštitnog sloja, središnja će banka rjeđe biti primorana upotrebljavati nekonvencionalne mjere kao što su kvantitativno ublažavanje ili operacije dugoročnijeg refinanciranja.

Razlike među državama europodručja

ESB održava stabilnost cijena za europodručje u cijelosti. Ciljna inflacija ispod, ali blizu 2 % ostavlja prostora za razlike u stopama inflacije u državama europodručja, koje bi se u najboljem slučaju s vremenom trebale uravnotežiti. Zahvaljujući ciljnoj stopi koja je viša od nule pojedine države ili regije ne moraju imati prekomjerno niske ili čak negativne stope inflacije kao protutežu visokim stopama inflacije koje imaju neke druge države.